We're currently knee-deep in manuscripts; it's been quite a fruitful submission period, and it will continue until the end of this month (and most likely later, if a lot of people wait until the last minute to send).
One thing I've noticed about the submissions is that there seem to be some authors who pay special attention to guidelines, and some do not. Our guidelines are very specific about how we're different from other poetry publishers--particularly our emphasis on book sales and author involvement in that process--and we ask authors to demonstrate they have some understanding of our approach.
The authors who, in their cover letters, show they understand our approach tend to do a lot better in the submission process than authors who simply fire off a generic cover letter--or don't include a cover at all. Authors who submit to lots of contests are used to not providing a lot of information with their manuscript, because that information tends to get removed by screening panels. But we want this information. No sense in wasting our, and the author's, time, if he or she is uncomfortable taking an active role in doing readings and other activities to help promote that author's book book, should we decide to publish it.
Of course, it goes without saying that if the writer's work isn't good enough, no amount of promotional enthusiasm will persuade us to publish it. But that additional information can, and often does, make the difference when we are evaluating two equally good manuscripts.
0 Comments
Book of the Day: Egyptian Compass by Pauline Kaldas

When I first read Egyptian Compass by Pauline Kaldas, I was transported into a world partly different from my own: a world that bridges Egypt and the United States, the Middle East and the West. Kaldas' book looks at Egyptian culture with American eyes and American culture with Egyptian eyes. For me, who has lived in the U.S. for my entire life and has only travelled out of the country a few times (to Canada), this literary immersion in the duality of two cultures is fascinating.
Consider this poem:
Rubies

Why dreams blood colored
suggest sky colors
earth mixed with sea
to yellow green red of feast days
a thousand crowds picnic
among sidewalk grass.

Holidays are full of little girls in ruffled dresses, hard leather shoes,
pigtails and ribbons, socks with lace
growing up into tight dressed high heeled teenager
swinging her round of butt across Sunny's Supermarket
aware of her hair
swaying her back.

The fruit seller's son scratches his head,
stares at the daughter
light brown hair and blue shoes clicked away
entering a crowded bathroom, the mirror catches
the whiff and curl adjusted midway to forehead,
a madonna Barbie, 100 pound price tag.

Crowned, adorned with Ken
providing French bedroom decor
the breeze's slight wisp into the stark undertone
of lace curtains drowned with yellow daisies
to undo the buttons.


Here, the scene of the daughter's Barbie dolls is played against her father (himself "the fruit seller's son") remembering the Middle East, exemplified by the contrast between "stark undertone/of lace curtains drowned with yellow daisies" and "sky colors/earth mixed with sea/to yellow green read of feast days." Kaldas uses bold swaths of image, of color, to convey the poem's delicate emotions. Well done.
0 Comments
Book of the Day: The Saint of Withdrawal by Eric Schwerer

In The Saint of Withdrawal, Eric Schwerer crafts poems that are challenging for the reader. Pushing narrative, and sometimes grammar, to a point that most poets would not, his work frequently opens up startling perspectives for the reader. Consider the dark wit of "A Dog Named Went":
A Dog Named Went

The room blue by day
dark by night

has a small story to tell.
A boy collects bones,

paints pictures, scotch tapes them
to his window. The mother

pulls them off.
The silly-headed sister makes pretend

cobwebs with her hair
where the glass is still sticky.

The dog lost for days.
The father thick

behind the car's windshield.
Then the four of them

at dusk in the lawn
calling Went! Went!

in the air. One day
the dog comes bounding back

and seasons press
like hands against glass.
This is one of the more straightforward poems in The Saint of Withdrawal. Cumulatively, the vision of the world they present is at once familiar and strange--and certainly memorable.
0 Comments
Book of the Day: Flume Ride by Midge Goldberg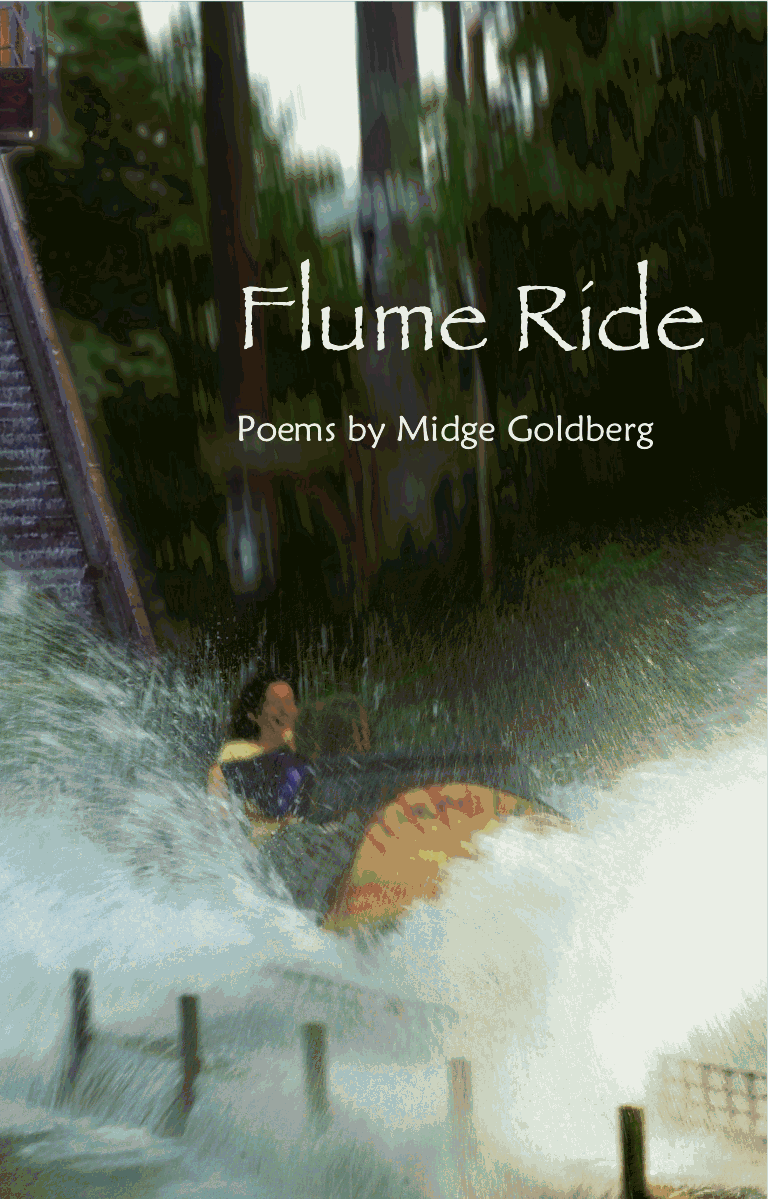 Midge Goldberg is a poet who handles traditional form with brio. Less interested in contemplation than motion, Goldberg's poems are always in action, alive with rhythm and sharp emotion, as the title poem of Flume Ride exemplifies:
Flume Ride

Your arms slide around my waist, and we are going,
and I am pressed full length back into you.
We click and rock heavenward only knowing
the outline of the way but not the view,
the feel of every curve, turning and twisting.
Our fingers intertwine, and gravity
falls before us, leaving us resisting
in a well of weightlessness, then we

are dropping, through loops and lesser hills
of rapids run to overspills,
locked and tumbling together, falling
like eagles plummeting, calling,
until the boat slows, and we are there--
your fingers comb the water from my hair.

In reading Flume Ride in manuscript form, I found Goldberg's work energizing; I admired the twists and turns of her lines, and the emotional bite of many of the poems. Flume Ride is a bristling debut for Goldberg.
0 Comments
Book of the Day: Past Present Imperfect by William Ford

William Ford's Past Present Imperfect ranges over a varied series of landscapes, both artistic and emotional, in the poems' textured narratives, often from the world of jazz. "Scar Therapy" meditates on different kinds of pain:
Scar Therapy

After a session, I cannot put on
My own socks or sit
More than ten minutes
Without having to shift or cross legs,
Both bad for my condition
According to the physical therapist.

It's no wonder the rest of me
Turns inward, congeals into this line--
Right shoulder lifted,
Left dipping, every muscle
And tendon stretched or contracted
Abnormally. And what of the mind
And heart in the oriental
Oneness of everything?

I've demanded
The ex-cathedral judgments
Of jack boot conviction,
The broken down simpering
Of the confessional.

Three weeks old and near death
I starved from an inch of gristle
That closed off the small intestine.
My grandfather doc did it,
A sin in his profession, cut
Down the middle of my belly
And dug out the obstruction,
His knees raw from prayer.
The scar grew crookedly.

How much longer this pain?
Forget about pain, she says. It's only
The body's resistance to change,
That or quit the program
For a few weeks of relief,
The old confederacy reestablished,
Followed by ten years
Of gradual debilitation--
Cane, walker, wheelchair.

The scar will soften more,
She says, the more she breaks down
Old adhesions
Gently here, harder there
Until I unbend like a flower
If I, too, will settle down to the hurts
I enabled or did myself
Until the two of us have me
Standing up straighter.
As the poem casually unfolds, the hardened scars the speaker bears become more visible, distinct, and felt. Nicely done work on Ford's part.
0 Comments
Book of the Day: The Sudden Architecture of the Dark by David Floyd

David Floyd's The Sudden Architecture of the Dark is a gritty, often ambitious book of poems that draw much of their energy from the landscape of the urban Northeast, in particular Philadelphia, where some of the poems are set. The poems are often the antithesis of tender lyrics, as in the long poem "Hates" (a nod to Stephen Dunn's famous "Loves") illustrates. Or, to use another example, "Sonnet for the Nothing Man":
Sonnet for the Nothing Man

He woke up with the stars in his face,
to the gentle indifference of the world.
Tired of the hubbub of his dreams--
promises left in the hair--the true faith
he has in faithlessness, he felt a wild
navigation within beginning to
calibrate. A tuneless cadence he could drum
his fingers to, tap his toes. Not a trace
of what he was was left. If put into words,
it would be like a sweet tyranny of rain
from without baptizing and soaking through
within. Its percussions on the rooftops.
The yellow flowers in the kitchen looked blue.
Prayerless, he waited for it to stop.

Floyd's poems, about persistence and perseverance, make his debut collection a strong one.
0 Comments
Book of the Day: Zero Degrees at First Light by Christine Potter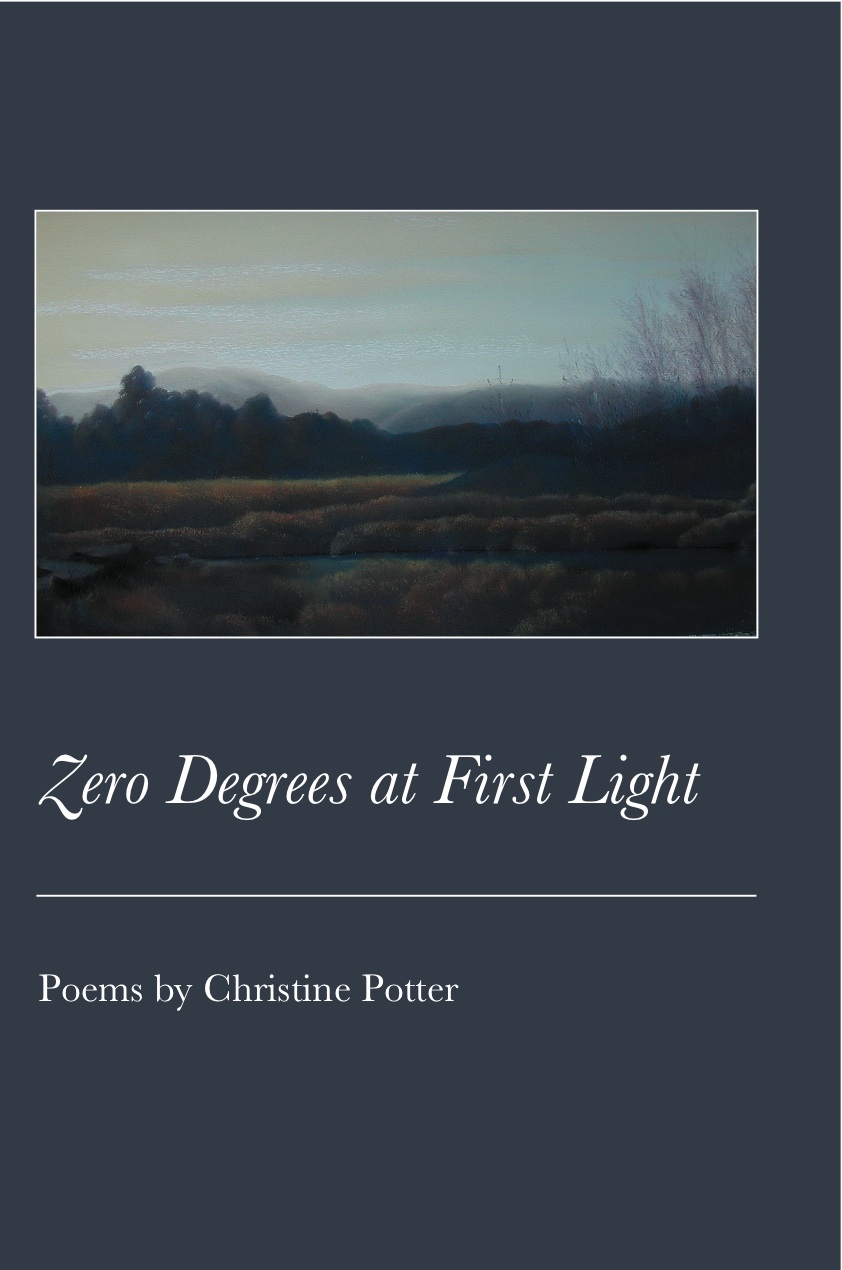 Christine Potter's Zero Degrees at First Light is a collection of surface simplicity, but Potter's skill with form--whether carefully sculpted free verse or more traditional measures--soon unfolds deeper insight.
This graceful sonnet is one example:
On the Closing of Ichi-Riki, Nyack, NY (Where I Have Eaten For Twenty Years)

When dining on sashimi seemed as dear
as ninety-minute phone calls, out of state,
to boyfriends I should never have gone near,
I came here anyway and cleaned my plate

of everything except that spikey herb,
the garnish, near the ginger and wasabi--
but since I'm older, I am undisturbed
by doomed relationships, my former hobby.

Now I can order toro without guilt
and easily afford to pay the bill,
this restaurant's closing and my youth is spilt.
Epiphany at last; I feel its chill:

time's passage is the most expensive dish,
a truth in life and love--and in raw fish.

Moving through its sharply rendered rhymes, the final couplet snaps shut. That satisfying click of insight is something Potter does very well, and consistently, throughout this moving collection.
0 Comments
Book of the Day: The Prayers of Dallas by Frederick Turner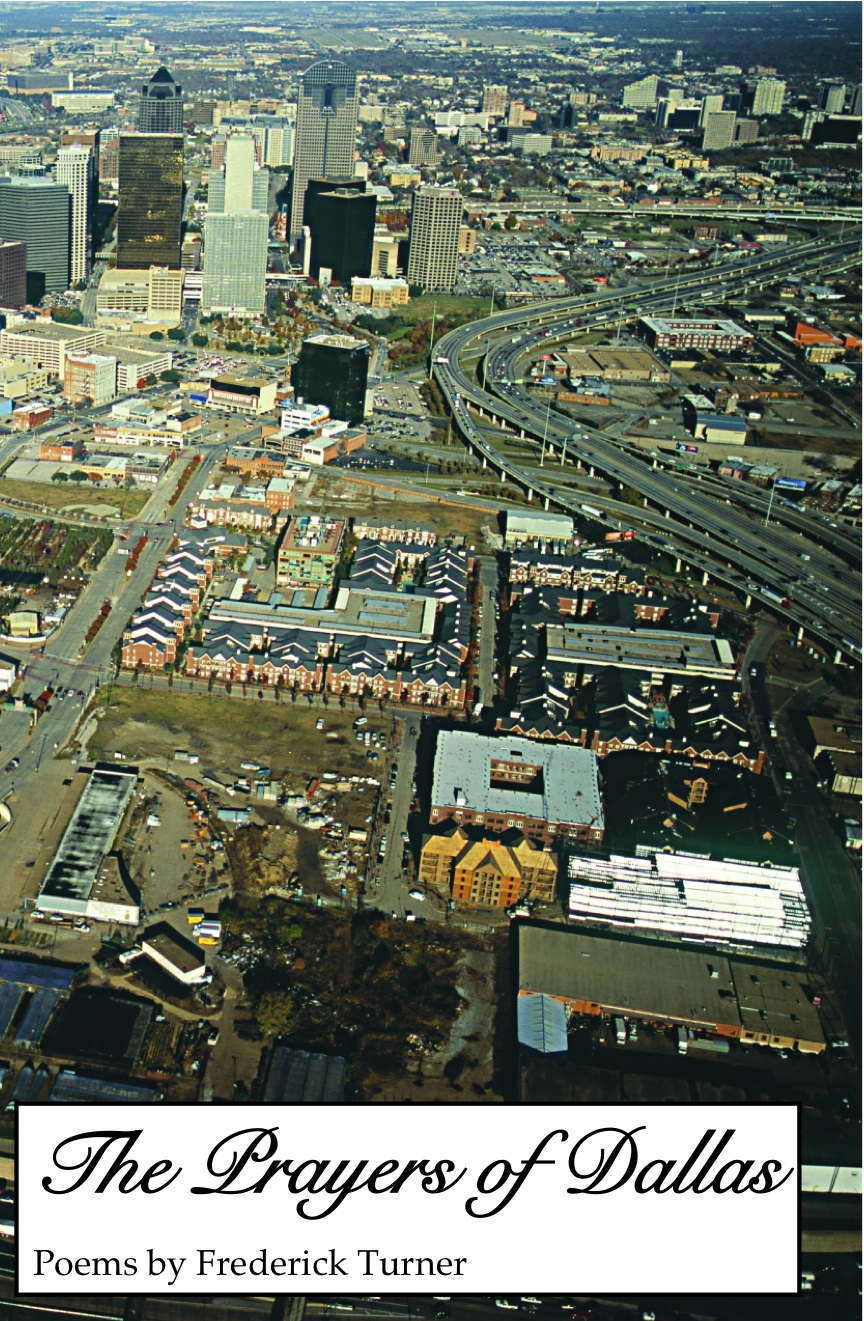 Frederick Turner is a poet whose influence on my own work--as a reader and writer of poetry--is difficult to overstate. His numerous books of literary criticism have guided me as a poetry reader and editor at a very fundamental level, and his poetry, ranging from lyrics in high classical form to epic narratives, is impressively varied and broad in both its concerns and techniques.
Turner's newest book--and the second one we've had the pleasure to publish--is a narrative sequence, The Prayers of Dallas. The book, written in the voices of 50 different residents of Dallas, narrates the development of a terrorist attack on the city. Turner slips easily into the voices of each character, and the result is a haunting collage of perspectives and emotions:

Father Philip Kelly

My Lord, it's not that I'm not grateful for
The times, oh beautiful, You showed Yourself
Shining in light that came down from the window
And fell upon the altar during Mass;
The time I walked out there among the people
And that Nigerian girl with plaited hair,
Just five years old, would not let go my hand;
The time I saw my brother at the ranch
Before we knew that he had HIV,
And all the live oaks shone in the red sun
As it went down behind the misty hill;
It's not that I don't see the tips of heaven
That poke through into every shade of life.

It's all those times of dead, unshaped exhaustion,
The loneliness without a wife or child,
The noonday devil, that's acedia,
The moods that unabsorbed sweep over me
And feed themselves upon their former selves;
The long sad waiting for the gates of heaven,
When waiting wasn't what I'm called to do;
It's when I see the blank incomprehension
On Joseph's face when I speak of my faith,
And wonder if I'm caught in a delusion,
And maybe there's no me and there's no You.

The Prayers of Dallas must be read in its entirety to be fully appreciated. It is a collection of unusual power and urgency.
0 Comments
Book of the Day: Coppelia, Certain Digressions by Judith Skillman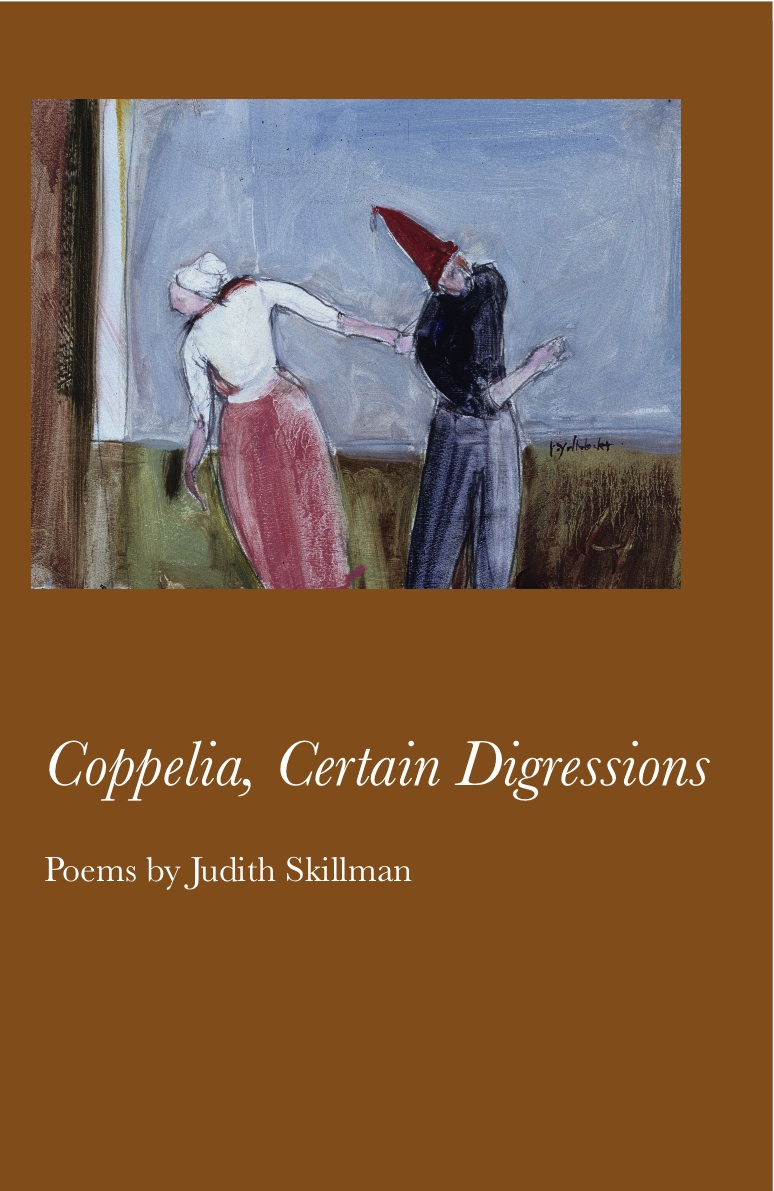 Judith Skillman is a poet whose work is strongly, even forcefully, lyric; her craft, free verse that tends to regular measure without falling into metronomic ridigity, offers many pleasures for the ear. We've now published three books by her, and each one offers distinctive pleasures for the reader.
The poems of Coppelia, Certain Digressions, are as strong as Skillman's earlier work. Consider how "Beatrice" zeros on its subject with ruthless precision:

Beatrice

If she blazes beside me,
I might turn to see
a face gone blue with light
from the moon.

If she honors the dead
I may wish for their return,
to finish a conversation,
if only with a ghost.

She sticks to me
like unfinished business,
her cloying presence
that of a celestial nun satisfied

with her lost station.
Under the wimple, in age
and desolation, I see her
more clearly, an apparition

shadowing my left shoulder.
If she wants to carry me
as she would a man,
still I am a woman.

And though the seas
of earth and moon
are lifeless, filled with young men
who died in their prime,

she continues forever
her botched attempts to mother.
Beatrice, like Mary,
a mother figure steeped in platitudes.

A Pollyanna full of proverbs.
A dominatrix, this woman—
so full of sensuality
it was easy to outshine

visions of Paradise,
those poor souls
forever cloistered outside
the white-petaled rose of the godhead.

But Beatrice lied.
When she turned her face
she blinded Virgil.
Where can she stand to live,

this whorish heroine
who stacked apartments
until they became tenements
ripe with the scent

of concupiscence drying,
habitats full of young love,
garbage, white noise,
and cigarettes.

Skillman has crafted a strong body of work, and it is a pleasure to add Coppelia, Certain Digressions to her legacy.
0 Comments
Book of the Day: The Geometry of Loneliness by Lee Passarella

Lee Passarella's The Geometry of Loneliness is a book of stately, elegant lyrics of frequently minor key; their beauty is melancholoy, even mournful at times. In reading the book, I was moved again and again by Passarella's dignified skill. Consider "Equinox":
Equinox

Wind shakes the colors
loose, patterns uncomplicated
from the folds as the quilt
is spread: the soft architecture
of new poplar leaves, scalloped
and gothic; the dogwoods'
pilled flowers, knotted
wool; the labial wings
on the maples fingered coral,
red. But the pin oaks grab
their browns around them,
unwashed. Lent a word
small and blunt as any ritual.

You preach the creed
a thousand thousand times,
and always the same,
only rearranging the dust,
covering dead follicles
with a lie of green:
henna and celadon.
Somewhere the snow stays
brittle, a wafer;
the grass drinks from it,
learning the hard lessons.
This is indeed a poetry of "hard lessons," but it is elevated by Passarella's nearly classical rhetorical tone. The Geometry of Loneliness is a haunting, memorable book.
0 Comments
Book of the Day: Madonna Magdelene by Kim Garcia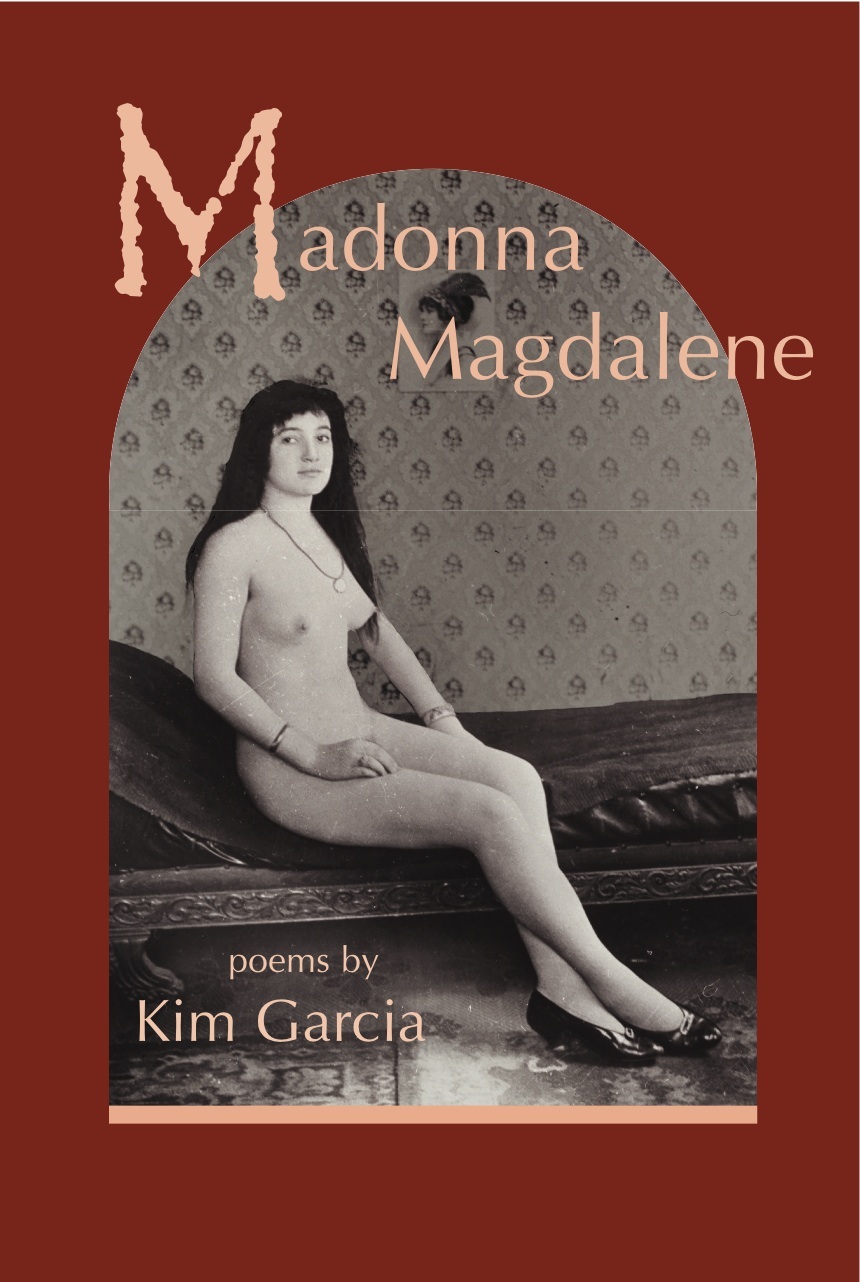 When I first read Madonna Magdalene by Kim Garcia, the book impressed me for its unusual combination of sensuality and intelligence. That is not faint praise. Many books of poems today strive to impress, or even overwhelm, the reader with their intelligence--the author's effortless command of language, of philosophical nuance, of narrative depth. And many books strive to appeal to the reader's heart, through emotional power, through sensory appeals, and so on.

What distinguishes Garcia's work is the degree to which it combines meticulous research--the book makes extensive use of Biblical stories, historical narrative, and other materials in re-creating the voices of the poems' protagonists--with the emotional impact of those stories.

Consider the book's title poem:


Madonna Magdalene



Place here the virgin in her Easter petals,
the ladder of green leaves, the open throat.
I was reading; my lamp was full. A bird
entered the room, and knocked the walls
with bright wings, drunk on sky-mindedness.

Here the story of my shame, pictured
above its tight band of explanation
no one reads. Here the stink
of animal dung on straw. Here milk,
and thorn to suck, the splintering nail.

Water to wine, we were stained
and intoxicated. Do as Love tells you.
Praise virginity lost, slow and conscious
as a strip tease. Layer by layer,
let it be done unto us. Again and again.



The story here literally comes alive, as the layers of abstraction--philosophical and poetic--are peeled away, "layer by layer," as the poem--and the reader--is brought from the mind to the body. Garcia's move here is powerful, effective, and entirely characteristic of her work.

0 Comments

Book of the Day: Beholding Eye by Grace Bauer

Reading Grace Bauer's Beholding Eye, I found myself drawn again and again into Bauer's narratives of artists and subjects, lyrics about paintings, and the artistic life--and I was drawn into deep consideration about the nature of art itself, the relationship between representation and the external world, between story and the world, whether that story is rendered in paint or in words.

Signora Gioconda Tires of Sitting for the Master

Once, after dinner, my husband
was speaking—of business,
some prediction of weather—I forget—
I was lost in a thought of my own—
but I recall his anger,
how it flared when he saw me
not quite there. He struck me then
and cursed my stupid grin,
yet now he squanders gold to have you
make a likeness of it. Oh, he cares
little for art or me, but he knows
of your renown and desires to possess
a token of it—a well-wrought
adornment to grace his empty wall.

He will approve of the way you have
composed me—the demurely folded
arms, barely visible veils,
the muted tones of my garments—
which will go well with his favorite chair.
The size he'll find convenient,
easy to hang in that perfect niche
where his friends will notice and admire—
will it be me or you?

But the expression you have given me,
I fear that may annoy him. He'll wish
I looked more dignified, closer to his
image of the proper noble's wife.
He'll imagine it's another
of my daydreams that lies behind
the distance in my eyes.
I tell you this to ease the hesitation
that I see in yours, the trembling
in your fingers I noticed when you rearranged
my hair. I think you, too, feel this
portrait may be more that mere commission.

If my husband asks, I will tell him
of the minstrels you employed to entertain
and keep me still, of the pretty boys
who mill about the studio, eager
to satisfy your whims, of the smell
of turpentine and oil that permeates
the rooms, the light that streams through
each window, as if you had drawn it there.
He will never question these stories,
though he will never understand
how little they explain.

He may be astute enough to recognize
that something has been captured here,
but he will never name exactly what it is.
He'll call it—cunning, mystery, bemusement—
let him call it what he will.
His soul, I think, could use a bit of wonder.

So forget about your patron, your boys,
the whole damned world. The peaks
you've sketched in the distance may
exist where love will take us.
Pour some wine, dear Leonardo.
Admit this work is good. Come and lie down
with the legend you have made.

This dramatic monologue encompasses several complex questions about representation and art, while also rendering a memorable character in its own right. Such poems are characteristic of Beholding Eye, and make this an especially compelling collection by Bauer.
0 Comments
Book of the Day: Letter from the Lawn by Bobbi Lurie

Bobbi Lurie's The Book I Never Read was one of the earliest books that Lori and I published. It was a remarkable collection of poems; Lurie's work, with an eye for the absolutely lucid image, is as quiet and spare as a whisper in an empty room. Yet her poems, understated as they are, can be emotionally devastating.
Letter from the Lawn, Lurie's second book, is as powerful as her first. In this new collection the poet focuses less attention on family, a theme that recurred throughout her first book, and more on the external contexts of suburban family life, both natural and social:

Only at Dusk Is It Possible to Love the Landscape

cows chewing their cud/ backlit/ burnished view of the netherworld at dusk/ eternity is the landscape's theme/ part of the wheat rising through cooling sun/ corn stalks/ thoughts keeping time to the cacophony of language from the insects/ cicadas/ mosquitoes/ the peskiness of the pestilence does not bother me at this hour.

the walls of my efficient kitchen are papered in prettiness. the prettiness of the kitchen increases when i think of the neighbors who hate us. the hatred of the neighbors can be felt through the windows of the kitchen. i gaze into their opinionated houses and tool sheds.

i dread the days.
the nights so fearfully quiet.

Letter From The Lawn

Dear Green,

I sit in the back with my book.
Without words rising up, I'd be stuck with just these lawn chairs and the shrieking gardening machinery: mowers, edgers, wedging the patches of grass into segments.
The separateness is so intense.

Love,
B.

"The separateness is so intense." That is Lurie's poetic credo. While her poems are deeply introspective, they are never introverted: the world never escapes her notice, and we never fail to feel the intensity of her gaze.
0 Comments
Book of the Day: The Illuminations by Mary Kay Rummel

The Illuminations by Mary Kay Rummel is a book of travels, both spiritual and geographic. The poet makes a journey to trace her own spiritual and personal heritage, and meditates deeply on what she discovers. For instance, this poem:
Learning in Normandy

Avranches, France

In a small town in Normandy I visit an old monastery
with winding stone steps, glass cases of manuscripts
kept in damp dark. Then, I walk out
into light, to a square bursting with life.

It is first communion Sunday for girls posing
in long lace, for boys shining in white suits,
for mothers with camera smiles, fathers with
minds on the coming dinner and wine.
In a place where everything moves upward
or down to the flat tide bed, I listen to a language
I know little of, glimpse what I've lost, what
I never had. Their lives like mine, I read
their hungers, their guilts, their overdrafts.
Their Sundays don't hurt. I know their happiness
the way sometimes in a museum the iconic eyes
of some saint look into mine and irony lifts
from my brain. What's left is recognition.

I walk downhill with it,
able to name some of the parts but not the whole,
inside me, what I know.

I felt a strong connection to the longing to name "the whole,/inside me, what I know," and how strong the gulf between that desire and the reality can be. The illuminations, indeed.
0 Comments
Book of the Day: Snapshots of the Perishing World by Chad Prevost

The sense of wonder in Chad Prevost's Snapshots of the Perishing World is profound. Reading the poems in this collection, I felt deeply immersed in the world, in the best sense: Prevost constantly probes and explores a sense of connection to the larger world, so that our awareness is expanded and enriched.
This poem gives some flavor of Prevost's method:
Lyric of the Ever-Expanding Universe

What you thought was a star
in the north sky is a whole galaxy.
What you thought was a folk tale
about walking on water & lying with lions
turns out to be truer
than all the sun-bleached bones of hard facts.
What you thought was a mouth
is really a bottomless well.
What you thought was loss
is really an orchard of cherries.
What you thought was a youthful version
of yourself turns out to be a shadow
shifting out of your eye's corner.
What you thought was a snail's slick trail
turns out to be a sidewalk's veins,
branching off among the dandelions.
You thought the dandelions stood in place,
but come to find they're dancing
across the wind like tumbleweeds,
wheeling without thought of gravity.
What you thought was gravity
is only your body's leaden weight
pinning down your dandelion soul.
What you thought was your chest
is really an impenetrable forest,
& what you thought was a forest
is the ever-diminishing hiding place
of your crimes, & the place to free them
is at the bottom of your lungs,
where a whole universe billows even now
in the form of old loves.
What you thought was a one-time high
becomes a string of lights wrapped
around the temple of your body
till you're one great ball of wire, incandescent,
blowing fuses like popcorn.
What you thought was a one-night stand
becomes a diaper trail sagging over the moon.
What you thought were whitecaps
shouldering to shore like the heads of the old
is really your lover's voice
waving against the walls & settling
in the corners, reaching through
your cobwebbed heart, calling your name,
asking you to rise once more, to quit
pretending, this isn't the way it's supposed to end.


Prevost's poems wear their learning lightly, but they open up new depths of insight and feeling. Check them out.
0 Comments
Book of the Day: The Goddess of Gumbo by Kendra Hamilton

It's always a pleasure to discover a new poet when reading manuscripts, but I had a special sense of excitement when reading Kendra Hamilton's The Goddess of Gumbo.I found myself responding strongly to the musical grace of Hamilton's poem, but also their sharply etched character portraits: of women in love, of African-American life, of the Southern experience. The awareness of history is always present in Hamilton's poems, but they are decidedly contemporary in their concerns.
Here is an example of Hamilton's technique at work:
At the Ranger Station and Scenic Overlook
Indians. I've been traveling the West six weeks,
crossing reservation lands—Yavapai, Hualapai, Pima
—seeing little but mesquite and mobile homes.
Here at last, I've found them. Indians. And I, who know
too well what it is to be stared at, I'm afraid to look.
They are selling crafts beside a Park Service
book kiosk—lovely soapstone bears, beadwork,
turquoise, arrowheads. I'm mortified. I have
too little cash to buy, too little nerve to ask a question.
Then, too, there are the faces—far darker than my own
and craggy, alien. They are Hopi. Dressed as Hopi.
In Arizona Diamondbacks T-shirts and jeans.
The deep-set eyes in those deep-brown faces look
at me, I think, with accusation. We know your kind,
they seem to say, though we know not what you do here.
Tossing their lampblack hair. Cliff cities in these hills
knew our kind eleven thousand years before yours
were dragged here, filthy, in chains. I think of Buffalo Soldiers.
Burn with shame. I snap a quick shot of the canyon,
slate clouds lowering over the red-breasted hills.
Using plastic at the bookstore, I buy a field guide.
Hop in my car and fly.
Describing the scenic view as a tourist trap, the poem registers a powerful ambivalence about its subject--the difficult experiences of Native and African-Americans. The speaker endures as much of the confrontation as she can and then flees. In this poem, Hamilton makes history into something that is intimately felt, and renders that feeling with striking, yet colloquial, music. Powerfully done.
0 Comments
Book of the Day: Heart Island by Stephen Cushman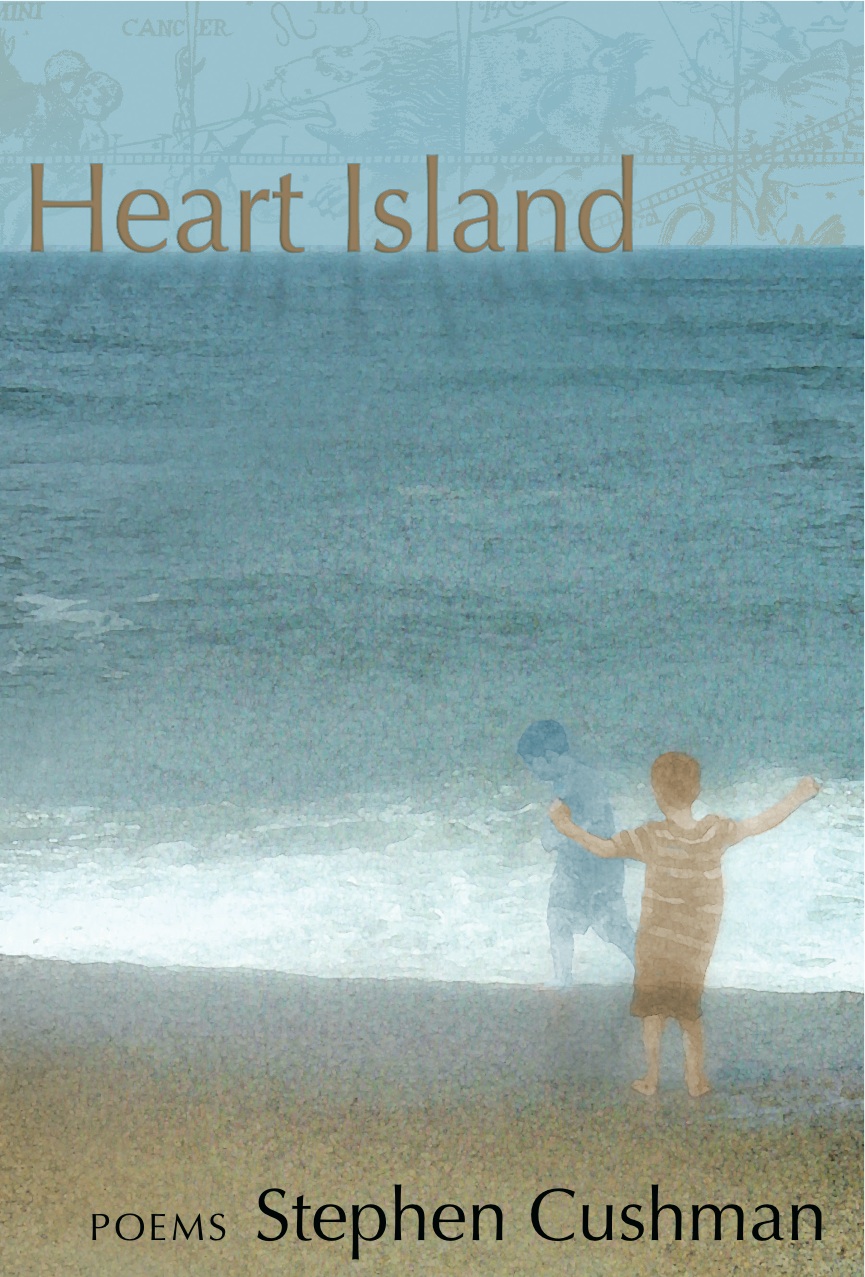 Stephen Cushman's poems are superb for their attention to particulars: of emotion, of image, of spiritual nuance. Many of the poems in Heart Island are lyrics about memory, while others are close examinations of their subjects that, literally, unfold deeper meaning like the flowers of a petal opening. Consider this poem:
Selenitic

Said of a flower
that opens in moonshine,

but doesn't it mean
full moon bamboozles

the gullible flower,
counterfeiting sun

by cranking out shadows,
or does such a flower

discriminate between
any old onslaught

of usable beams
and the moon's special mix

of darkness and light
pressure, tender

yet insistent
as it coaxes each petal

so ready to open
to just the right touch.

"Selenitic" is a sly poem, tender in its close evocation of the way the flower opens "to just the right touch," as a poem about flowers in moonlight becomes unexpectedly erotic. Heart Island, alternating between casually graceful meter/rhyme and well-sculpted free verse, is full of such unusually pleasant surprises.
0 Comments
Book of the Day: Remedies for Vertigo by Walter Bargen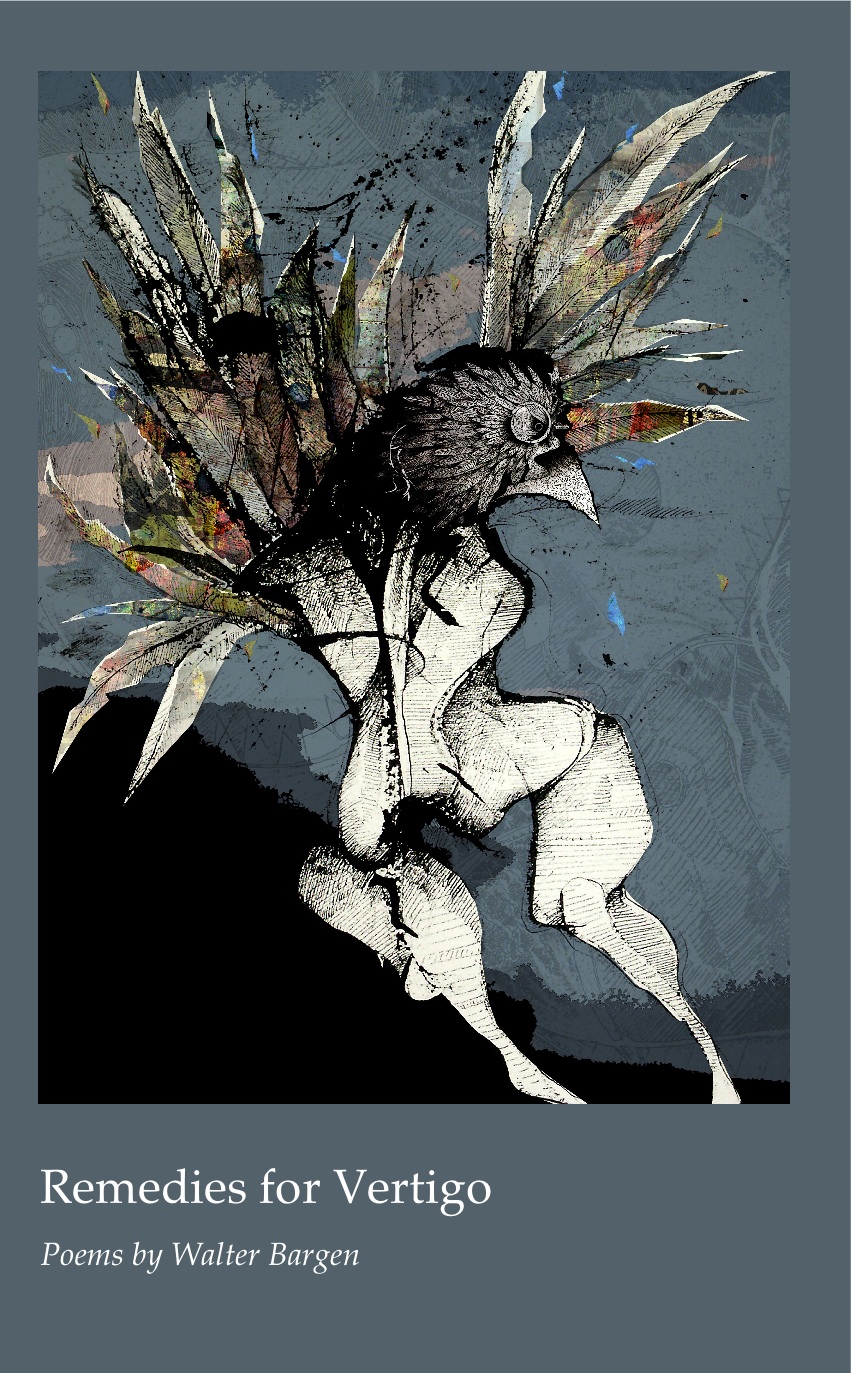 The strongest pleasure I get from Walter Bargen's brisk narratives in Remedies for Vertigo is a sense of departure: the speakers in Bargen's poems never stay in one place for very long. They are always striving, always seeking, always grasping for something that may be beyond their reach. Sometimes the need to keep going is itself the struggle. This theme is memorably depicted by Bargen in this poem:
To Keep Going

Far up the valley,
from deep in the willow thickets
along the creek, a birdcall
comes I don't recognize.

Juan Ramon Jimenez wrote
that he would go away.
and the birds will still be
there singing. He was right,

he went away, and some of us
still hear him in the branches
beside our houses
and far up cold creeks.

But there are those birds
that have left too. The last
dusky seaside sparrow died
in a cage behind beach dunes

in Florida, unable to call in a mate.
The shrike, the butcher-bird, Jackie
hangman, the strangler, all names
for feathers on the same bird,

a songbird that goes against the grain
and with hooked beak breaks necks
of mice and other birds and sometimes
hangs their limp bodies on strands

of barbed wire where they dangle
like half-eaten laundry, their song
disappearing too, along with
the meadowlark that has perched on

a fencepost in my garden and tilted its
head back, stretching its neck, exposing
a black feathered necklace as it points
its bill skyward, clearly announcing

spring, a yellow-breasted soloist
fronting an orchestra of greening
grass, it too is going away, and for
no good reason that we understand,

and so there are fewer notes
to remind us of his going.

The victories in Remedies for Vertigo are hard-won, and not often transient. But the struggle, the striving, will continue.
0 Comments
Book of the Day: All This Could Be Yours by Laurie Blauner

Is "lush" an inappropriate term to describe a poem? I don't think so. This word kept going through my mind when I was reading All This Could Be Yours by Laurie Blauner. Blauner's lyrics immerse the reader in the body's music. Consider the dense consonance of the lines in "Clouds of Bones":

Clouds of Bones

accumulated around the small thickening fruit of organs
before you were born. Mother was the moon outlining,

encasing the blooming tree of your body whose branches
held up the refractable sky. I warned you, little sister,

that history repeats itself. I taught you how night
tossed objects up its dark sleeve only to have these tricks appear

at the appointed hour of morning. The stutter of daylight
couldn't be kept out of our room by the heaviest

curtains. You can't stop intentions, even the best ones.
Think of all the children that were lost between us.

Now mother creates her own world, a romantic clot
of stars dead center in her small evening. Me?

I often dream that I am out of my body, visiting
a cumulous chandelier or the mica-specked corner

of my childhood room, from within my body. But
you have learned your lessons too well, the clouds

of your bones became burdensome against the earth,
the moon reached out and took all you had to offer,

and you know the consequences of beginning the new,
inexplicable days like a blue, shiny place you just stepped out of.


I have one word: beautiful. Blauner is the very opposite of a poet of understatement: her lines are rapturous, joyful, alive.
0 Comments
Book of the Day: A River Remains by Larry Smith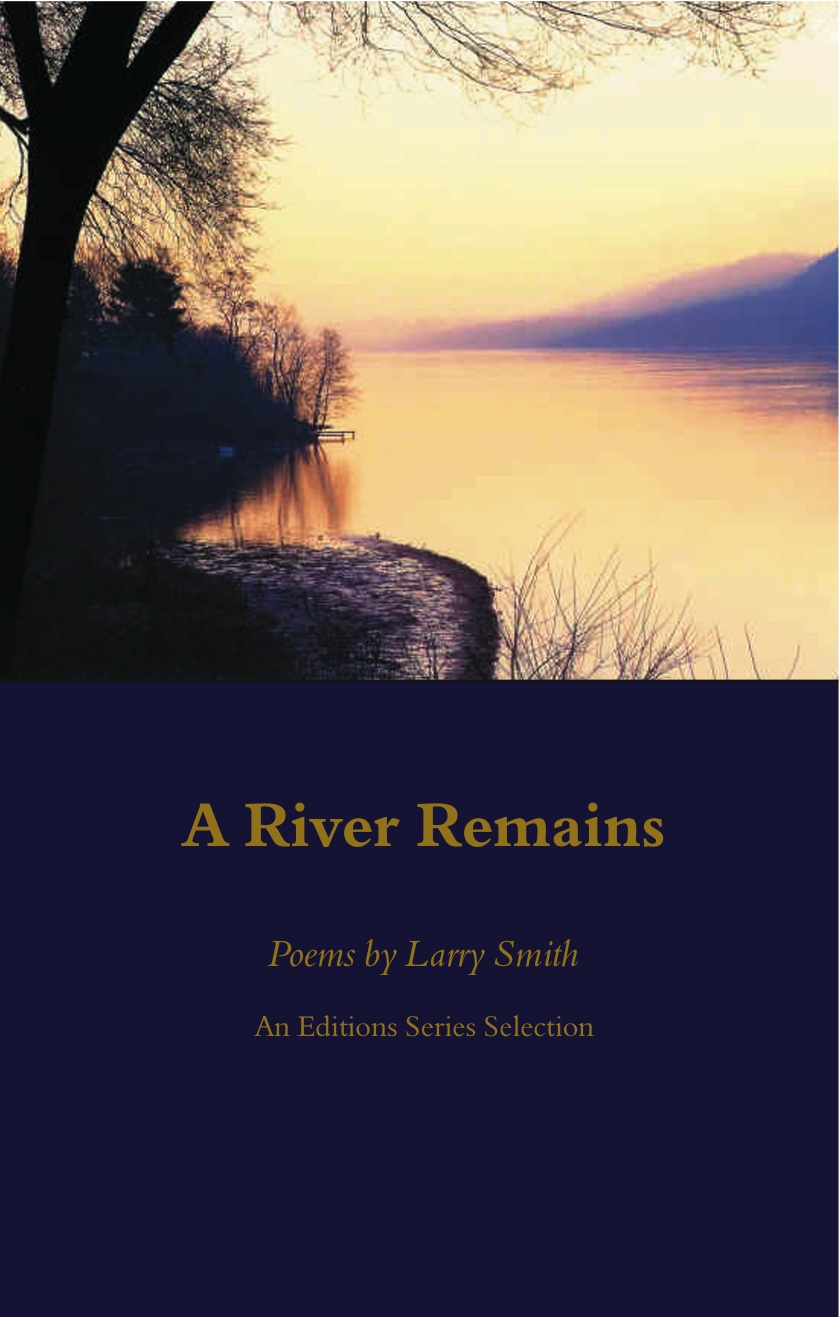 Larry Smith's A River Remains is, for me, an important book to publish. I've been a follower of Smith's work for more than a decade; he writes in a plainspoken style that draws on the influence of such Midwestern poets as James Wright and Kenneth Patchen, and Chinese poets such as Li Po as well. His poems are usually meditative lyrics, frequently concern working-class life, and greet the reader in a modest, plain-spoken manner.
In Smith's new book, mortality weighs heavily on the poet's mind. Now in his 60s, he has fought illness, watched his children grow, and retired from his long-time teaching position. Pondering his life, he finds that work and love are what bring richness to his days:
The Bonds of Work
"We'll get the job done,"
I tell my daughter on the phone
and hear my father's voice, all his life
turning work to love and honor.
"We'll get the job done"—not perfection
but carry through, and I recall
the long hours of getting his tools
holding flashlights while he lay
on cardboard beneath the car
fixing brakes and starters, changing oil
because he could, because we
needed milk and bread.
When married, he'd help us move
each time not stopping till the beds
were up in each bedroom—his hands
red from lifting, turning wrenches
on appliances, thinking his way through.
And he'd follow our U-Haul back,
return with me and sandwiches,
my wife making the kids' beds,
Mom serving coffee in paper cups,
only then could we sit and rest.
I give back now this work
for my children grown and wed,
helping them know their grandfather's
love by the work he bred.
At over 200 pages, A River Remains is a long collection. But it does not feel bloated. Rather, it gives a rich sense of a life's dailiness, in its numerous, brief lyrics. It is Smith's richest collection.
0 Comments
The Economics of Poetry Publishing

A recent article in Poets and Writers magazine about the economics of literary publishing provided some useful food for thought. The author, Joseph Bednarik, is a respected figure in literary publishing, having served for nearly a decade as marketing director of Copper Canyon Press and, before that, in a similar capacity at Story Line Press. (Full disclosure: I knew Bednarik when he worked at Story Line and handled the marketing of two of my books.)
Bednarik's thesis is grim: finding manuscripts to publish is easy, but finding readers for those published books is hard. The proliferation of Master of Fine Arts (MFA) programs in creative writing has greatly increased the number of literary/creative writers, but there hasn't necessarily been a corresponding increase in the readership for creative writing.
As a result, Bednarik notes, an increasing number of publishers must turn to outside subsidies--whether from grants, donations, or contests--to publish, because book sales alone are insufficient to repay production costs.
To those of us who work in literary publishing, there's no news here. But some of the details that Bednarik uses to support his thesis are illuminating, even startling:
Bednarik says that, in the fifteen years he has worked in literary publishing, the publishers that employed him read more than 10,000 manuscripts submitted to contests they sponsored.

Out of those 10,000+ manuscripts, 15 were published in book form.

Those 15 books had sales ranging from 400 to 2,500 copies.

In Bednarik's estimation, 2,500 sales are the minimum required for a press to break even on a book's publication (assuming it's a paperback that retails for $15). Sales of 5,000 copies would be necessary to actually turn a profit.
Assuming an average reading fee of $20, Bednarik's figures show that more than $200,000 was spent on the publication of those 15 books. Though Bednarik doesn't say, one may presume that his employers did not earn back that $200,000.
Astounding.
Bednarik goes on to suggest that creative writers have an obligation to support the presses that publish literary work. His main recommendation to increase the readership for literary writing is for creative writers to buy more books. In his words: "One solution is simple enough: If you write, read. A lot. If you want a book published and sold in the marketplace, then buy and read and recommend enough books to nourish the system you want to enter. Advocate on behalf of literature."
At one level, it's hard to argue with what Bednarik is calling for. Of course creative writers should buy work from literary presses; given a choice between reading fees for contests or buying a couple of books from the press that sponsors a contest, I can't imagine a writer who would opt for the former.
Still, I suspect, many writers already do buy as much work from literary presses as they can afford. I'm not at all certain that creative writers represent the future of literary audiences. More importantly, I think that asking how to increase the audience for literary publications is looking at the question from the wrong angle.
A more realistic approach to the question of literary audience is to recognize that the audience for nearly any literary writing in America is likely to be small or tiny. Rather than trying to increase the audience size--and therefore sales--to an impossibly high number to meet the overhead associated with publishing, it's more sensible to align the overhead with the expected demand.
In other words: Don't focus so much on growing sales. Instead, focus on driving out costs.
Based on Bednarik's figures, I'm estimating that the 15 books published cost an average of $13,000 to produce. Even if one counts the cost of administering a contest among these expenses, $13,000 sounds absurdly high to me. How is this money being spent?
I don't have access to the financials of Bednarik's employers, but I can reasonably guess that printing costs, design costs, and marketing/advertising costs form the bulk of the $13,000. At least, that's a typical breakdown for any kind of book publishing. Here's an overview in more depth:
Printing. Traditional offset printing, which is the norm at both the publishers where Bednarik has worked, is expensive. Almost all the costs come in preproduction setup--the processing of the book pages and cover for the press. A press run of 2,000 costs only slightly more than a press run of 1,000 because the only additional cost is paper.

Design. Many small presses contract out for book design, which can be expensive even for a small book of poems. Bednarik's current employer is well-known for the beauty of its book designs, and in fact has helped set the standard for poetry book design in the U.S. High-level design services are not inexpensive.

Advertising. Advertising a book can be quite expensive, especially if the press is using half- or full-page ads in multiple publications.
It's not hard to imagine the production costs on a title approaching $10,000 if the press does a large offset print run, uses a graphic designer or design studio, and has an aggressive advertising program to promote the book.
If a press does in fact spend $10,000 or more on a single book, what do they get in return? Plenty of copies for distribution. A beautiful book. And lots of audience awareness of the book.
But what they may not get--at least in sufficient volume to earn back that $10,000--are sales. Sad to say, but it's true in the vast majority of cases. It's actually quite respectable for a small-press book of poetry to sell 500 copies; 1,000 sales is excellent. Statistically, few titles even approach Bednarik's "break-even" point of 2,500, let alone 5,000.
I simply can't see any justification for publishing books of poetry, or other literary writing, in this manner. A system in which expenses so greatly outpace revenue is simply unfeasible from an economic standpoint. The only way for a press to survive in such an environment is to receive massive infusions of cash from external sources--agencies, wealthy individuals, or contest entries. And this makes the press especially vulnerable, because government budget cuts or a decline in donations starve the press of revenue it needs to operate. A literary press could easily go out of business if cuts to its external funding are severe. How does this serve literature?
I believe a saner, less-risky approach to literary publishing means that the press must reduce the cost of publishing a book to the point where the book has a fighting chance to earn back its investment. Our press has taken these steps in accordance with this viewpoint:
Print-on-demand instead of offset printing. Print-on-demand publishing, in which books are printed one-at-a-time on digital presses instead of in large batches on a offset press, has the potential to revolutionize literary publishing because it is so much less expensive. Instead of even a small press run costing several thousand dollars, books can be printed as they are ordered. The per-unit printing cost is similar, but the setup costs for print-on-demand are much lower, and the overall printing costs can be spread out over the sales life of the book instead of being absorbed up front. Additionally, print-on-demand means that there are not hundreds of unsold copies gathering dust in a warehouse. After using traditional offset printing on our first few titles--and losing money on them even though they sold well--we switched to print-on-demand, which has made a huge difference financially.

Design in-house instead of using outside contractors. We do nearly all our own book design in-house; we are informed enough about design and printing to do a competent job with typesetting and cover layout. The cost savings are tremendous.

Methods of marketing other than advertising. A couple of years ago, we undertook a modest advertising program for our books. We could find no measurable increase in sales that could be tied to advertising--for instance, we never saw a jump in sales for a title in the months following its advertisement. By contrast, when we started other marketing programs--such as direct mail to addresses provided by our authors, trying to get our books placed in review outlets, and so on--we did see a measurable, and almost immediate, increase in sales. And, as our authors helped to organize readings in their communities to help promote their books, a similar jump in sales followed. (We ask our authors to take an active role in helping to promote their books, particularly by doing poetry readings--the single biggest contributor to book sales.) After our advertising contract expired, it was an easy decision to discontinue advertising--a high expense with no measurable return on that investment.
This approach means that our books don't have to sell 2,500 copies to break even. We've been able to align the publication of our books with the demand that actually exists for them, rather than hoping to increase the size of that demand exponentially.
For better or worse, my press remains a bit unusual in its approach to literary publishing. Most presses still work according to the model promulgated by Bednarik. That's fine, especially if they are able to stay afloat financially to continue publishing. But with literary presses going out of business every year, it's puzzling to me why more presses do not embrace a business model that gives them a better chance to survive and even prosper. Literature certainly isn't well served by presses going out of business.
0 Comments
Book of the Day: Dirt and All Its Dense Labor by Gabriel Welsch

Gabriel Welsch's Dirt and All Its Dense Labor is a book that is, literally, dense with the earth's music. Welsch is a poet who packs each line with sound: consonants and vowels collide in complex and subtle rhythms. It may be paradoxical to describe a poet who writes so much about plants and gardens in terms of the music of his poems rather than their images or lyricism, but, as a reader, I found myself responding to Welsch's verse first because of its music.
Consider the opening poem of Welsch's book, "Pennsylvania":
Pennsylvania
after Bishop
The state with the prettiest name
and the ear of an ancient ridge—
its runnel of stone cluttered
with the wet trees that hold taut
the devastating brown in winter,
the state with air cluttered by the noise
of more miles of road
than any other state, its cities
rarefied by steel and freedom—
the state of deer hungry and baffled,
twisted on its roads, tufted on its fenders,
swinging husks on the porches
of tight homes crowded on the Susquehanna,
the Juniata, the Allegheny—
the state where roads of chicory
rattle through the weight of August
out of the mountains and onto the slow
limestone slab that runs to the Chesapeake—
the state hollowed out in its wood-dense
middle, rusted in a line from Scranton
to Monroeville, slag heaps stand sentry
over ridges pillaged bald—
the state on fire at its core where stories
slide into the maw of hell each time
another house groans its way into the earth—
the state abutting the Great Lakes
which feels their force with each gush
of winter that rakes over the ridges—
the state where mud sings, its telepathy
gritty and familiar, its voice a particular
shade of its character, given roundness
with sweet lime—
the state of forests that beckon
with trails of shadow and distance and great
disappearance, tied to its deliberate
stretch toward winter, when this state is all smoke
and the gray reaches of trees, all darkness
and fire, all ash and water and the salt-worn
roads that lead all thoughts to home—
the state where to talk of soup is to talk
of God and Sunday bundling and bazaars
through the countryside and gravestones
laid over with flags and wax begonias—
the state with pierogie sales and funnel cakes
and cheesesteaks and soft pretzels
and the ruddy faces of corpulent railroaders—
the state that is everywhere and here,
made distinct by its bunched mountains
and hidden towns, how it lays demolished
under leaves, resting on ground that grows
hollow and more hollow year after year,
burning and sinking—
the state with the prettiest name, a name
that is both lie and promise,
adjective and mystery, history and fable,
one man's woods.
We hear robins in the laurel, semis
jake-braking into town,
the sudden snap of deer hooves
on tomato stakes. And always,
highways building and seething
with our weight, pushing on limestone,
building and building on this softening ground.
The strong, natural cadence of these lines is reminiscent of Donald Hall's best work, and for much of the same reasons: rooted in a specific place, as solid as granite, that gives the poet's imagination the ability to set down roots.
0 Comments
Book of the Day: Fathom by Melissa Morphew


Melissa Morphew is a poet of great intensity: whether celebrating or laughing or mourning, her poems hold nothing back emotionally. Each poem in her collection Fathom is a dramatic journey through its story, artfully and fearlessly constructed.
Here's a sample poem:
Deceit
Flowerbeds, wild
with dusty miller, suffer the sea-change of dusk,
lightning bugs swim a reef of rosebushes. Beneath live oaks
reeded with Spanish moss, her daughters play, skinned-knee
urchins, chub-chub, churoo.
She watches them from her window;
finless mermaids, cavorting the giggled trip and fall
of dress-up, her honeymoon trousseau strewed across the yard—
seashell pink, aqua-blue, anemone lavender—
the Frederick's of Hollywood joke girlfriends
perpetrate on Baptist virgins, the hundred-thousandth
keepsake she'd stored away only to let go
like petals of love-me-love-me-not daisies.
She remembers her sweet sixteenth,
how she begged her mother for a silver taffeta dress, danced
in front of the dressing room mirrors, a minnow darting
from glass to glass downward to infinity—
no boy with clumsy hands and a jelly jar
would ever hold her—
and how once, on a trip to the city, she visited
a mercantile museum, losing corridor after corridor,
amnesiac compass, absentia pole star,
until finally she found herself
amongst Treasures of the Far East, uplit cases of glass
exquisite with jade netsuke, samurai swords, carved ivory Buddhas,
and she paused, time enough
to ponder a Japanese kimono—burnt-orange tsumugi
embroidered with fire-red coi, prized
possession of a forgotten geisha—
closed her eyes to feel the silk,
the wrenish toddle, the layered whispers of movement delicate
as the swish of green tea in porcelain cups.
Now, her gaze takes-in
her daughters, spinning raucous cartwheels
against a sailor's sun.
In February,
she gave up her lover. May blooms—white clover
iridescent against a tidal line of grass.
Morphew's poems are contagious in their enthusiasms, and invite the same enthusiasm from the reader.
0 Comments
Book of the Day: The Horse's Name Was Physics by George Drew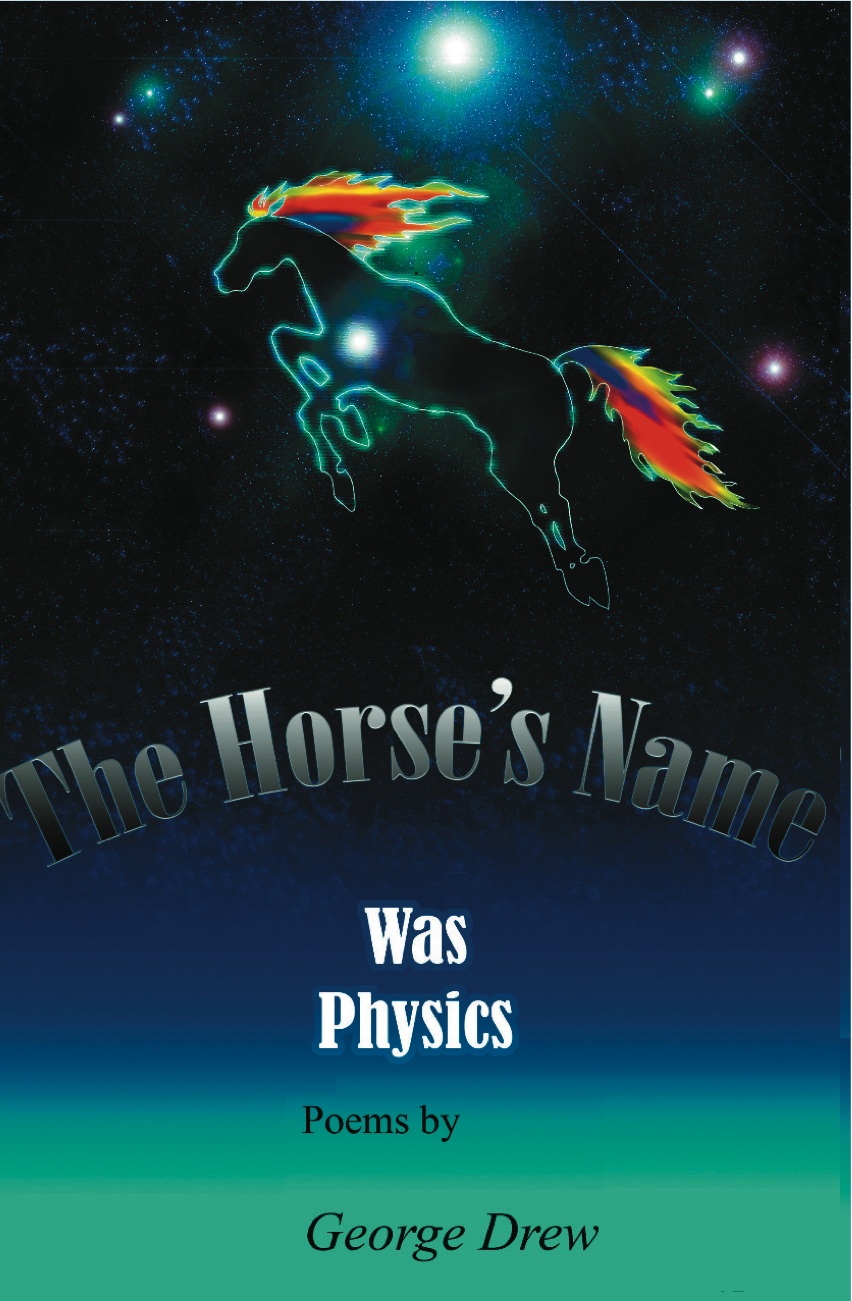 It isn't often that I find myself turning to poetry to learn the facts of history, but I do exactly that when reading George Drew's The Horse's Name Was Physics. This unusual collection is essentially a group biography of the scientists whose work led to the development of the atomic bomb. They're all here--Heisenberg, Einstein, and others.
Here's a poem that gives some of the flavor of Drew's collection:
Wild Beasts in the Ruined Cornfields

Manchester
September 1915

Dear Bohr,
It's happened. Moseley's dead at Gallipoli.
I have it from good sources he died bravely, even,
as much as such a thing is possible in the very bowels
of Hell, contented, having willed his meagre assets,
all of them, to Science. You recall, don't you,
how Spartan he was in his days with me,
living on cheese and fruit? And he was just
as Spartan in his friendliness. God,
how he rankled! So aloof. So stuffy, upper-class.
And even here in Manchester he disliked foreigners,
their smell. The Hindu. Burmese. Jap. Vile Indians.
But in a war in which the smell of new-mown hay
and blossoming lilac sends the soldiers running
for their lives, that he died at the hands
of foreigners should not surprise. Awful, yes.
But mathematical, exact—there in the heat
of those ruined cornfields, with the knives
and stones leaping from human hands;
the bodies of the Turks two-deep, four-deep,
six-deep. Of course we weep—especially you,
whose nay-sayers he nailed to the cross
of their own doubt, the spectral lines he spent
a beastly summer labouring to count his nails.
But he liked action, able, as you know, to work
for fifteen hours at a stretch, and after weeks
on that horrible beach with nothing but centipedes
and flies, chlorodyne for the bowels, and jam
from home for the soul, even death must have lost
its sting. So let us weep, for he is gone.
But, as he knew, the destination never was
in doubt—the universe, the ultimate nucleus,
ad infinitum. And him the neutron lodging deep.
As are we all, dear Bohr. As are we all.
Yours,
Rutherford

Drew's book, while brief, is meticulously researched. He takes care to get both his science and his history right, and does so while retaining the compactness and music that is characteristic of poetry. As such, The Horse's NAme Was Physics is a superb fit for our Turning Point imprint: a rare example of a book of poetic non-fiction. I wish more poets took this imaginative approach in creating their work.
0 Comments
Book of the Day: Average C-Cup by Elisabeth Kuhn

Elisabeth Kuhn's Average C-Cup is a difficult collection to read--difficult because of its subject matter, the author's battle with breast cancer, mastectomy, and journey toward emotional healing. Kuhn writes in an unadorned narrative style, which allows her story to assume its rightful gravitas.
Here's a sample of her technique:

Secrets

Why would you want to know where I was
last Saturday night, and with whom doing what?
It's none of your business or anyone else's

either. I could have been home making Sauce
Béarnaise for my steak. I could have been doing squat.
Why would you want to know where I was

Sunday afternoon? I was not cutting grass –
there's no need for that in my 10th floor flat.
It's none of your business nor anyone else's

if I was home or out playing with friends because
I'm single. I can do what I want. There's not
a thing you would want to know. Where I was

when you called and got my machine? My boss
wouldn't even ask that. If my life had a plot
it would still be none of your business. Nobody else is

asking me. They know better! Maybe I floss
or make love home alone. I might tell you a lot
more than you wanted to know. Why don't you cross
what's none of your business off your list? Pretend it's my loss.


I found the book's simple narrative organization to be a real strength, and Kuhn's poems take on a cumulatively powerful and redemptive emotional arc.
0 Comments
Book of the Day: The River of Forgetfulness by Rachel Hadas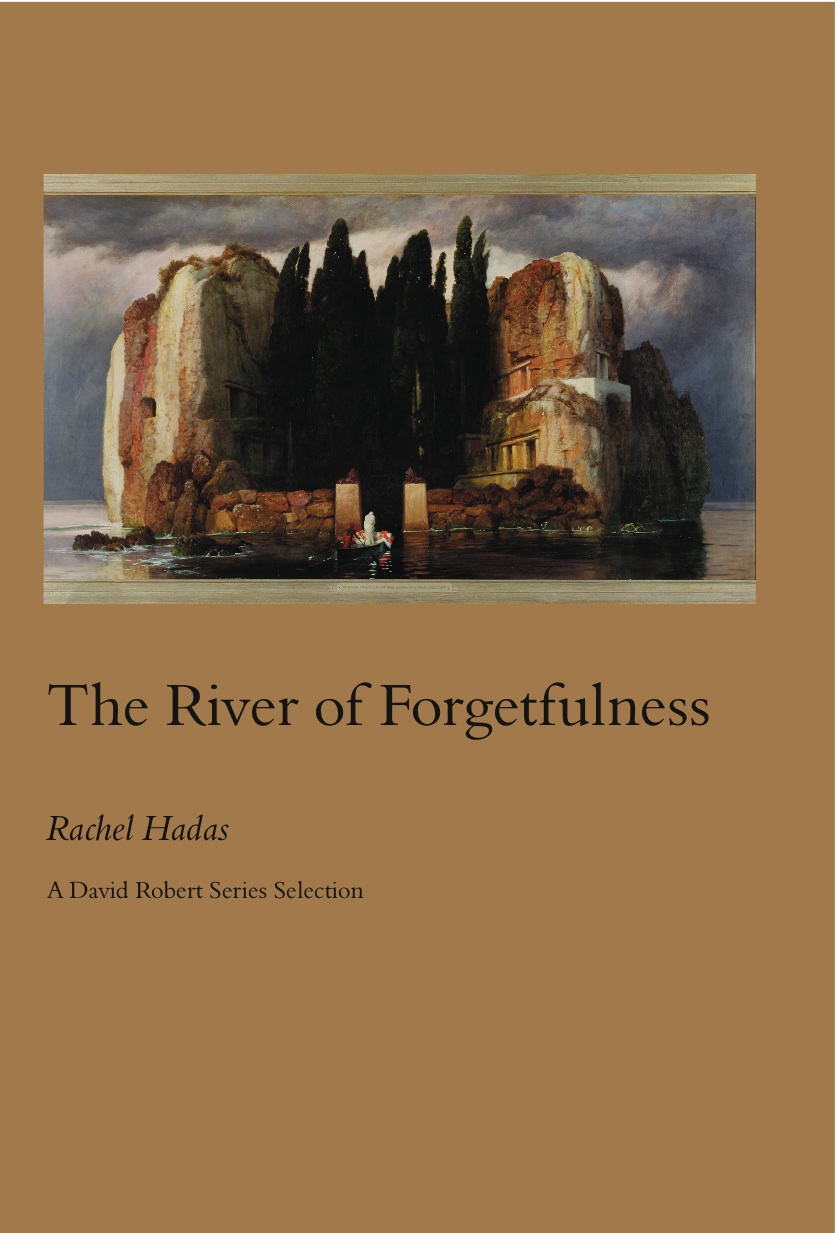 It's a bit embarassing to say, but when it comes to Rachel Hadas, I'm a fan. I first wrote about her work more than a decade ago as a reviewer for a literary journal, then wrote about her in more depth for my critical book The Ghost of Tradition: Expansive Poetry and Postmodernism. Hadas is one of the leading lights of New Formalism, and her work--steeped in her knowledge of classical Greek and Latin, formally experimental within its metrical traditions, and graceful in its attentiveness to the particulars of everyday life--is substantial in its achievement.
Imagine my pleasure and surprise, then, when we receieved an inquiry from Hadas about looking at her newest manuscript. It took little time to get the manuscript in hand, and only a little more time to accept it.
The River of Forgetfulness, Hadas' new book, is of a piece with her earlier work. Ranging across a variety of themes, she writes with elegance and erudition, but also emotional richness. Here is a sample poem:
Neolithic Figurine, Spetses Archaeological Museum
Winged, bronze, two inches tall or less;
embodied stillness brimming with repose;
you have no feet, but at your pedestal
lie a row of slim bronze objects all
like you unlabelled: skewer, spoon, and snake,
what looks to be a zipper pull; fishhook—
each clearly fashioned by a human hand
for some earthly purpose. But you stand
perpendicularly poised for flight,
arms ready to reach out and wings to beat.
Pawn-sized messenger and angel too,
your energy compressed inside of you
for two millennia, with what look to be
both tenderness and generosity
(the tiny tilted head, the earnest gaze)—
I trust you, though you haven't any face.
Though you could fit into a toddler's hand,
I write in the belief you understand,
and greet you, goddess, there in your glass case
upstairs in a Spetsiot captain's house.
Where were you on this island before that?
Before, before . . . how many summers' heat?
June, July, August: centuries go by.
From your corner can you see the sky?
It's a real pleasure to bring Hadas' latest collection to the public.
0 Comments
Book of the Day: Corset by Shannon Borg


Shannon Borg is a poet who writes almost obsessively about human relations: relations between lovers, between friends, between family members, between the living and the dead. The multi-layered poems in her new collection,Corset, are demanding on me as a reader: after navigating the complex surface of the descriptions and narratives that these poems depict, I still have to ponder their depths--which are considerable.
Consider "If Memory Serves":
If Memory Serves
As if regret were in it, and were sacred.
—Robert Frost
And in it, too, was the grubby knot
of your presence. And in it were two blue
tunnels of your eyes. And in it rope and what rope
can do, and a shovel, chuck, chuck, chucking
into the next dark hour. And therefore in it
was Grimsby and a dance with a stranger
when my eyes went out, and then too in it
were the seals on Cleethorpes Beach where my mother
kept coming out of the water, the seals my mother
kept emerging as, and in it were whelk and red clay,
and the red hill in Utah my father clambered as a boy
and the mica he gathered for its glitter
and in it fear of his big horse, his giant horse
Skyhook clopping streamside when red mud flowed
down into it and through until Houston glittered
for me, where my car was a swamp. And in it
the jaws of August's worst afternoon, the house
and the damp bed on which you and I made love and forgot
over and over as the porch swing swung and creaked
and in it the Swedish pancakes my father made
while I swang, rolled with sweet strawberry, which
is like love is, love, that is, like sweet strawberry,
that song you sang as we cleared
the furniture out and all swang barefoot, drunk,
dressed to kill, and all at once, at that moment,
remembered how all our individual parents died.
And in it, the tick tick tick of summer passing away.
Sensuality, fond memories, regret, and somber intimations of mortality all commingle in this poem: it is an unusally rich intertwining of emotions, gorgeously rendered in rhythmic couplets.
Corset
is a book that demands--and rewards--multiple readings.
0 Comments
Book of the Day: Weeknights at the Cathedral by Marjorie Maddox


Majorie Maddox's Weeknights at the Cathedral playfully alludes to T.S. Eliot's verse drama Murder in the Cathedral--and Maddox's work is as playful as Eliot's is somber. Weeknights at the Cathedral is a refreshingly wry exploration of a faith journey, and renders its subjects in a distinctive light. How many poets would choose to imagine God walking on a tightrope, as this poem does?
God on a Tightrope
One pierced foot before the other,
you step from your ivory platform,
curl your toes about the taut wire
as if walking on water.
You balance the air on your arms,
tent shadows on your shoulders.
Spotlights circle your brow like a crown.
In your star-spangled loincloth,
you hover over the multitude,
make the sign of the cross,
take a deep bow,
then dive toward our gaping mouths.
The images of God border on the absurd, but this is a poem of wonder, not satire. The idea of God walking on a tightrope and diving toward the crowd is no less awe-inspiring than any of the miracles portrayed in the Bible--and, given its modern context, prompts us to look at its subject with fresh eyes. Weeknights at the Cathedral is filled with strong poems that provoke us in this pleasant way.
0 Comments
Book of the Day: Night in the Shape of a Mirror by Lynne Knight

Night in the Shape of a Mirror by Lynne Knight explores the decline of the author's mother into dementia. While it is possible to imagine this story being told effectively through flat, realistic narrative or as a sequence of lyric vignettes sequenced to sketch a larger story, Knight takes a riskier approach: she renders the story almost as a dream sequence, layering memory and meditation atop the narrative scenes. Music and image take on shimmering tones, as illustrated in this poem:

Prologue: Living Apart

My mother is not a woman I can ask about sex.
Her body is like a building she has driven past
on the way to somewhere else, not paying
much heed. She knows the major stories,
but that's about it. Until she fractured it last year,
she had no idea where her pelvis was.
She speaks of her insides, her plumbing.
But she is not a stupid woman,

so I can talk to her about need.
She knows about the spirit, having lived apart
from the body for so long. She says I mustn't be
too greedy. She loves me, but then there is the world.
The cold place, she calls it. If I could talk to her
about sex, I could ask her if she thinks I crave
the spirit like a lover who just uses you,
takes and takes and then leaves—

if that's what she means by my greed.
We all need something, she said the other day
when I visited. She was looking out at the woman
who walks up and down the street all day long
like someone who's lost her door.
The poor soul, my mother says, and waves,
though the woman can't see her.
I want to know if the hollow my mother feels then

is the same as I feel after sex, like watching
someone lose the body altogether in the distance.
But when I talk about my lover, simple things
like how he fixes salmon, a little lime and butter,
cilantro, my mother looks away, as if I'm talking
of sex in disguise. So instead I sit quiet, like spirit,
thinking if I practice living apart from the body,
my greed for hers won't break me when she's gone.

It took a couple of readings to begin to grasp the depth of Knight's poems. The time spent was definitely a good investment. Night in the Shape of a Mirror mirrors something different back each time I read it.
0 Comments
Book of the Day: Red Jess by Judith H. Montgomery

What struck me in reading Judith H. Montgomery's Red Jess in manuscript form was the exceptionally composed music of her poems. Montgomery's poems employ a variety of rhythms and tones, blended in interesting ways: free verse that dances around a regular meter; blank verse that employs rhyme at key moments, to bring an idea or emotion to full bloom with a sharp crack; and, along the way, a rich array of assonance, consonance, and other ear-pleasures. Montgomery is an especially skilled craftswoman in the lyric mode.
What is equally important, however, is the ends that craft are put to: Montgomery does not disappoint here either. Her poems, often brief, render highly complex emotions and stories in their sparing sounds. Consider "Gallop," about a young girl facing surgery:
Gallop

The day before she turns five, Amy hears
the doctors speak of her galloping heart.

The stethoscope has pressed its hard, cold coin
into her chest. Air empties from the room.

When she is alone, she listens for the horse
that gallops in her ribs, for hoofbeats in her blood.

What she understands is this: tomorrow
they will sleep her, and peel apart the fence

against which the red stallion beats tattoo
and let him out. Then her heart will canter,

walk an ordinary, one-two gait.
But she wonders—will he run into the sky

without her? His wild mane tangle in clouds,
and his hooves spark a starfall beyond the moon?

She sees an empty saddle on his back.
When they open the gate to let him out

(this must be the secret), she will hold on—
she will gallop too.

And the reader along with her.
0 Comments
Book of the Day: Halfway Decent Sinners by Michael Cleary

Michael Cleary's Halfway Decent Sinners is a book unlike most of what we've published: unabashedly funny. The book is full of tales of quirky characters and their all-too-human foibles, narrated chiefly in the context of a Roman Catholic upbringing, and rendered with affection. Cleary has a sharp eye for character, and is unsparing of himself (if one may presume that many of the poems' narrators are versions of the author) as he is of anyone else: but also as forgiving, as well.
Cleary's verse line is smooth and breezy, which make many of the poems quick reads (in the best sense); only later does their underlying seriousness come through. This poem provides a good example:
Paramount Theater:
Solipsism in the '50s
We grew up on them, so names
of streets meant nothing to us
but neighborhoods—places
closer than history, more common than trees.
Washington. Lexington. Lincoln. Sherman. Grant.
Elm. Pine. Park. Walnut. Cherry. Grove.
Some were plain and simply
adjacent until we learned better in school.
Orville and Wilbur. Ft. Amherst and Garrison.
Mohican and Fenimore and Cooper.
On Food Drive Saturday mornings
our parents sent us down those streets
to the Paramount loaded with cans
of soup, baked beans, ravioli, stew.
Whoever the poor people were, they seemed
far from us as the mural ceiling
with its fabulous chariot race in the sky.
From the balcony we watched The Robe,
Demetrius and the Gladiators, Ben-Hur.
The dreary rote of Catechism turned
Technicolor and CinemaScope and Real.
One summer afternoon
Boom-Boom and I found the backstage door open
to fresh air and not a soul inside.
We never wondered what made us do it
or worried about what could happen.
Climbing up to the back row seats
we bolted forward, leaping on chair backs
like railroad ties all the way down,
then up again and down and out to the alley.
Never wondering what kept us from falling
or getting caught or why, with no tickets gone,
someone showed the movie on time
so beyond us other lives spoke to each other,
flickered, made their way in the dark.
A thoroughly enjoyable read.
0 Comments
Book of the Day: Where No One Spoke the Language by Daniel Bourne

When I read Daniel Bourne's Where No One Spoke the Language, I felt as if I were in the weighty presence of history: a history larger than my own. By "larger," I mean encompassing more than my own personal and cultural experience.
Set mostly in Poland, where the author has traveled extensively, the book brings some of the depth and sorrow of European history to an American audience. In the twentieth century, Poland was often a battleground between East and West, opressed first by the Nazis of Germany and then the Communists of Soviet Russia. Bourne incorporates both his own voice and vision and the voices of many of the writers and artists he has met and translated.
Covenant
Thunder, the Baltic, Andrzej scattering the swans
with his quick limp, as we bring up the rear
worrying how many people get struck in Poland
each year from lightning. The rain soon pelts,
our skin grows huge as sponges, the sand
wet on top, heavy as our lives, but with each step
we tread down to our dry selves, gray tracks left behind
as if they were our last requests. "Is this when I die,"
we say here in the open, no tree
to stand under or to blame, in the event
of the sin of dying, of getting caught
in the great mess we swim in. How many vodkas
shared with Andrzej, how many times out on the beach,
afterwards, gazing at the calmness of the ships
heading with their bleak cargo into port
will it take for us to be glad we are alive,
to distrust the rainbow? Not so much
to question it,
but to question us.
The awful fact the rainbow will be,
but we won't.
Bourne writes in a smooth, unadorned style, which allows the stories he records to shine through all the more powerfully. Where No One Spoke the Language is a powerful book.
0 Comments
Book of the Day: Fullest Tide by Ann Silsbee

One of the first books Lori and I published after going full-tine with our press was The Book of Ga by Ann Silsbee. It was a bittersweet event, because Silsbee passed away suddenly when the book was in the final stages of production. The Book of Ga is a magnificent collection about the author's grandmother, elegantly written and artfully organized. The book was only Silbee's second collection, published very late in her life after decades of writing and publishing in journals. Our sense, and the sense of many of her readers, was that a gifted voice had been silenced far too soon.
We got a sense of just how true that assessment was when Silsbee's husband, Robert, asked us to consider a volume selected from the entire range of her work. It took little time for us to agree to publish the book. The resulting volume, meticulously edited and introduced by the poet Gray Jacobik, is Fullest Tide.
Fullest Tide confirms that Silsbee was a poet of sublime skill. What is most remarkable about her work is its music: Silsbee, who was a musician and composer before turning to poetry in middle age, did not lose her finely tuned ear when she focused on her new art. Silsbee's work is formally broad, ranging from elegantly sculpted traditional forms to free verse that pushes formal boundaries in daring ways. The common thread in her work is its music: the sounds and rhythms of English played together to bring her perceptive observations of nature and humanity to glorious life. Just listen to the way the consonants burst from the lips in this poem:
Waking to Sleep
I touch your face as if my fingers
were five feathers of an old wise bird
that cannot fly but remembers the lift
of wind beneath wings, the warmth
of down against snow, the breast of waves.
I want to memorize you, learn every mole,
every muscle, every hump of cheek or chin,
the texture of your skin, the landscape
of your bones. Around us, the cacophony
of spring: a cardinal claims his neighborhood,
repeats his proclamation to the world:
Come here, come here, begin again.
Birds echo back and forth. Peonies
spread pink wings. The whole yard's
ready to go on and on repeating generations.
You and I, love, are not here to stay.
My hands tell you that our lives touch,
that words are stones, won't bear us into silence.
There has to be a singing in the wing-roots,
the melt of rain into flower, the lift
that lives inside the house of bones,
the tent of skin, a soul's feathers fluttering.
It's an honor to play a small role in preserving and expanding this gifted poet's legacy.
0 Comments
Book of the Day: Lost and Found by Gwen Hart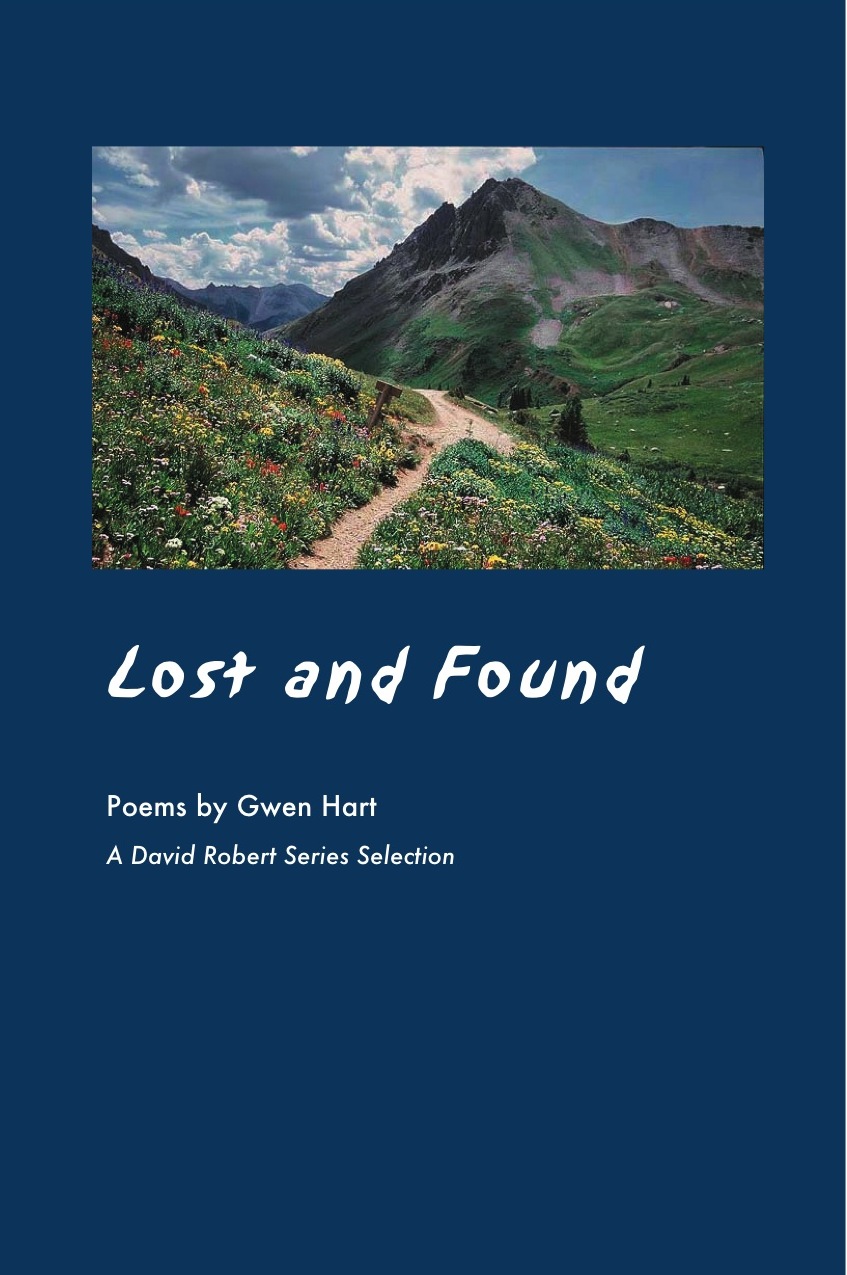 Gwen Hart's Lost and Found is a refreshing collection of love poems, at once wry and understated, yet sensual. Hart leavens her potentially weighty subject matter with a spritely wit. Reading Lost and Found, I found myself constantly intrigued by Hart's quick leaps of image and mind, turning from humor to deep insight in a single instance.
For instance, I can't help but admire the sly humor of this poem:

Love Poem Without Flowers

Calcified petals
rubbed from white
down to the blue
or purple quick

glisten in this warm
slash of surf.
Mosaics centered
with thumbnail-thin

buttons of sea
glass stare us right
in the eyes and swear
to be trillium or ox-eye.

A five-pointed
bouncing bet walks
off its stem
into the Atlantic.

My body grown easy
as a just-picked
daisy, I cover you
with my fragrance of salt.

No flowers, indeed! One may describe this entire poem as a flowering, an unfolding. It is entirely characteristic of Hart's technique.
0 Comments
Book of the Day: War in the Genes by Ralph Salisbury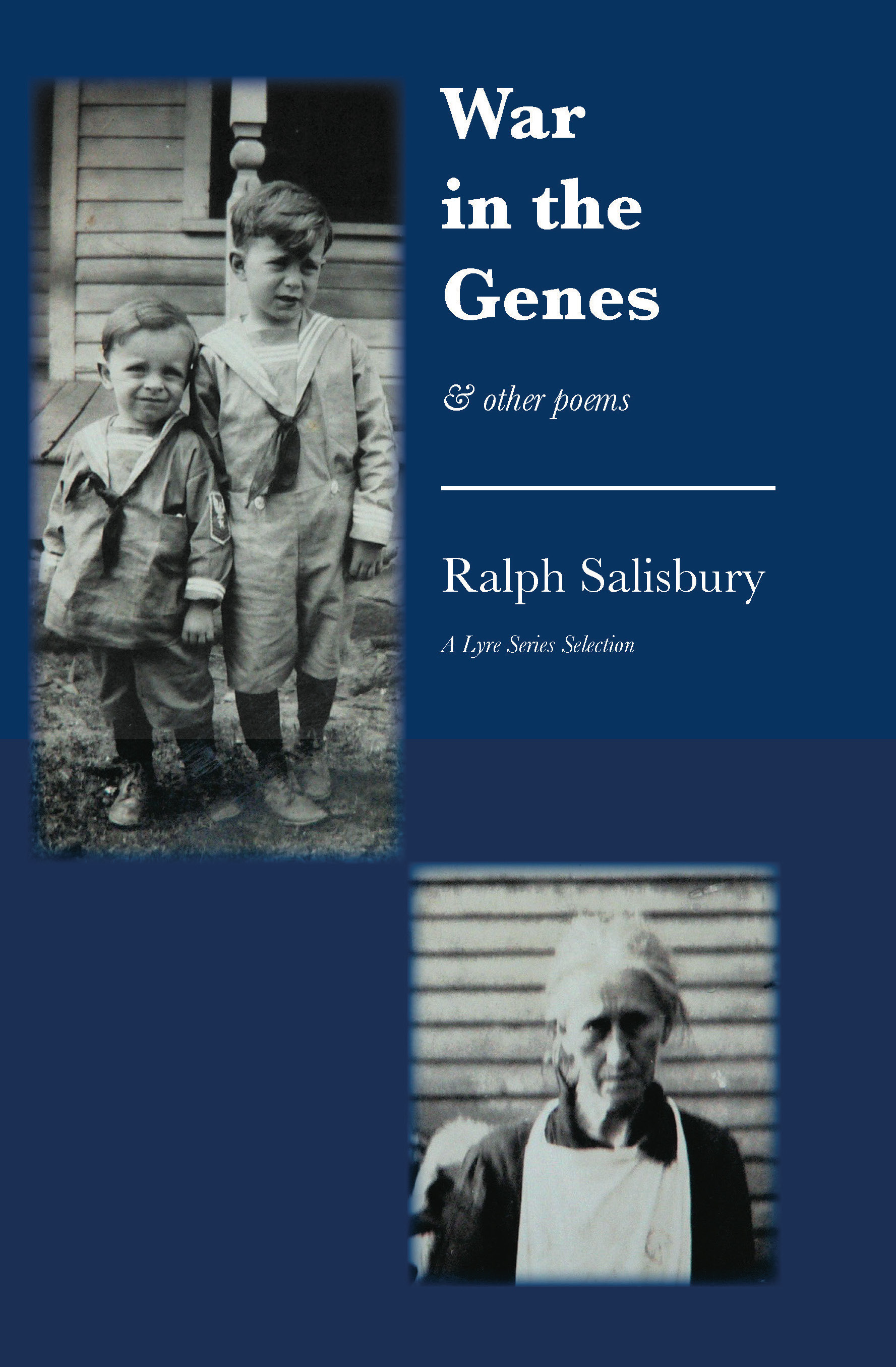 When I first opened the large envelope containing War in the Genes by Ralph Salisbury, I noted two things: the size of the manuscript, which was larger than most of the ones submitted to my press; and the brevity of most of the poems I saw, glancing through the pages. What also leaped out at me, on my first reading, was the intensity of the poems:

War in the Genes, a Reveille for Mustering the Dead

Once what someone once called Keats,
"a stable-boy," brisk brushing startling blood into flood,
under my hair, as white
as clouds grandchildrens' nuclear bombers comb, I write
of grooming descendants of battle-steeds
abandoned by Spaniards to free
galleons' holds for New World gold, and, war,
for Arab oil, now on, ink colts
of colts of chargers and get
of get of soldiers are risen, again,
in mind, as is Indian blood, in scalp,
as is sun, this day, of my few or fewer, begun.

Salisbury is a poet of deep historical sense, strong political convictions, and deceptive simplicity in his line. This brief poem successfully connects present-day military conflicts with centuries of conflict between Native Americans and the Europeans who displaced them, often bloodily; yet the poem also is refreshing in its brevity, its almost occasional sense of dailyness.
War in the Genes is full of such poems. Read individually, they often prompt reflection from the reader. Read cumulatively, they bring the weight of large history to bear on the reader. The book is the work of many, many days worth of such poems, many perhaps written in a short time, but always of a piece of Salisbury's larger, unfolding vision.
0 Comments
Two essential programming books

Two essential programming books on my shelf are Practical Programming in Tcl and Tk by Brent Welch and AppleScript: The Definitive Guide by Matt Neuburg. These two books are the best in their respective fields--lucid enough for the beginning programmer, comprehensive enough for the expert. I have yet to exhaust either of them.
The Neuburg book has just come out in a second edition, and I'm going to try to review it in this space a bit later. There are rumours of a new editions of the Welch book, but those are unconfirmed.
0 Comments
Book of the Day: Disappearing Ink: Poetry at the End of Print Culture by Dana Gioia

One of the things I want to do with this blog is talk about books that I've found moving, challenging, or otherwise worthy of my attention as a reader. This will include books of poetry, books about poetry, books about computer programming, and other topics of interest. I'll shamelessly admit that these will occasionally include the books I publish: why would I be a publisher otherwise? Before anything else, I'm a reader, a lover of books. But I'll also include books I haven't published.
I'll begin with a book I didn't publish: Disappearing Ink: Poetry at the End of Print Culture by Dana Gioia (2004). Gioia is a noted poet and critic who achieved great notoriety with the publication of his first collection of essays, Can Poetry Matter? (1992). Previously a business executive, he made his living as an independent writer when the essays of the new collection were written, then assumed the chairmanship of the National Endowment for the Arts, a position he still holds.
Disappearing Ink's title essay is the book's most provocative one, in which Gioia takes a broad look at the state of poetry in our postmodern, multimedia age. Gioia argues that poetry's cultural place is rapdily changing, moving from a purely literary realm embraced by a small readership, nurtured and mostly housed in universities, to wider cultural milieu. But he says that this change is also accompanied by changes in poetry itself: poetry's method of "publication" is widening from books to oral performance, not only in the literary sense of the poetry reading, but also in such modes as rap music, cowboy poetry, "spoken word"/performance art poetry, the resurgence of rhyme and meter, and so on. These alternative poetic genres are not replacing or supplanting literary poetry published in book format, but they are changing the entire cultural context of poetry.
Gioia's perspective about these changes is optimistic. His optimism stands in sharp contrast to the tone of Can Poetry Matter?, in which he argued that poetry existed mainly in an academic subculture, mostly cut off from the larger culture. I believe that Can Poetry Matter played no small part in helping to bring about the cultural changes that it adovcated, and which are surveyed in Disappearing Ink; the previous book ignited a major cultural conversation among poets about where poetry should reside culturally. Of course, most of the developments--such as rap music and performance poetry--noted in Disappearing Ink occurred independently of Gioia's work, but he has certainly played a major role in observing these developments and placing them in a larger historical perspective.
There are many other pleasures in Disappearing Ink, including essays on Weldon Kees, Henry Wadsworth Longfellow, and Elizabeth Bishop--Gioia is a smart and lucid reader of other poets--but his cultural criticism is the most challenging portion of the book.
I must admit that I have been tremendously influenced by Gioia's ideas about the place of poetry, and more generally art, in American culture. Gioia's elevation to the chairmanship of the NEA provides him with a rare opportunity to put his ideas into practice on a large scale; I cannot think of a better choice to lead the NEA. In my own case, co-founding a poetry press that depends on author readings--the oral, performative art of poetry--as its main marketing vehicle, and which operates without the subsidy provided by contest reading fees (as is typical of poetry in the academic culture)--is a small contribution to expanding poetry's place in American culture.
Even if you do not agree with Gioia--and many poets do not--his ideas are hard to ignore, and for that reason alone I recommend Disappearing Ink to anyone interested in contemporary poetry--even if you are not a Gioia fan, as I am.
0 Comments