Book of the Day: Fathom by Melissa Morphew


Melissa Morphew is a poet of great intensity: whether celebrating or laughing or mourning, her poems hold nothing back emotionally. Each poem in her collection Fathom is a dramatic journey through its story, artfully and fearlessly constructed.
Here's a sample poem:
Deceit
Flowerbeds, wild
with dusty miller, suffer the sea-change of dusk,
lightning bugs swim a reef of rosebushes. Beneath live oaks
reeded with Spanish moss, her daughters play, skinned-knee
urchins, chub-chub, churoo.
She watches them from her window;
finless mermaids, cavorting the giggled trip and fall
of dress-up, her honeymoon trousseau strewed across the yard—
seashell pink, aqua-blue, anemone lavender—
the Frederick's of Hollywood joke girlfriends
perpetrate on Baptist virgins, the hundred-thousandth
keepsake she'd stored away only to let go
like petals of love-me-love-me-not daisies.
She remembers her sweet sixteenth,
how she begged her mother for a silver taffeta dress, danced
in front of the dressing room mirrors, a minnow darting
from glass to glass downward to infinity—
no boy with clumsy hands and a jelly jar
would ever hold her—
and how once, on a trip to the city, she visited
a mercantile museum, losing corridor after corridor,
amnesiac compass, absentia pole star,
until finally she found herself
amongst Treasures of the Far East, uplit cases of glass
exquisite with jade netsuke, samurai swords, carved ivory Buddhas,
and she paused, time enough
to ponder a Japanese kimono—burnt-orange tsumugi
embroidered with fire-red coi, prized
possession of a forgotten geisha—
closed her eyes to feel the silk,
the wrenish toddle, the layered whispers of movement delicate
as the swish of green tea in porcelain cups.
Now, her gaze takes-in
her daughters, spinning raucous cartwheels
against a sailor's sun.
In February,
she gave up her lover. May blooms—white clover
iridescent against a tidal line of grass.
Morphew's poems are contagious in their enthusiasms, and invite the same enthusiasm from the reader.
Book of the Day: The Horse's Name Was Physics by George Drew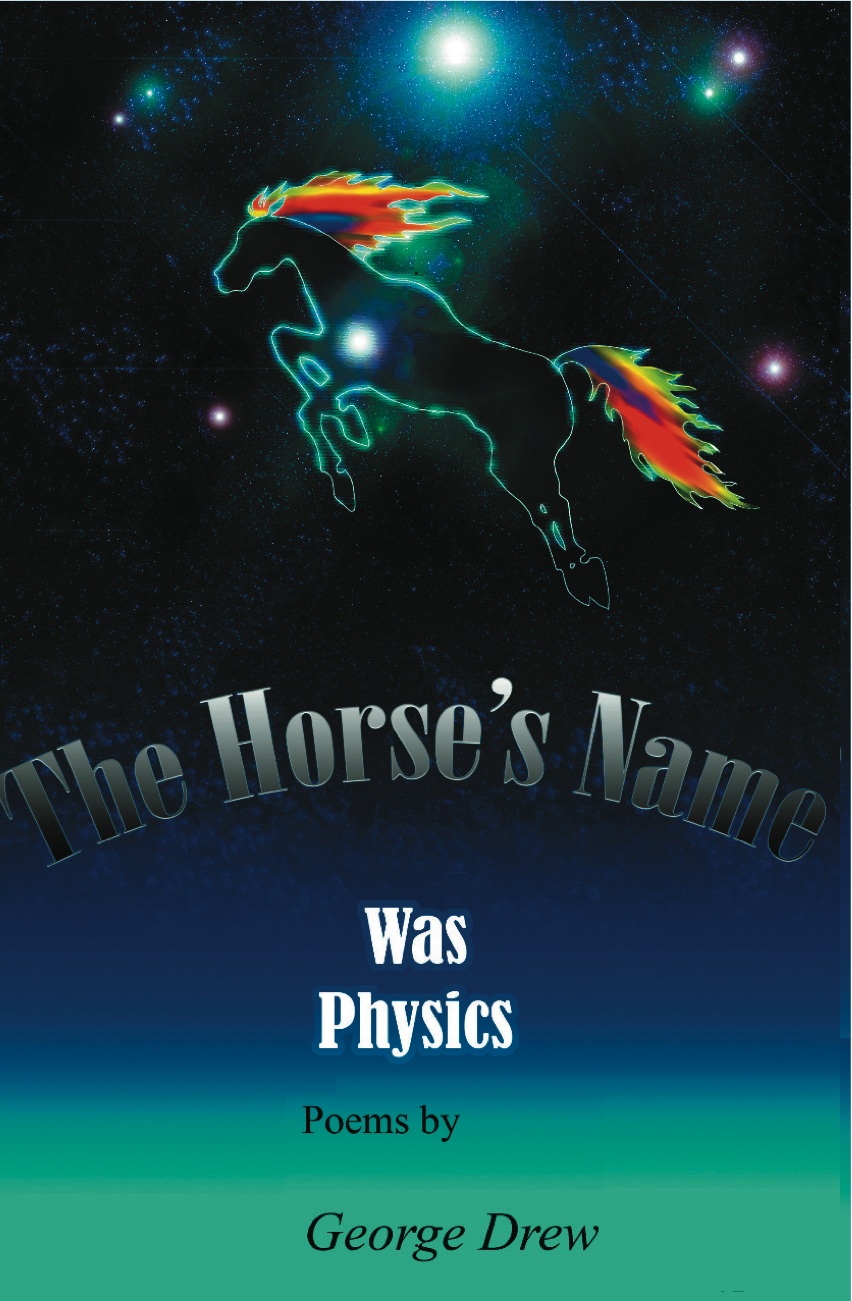 It isn't often that I find myself turning to poetry to learn the facts of history, but I do exactly that when reading George Drew's The Horse's Name Was Physics. This unusual collection is essentially a group biography of the scientists whose work led to the development of the atomic bomb. They're all here--Heisenberg, Einstein, and others.
Here's a poem that gives some of the flavor of Drew's collection:
Wild Beasts in the Ruined Cornfields

Manchester
September 1915

Dear Bohr,
It's happened. Moseley's dead at Gallipoli.
I have it from good sources he died bravely, even,
as much as such a thing is possible in the very bowels
of Hell, contented, having willed his meagre assets,
all of them, to Science. You recall, don't you,
how Spartan he was in his days with me,
living on cheese and fruit? And he was just
as Spartan in his friendliness. God,
how he rankled! So aloof. So stuffy, upper-class.
And even here in Manchester he disliked foreigners,
their smell. The Hindu. Burmese. Jap. Vile Indians.
But in a war in which the smell of new-mown hay
and blossoming lilac sends the soldiers running
for their lives, that he died at the hands
of foreigners should not surprise. Awful, yes.
But mathematical, exact—there in the heat
of those ruined cornfields, with the knives
and stones leaping from human hands;
the bodies of the Turks two-deep, four-deep,
six-deep. Of course we weep—especially you,
whose nay-sayers he nailed to the cross
of their own doubt, the spectral lines he spent
a beastly summer labouring to count his nails.
But he liked action, able, as you know, to work
for fifteen hours at a stretch, and after weeks
on that horrible beach with nothing but centipedes
and flies, chlorodyne for the bowels, and jam
from home for the soul, even death must have lost
its sting. So let us weep, for he is gone.
But, as he knew, the destination never was
in doubt—the universe, the ultimate nucleus,
ad infinitum. And him the neutron lodging deep.
As are we all, dear Bohr. As are we all.
Yours,
Rutherford

Drew's book, while brief, is meticulously researched. He takes care to get both his science and his history right, and does so while retaining the compactness and music that is characteristic of poetry. As such, The Horse's NAme Was Physics is a superb fit for our Turning Point imprint: a rare example of a book of poetic non-fiction. I wish more poets took this imaginative approach in creating their work.
Book of the Day: Average C-Cup by Elisabeth Kuhn

Elisabeth Kuhn's Average C-Cup is a difficult collection to read--difficult because of its subject matter, the author's battle with breast cancer, mastectomy, and journey toward emotional healing. Kuhn writes in an unadorned narrative style, which allows her story to assume its rightful gravitas.
Here's a sample of her technique:

Secrets

Why would you want to know where I was
last Saturday night, and with whom doing what?
It's none of your business or anyone else's

either. I could have been home making Sauce
Béarnaise for my steak. I could have been doing squat.
Why would you want to know where I was

Sunday afternoon? I was not cutting grass –
there's no need for that in my 10th floor flat.
It's none of your business nor anyone else's

if I was home or out playing with friends because
I'm single. I can do what I want. There's not
a thing you would want to know. Where I was

when you called and got my machine? My boss
wouldn't even ask that. If my life had a plot
it would still be none of your business. Nobody else is

asking me. They know better! Maybe I floss
or make love home alone. I might tell you a lot
more than you wanted to know. Why don't you cross
what's none of your business off your list? Pretend it's my loss.


I found the book's simple narrative organization to be a real strength, and Kuhn's poems take on a cumulatively powerful and redemptive emotional arc.