There's just a couple of weeks left in WordTech Communications' 2007 reading period. If you want to send us a manuscript to consider, with no reading fee, please see the guidelines.
While we haven't made any final decisions yet, this year's group so far is shaping up to be a strong one. That's very gratifying.
0 Comments
Book of the Day: Psyche's Weathers by Cynthia Atkins

Cynthia Atkins' Psyche's Weathers is a strong collection, with lyric depth and philosophical sophistication. Atkins finds rich metaphors for human experience in the seasons.
Consider the intimate tracings Atkins makes between snowfall and the small details of human life:
Sacred Season

Somewhere at the furthermost tip
of this city, there is music alternating
in the falsetto jowls of wind. Teeth marks
into infinity, all the sawed wood
will be wheeled in for winter.
There is nothing more explicit than this:
a threshold of trees disrobed, a narrative
of light in a window, a paradisal of ice
like hung chandeliers. Transitions
are hardest for us. Detained by weather,
flux of indecision, resistance to change--
We are dug in for the night,
to dip bread in a crock of bouillon,
to age, to dismiss all the things
that enter our lives only peripherally noticed.
The fiery stars replicate
our fingertips, human failing
to let the errant intrusions
slip through them--as now, outside
after an interval of silence, the almost
inaudible sound of someone shoveling
the first snow from their walk.

The quiet music of these lines reward the attention they softly invite.
0 Comments
Book of the Day: Wicked, Excellently by Brent Terry

Brent Terry's Wicked, Excellently is challenging in its humor: Terry's comic linguistic riffs bring a smile to the reader's face, but often rupture conventional meaning, requiring the reader to puzzle through some surface difficult to grasp the deeper meaning beneath.
This poem is a good example of Terry's mind at work:
Sentiment, Not Sentimentality

Go ahead, weep if you want.
Sob. Keen. Howl Spanish curses at French nuns
on a Swedish bus crawling across New Mexico
like a bug. Like a silver centipede on a skateboard
at noon, under a sky obscene in its beneficence.
Mother told me never to trust a sky like that.
Told me my father was a sky like that, and
we all know how that picnic turned out.
Use the word sorghum in a sentence.
Mother would write my name in my underwear "just in case."
It's noon and the landscape is jagged
and endless and red, bits of green scattered here and there
as if someone had disemboweled the earth
and the earth had just eaten a salad.
Because I'm crying on a motorcycle, the earth-
guts look like a DeKooning--abstract,
yet in one corner a hint of a figure presides.
Orange bed. Mountain with coyote. Nuns exclaiming.
Otherwise it's just shapes and squiggly lines playing
connect-the-billboard from here to Denver,
where the nuns visit the Mint and all my former lovers
meet each Tuesday for tea and embarrassing stories.
Embarrassing for me, that is, except
I'm not even there, so why be embarrassed,
and besides, when I'm drunk I recount vividly
how each of their faces contorted while coming.
The little monkey noises.
So, who's embarrassed now?
East of the Rockies, the roadside is littered with Nebraskas.
Iowa's guts are sutured and healing nicely.
Des Moines. DuBuque. Davenport.
What is sorghum and how is it used?
I stop for gas and a candy bar at a station next to a river.
The parking lot's an insurrection of toads.
It's hard not to squish them, hard not to want to.

I am paralyzed before the candy case.
The radio says sorghum prices are down.
Our Grandfathers fought in the war,
so now all roads lead to Hershey, Pennsylvania.
The nuns clamber back onto the bus, one
munching a Reese's, mumbling of toads and plagues,
though in French it sounds sort of sexy.
Dieu is a dominatrix with garters
under Her habits, a wooden ruler,
and don't even think about saying no!
There is a highway and there are tears--
a blurred and furzy Panorama. There is a driveway,
a light on and more tears. There's chicken
and Mahler and candles and beer.
My love is in my arms and still there are tears.
She takes off my clothes: inside my underwear
there's someone else's name. Inside my guts
there's a knife, and it feels like the sky.
Sorghum is a grass, cultivated as grain or forage.

Taking the old writing cliche that "sentiment"--feeling--is OK but "sentimentality"--excessive feeling--is not, Terry embarks on a jaunt through the various nuances of this issue. The poem's breakneck pace leaves little room for consideration along the way, but a lot of food for thought at the conclusion.
0 Comments
Book of the Day: Posting the Watch by Michele F. Cooper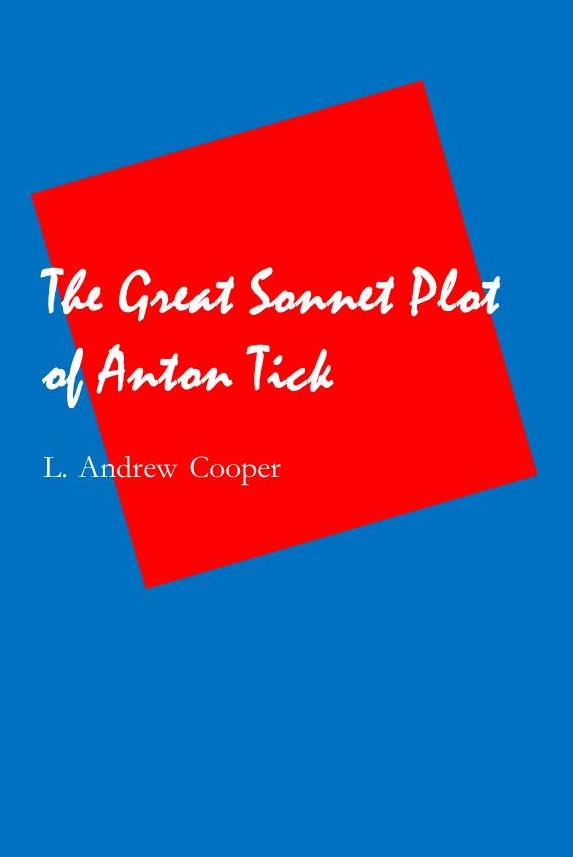 The gritty narratives of Michele F. Cooper's Posting the Watch--about one woman's experience of farm life--always keep my full attention. Cooper does this partly through her wide range of formal techniques, ranging from brief, even blunt, lyrics to long prose poems.
Here's one exuberant example:
Sadie Does a Little Jig on the Long Road Home

She is walking down this two-lane,
see?
And stepping fine along
those double yellow lines.
Two-stepping, you might call it,
side-stepping,
doing her little jig,
trying to get where she's going,
moving 'round, but getting there,
if you get me.

And she's singing, hear?
Singing blues--the darkest blue.
You can do that,
sure,
sing your heart out
like there's no tomorrow,
not for you, anyway, not when
you so down in the heels
you can't see your eyelids
through the salt water-fall.

You can sing 'em high,
she says,
send those low-down blues
high as a kite,
high as the clouds up there,
those big white ice-cream clouds
over the back hills,
the far hills, back a bit,
not those wispy nothin's
just overhead.

You see those ice-cream clouds,
hear those blues,
and sing your eyes out
till you get those babies
up where they belong,
carrying your weighed-down baggage--
all thousand pounds of it--
into a big, bountiful,
flying aeroplane.

Not a real plane, mind,
just a head-thought,
getting your sorrows into high gear,
singing them out,
your big baggage blues,
singing them
till you're gliding high,
up where you wanted to be,
wanted to be always,
always knew it, needed it, wanted to be there all the days--
night-times, day-times--
night-times, too.

Sure, she wants those
night-times, too.
Get on off'n this low-down runway
and out the door.
Real far.
Real high.
Real fast.

This poem lifts up the spirit, "Real high./Real fast." Well done.
0 Comments
Book of the Day: The Ballad Rode Into Town by William Baer

William Baer's The Ballad Rode into Town is a striking book: a comic narrative written in ballad meter, about the ballad itself, set as a Western. It goes without saying that for such a (pardon the pun) novel narrative approach to work, the formal execution must be flawless: and Baer succeeds in this respect. Consider this poem:
The Ballad Rode Into Town

The ballad rode into town one day,
wearing his deadly gun,
and his Mexican spurs jingled along
in the heat of the mid-day sun.

He wore his blacks, he wore his boots,
he wore a Colt on his hip,
with a re-bored barrel, its trigger filed,
and a custom black-butt grip.

He'd come across the desert heats,
like Dante through his hell,
over the mesas, day and night,
through the sage and the chaparral.

Right up the only street in town,
he and his Morgan came,
as the free-verse rummies scattered,
and slithered away in shame.

But at the saloon, the rondels came out,
with the pretty villanelle,
"Now, that's what I would call a man--
a man with a story to tell."

And even the gambler couplet agreed,
"That's a mighty heroic chap,
who'll face them alone, and fire his Colt,
with the crack of a thunderclap."

They followed him past the Sheriff's door,
abandoned back in June,
then passed the burned-out Weekly Press,
in the silent afternoon.

The ballad rode into town that day,
wearing his deadly gun,
and his Mexican spurs jingled along
in the heat of the mid-day sun.

He rode his Morgan up the street,
and stopped at the only birch,
where all the decent blank-verse folk
were coming out of church.

"Where is she?" he said and waited,
under the Texas skies.
"I'm here!" the lovely sonnet called,
and lit up the rider's eyes.

"They've terrorized this western town,
and bullied us all, my dear.
So set things right and proper,
then take me away from here."

Right then, the critics gang rode up,
a motley crew of thugs,
with .38s and rifles cocked
with lethal dum-dum slugs.

Quickly, the fearful crowd dispersed,
to hide and watch and wait;
the gang boss sneered, "Any last words?"
as he aimed his .38.

But the ballad blew a bullet hole
right through the de-con's eye,
and dropped the freud and marxist crits,
and then the gender guy.

There were, when his chambers were empty,
six dead in the Texas heat;
there were, when he holstered his .45,
six thugs on the dusty street.

And when the celebration peaked,
Miss Sonnet reappeared,
and she and her man rode off to the west,
and even the rummies cheered.

So the ballad rode out of town that day,
still wearing his deadly gun,
and his Mexican spurs jingled along
in the heat of the mid-day sun.

At once satiric and suspenseful, "The Ballad Rode into Town" is an excellent example of Baer's unusual achievement in this book.
0 Comments
Book of the Day: The Body & the Day by Robert McNamara

Robert McNamara's The Body & the Day is a book best described as teeming. McNamara's close, detailed descriptions of the natural world, briskly rendered in dense free verse, reward the reader's patience.
Consider "Dahlias":
Dahlias

They arrive on my desk, a clear demonstrative bunch
prickly and blood-red, passion's messengers

even without your note -- three years ago when
dahlias were in bloom -- making the room stand back,

and the little of everything on the mantel, sweet pea
and freesia, larkspur, bristly mourning bride

rooted in a single thickness of glass stones.
The flowers bell like balls in a Galton board, figures

of chance, the rain stopping, sun glancing off
the gilded slope of a pagoda, its reach released in cloud.

And in the garden, a fat bee humming in the trumpet
of a squash flower fumbles with information like a god.
The strong declarative rhythm of these lines--"a fat bee humming in the trumpet/of a squash flower fumbles"--is emblematic of the propulsive energy of McNamara's work.
0 Comments
Book of the Day: The Dangerous Corner by Richard Moore

Richard Moore's collection The Dangerous Corner is elegiac and graceful. Moore is a master of formal poetry, and the poems in The Dangerous Corner are strong in their attention to meter and, at times, rhyme.
Yet Moore has an undeniable gift for contemporary speech within the context of formal meter. "Dry Season" is a compelling example of his craft:
Dry Season

December. The sun is gone.
The water shrinks, like the gums
of an old man. Bank bares--
rocks packed tight--like teeth.
The clouds are turning pink.

I watch them through chain link fence.
They're shut away from me,
distant as a Titian painting.
He saw them first. And the pond,
his also--mellow, ripe.

All that, not mine, taken.
So much! Where are you now?
With your lover in that cute
tearoom where the others
all. . . Our daughter described it.

No, that is not you. . .and I too
grow other. . . I too grasp. . .
at Titian's clouds, till they
--as, watching me, they must--
turn gray, gray now as dust.


Bravo.
The Dangerous Corner is a book to sit down with on a melancholy day, when sad music and contemplation go hand in hand. It is bracing and clarifying.
0 Comments
Book of the Day: Emma Saves Her Life by Naton Leslie

Emma Saves Her Life by Naton Leslie is a large, engrossing collection of narratives in the voice of the author's grandmother. Leslie really does a terrific job of capturing the nuances of Emma's character, often mixing her actual words with his own plain-spoken verse. Here's a sample:
Emma Adds to Her Story

Two more things. First,
the reason they called
the place where Flossie's
people lived Lost Stocking Ridge
was because one time a peddler
came to Kittanning selling stockings
and other nice things for women.
He made his rounds, then asked
about a short-cut to Dubois
as he was behind schedule.
They sent him up the logging road,
what is now route 29, which goes
up around Hawthorn and Frogtown.

Well, he ran into a bunch of them
moonshiners up on the ridge.
They caught him and killed him,
I said they were bad news,
even worse when they were all
hopped up on hootch. They went
wild and threw his stockings
and such all over the mountainside.
They blew around up there
for weeks, and that's how
they knew the peddler was dead.
And that's why it was called that.

Second, my sister Olivia.
I didn't like her because
she was mean and lazy.
She thought she was prettier
than me and took a man
I was spending time with
just to prove it. She didn't
even like him, but she knew
he was sweet on me. The way
some people will behave.
She could be the very devil,
so I disliked her very much.
That's all I need
to say about that.

In this poem, the storyteller is as important as the story itself: Emma's character, her distinctive voice, shines through here. It's Leslie's own tribute to his inimitable grandmother, and his affection for her voice is contagious.
0 Comments
Book of the Day: Renewing the Vows by Peter Schmitt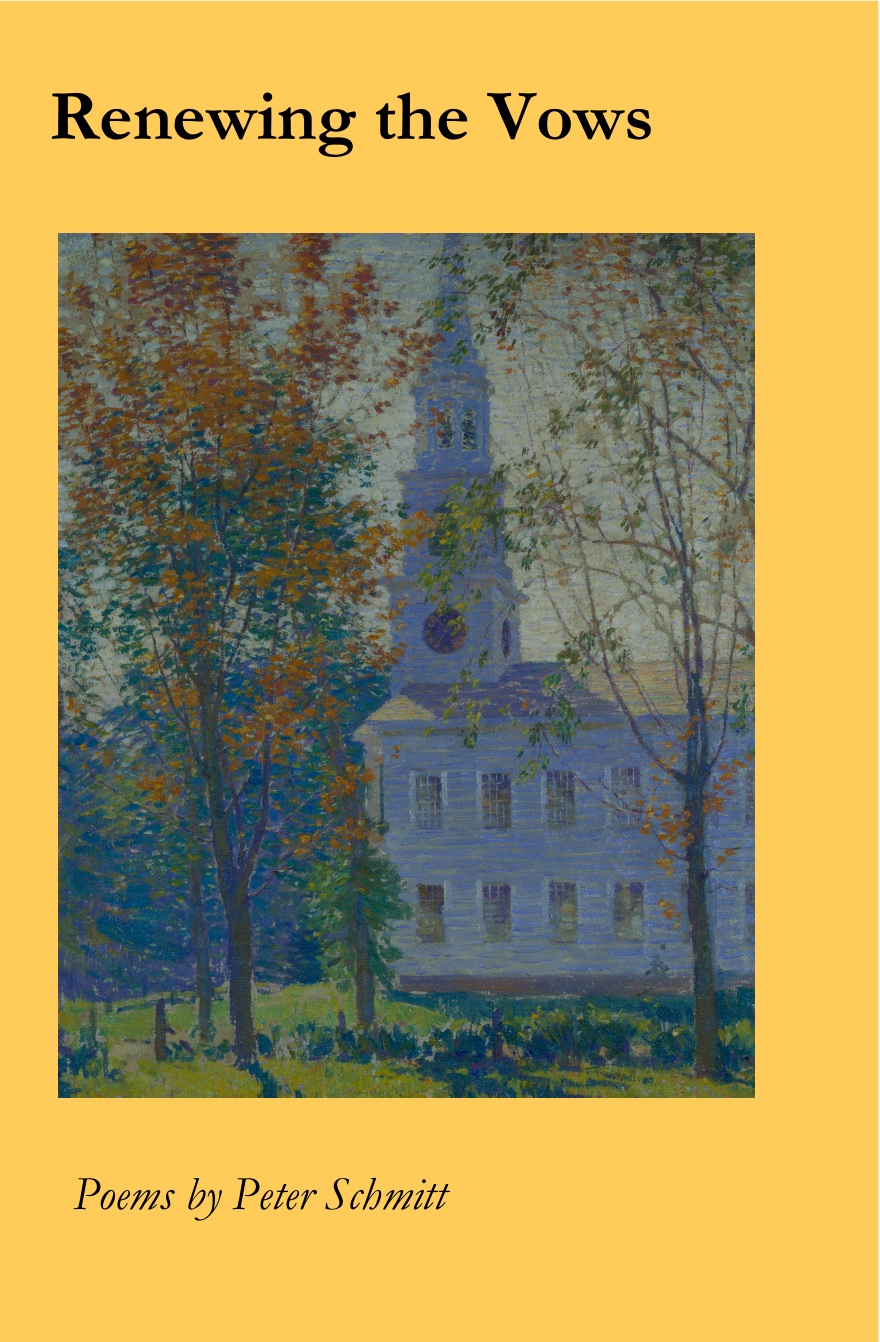 I greatly enjoyed reading Peter Schmitt's Renewing the Vows because of its quiet, resonant depictions of everyday experience. Schmitt probes memories down to the smallest detail, and they unfold unexpected depths of insight and emotion.
Consider the book's title poem:
Renewing the Vows

My father, who will be dead in seven months,
and my mother are renewing their vows

in the nineteenth-century New England church
they married in, thirty-eight Octobers back.

The few of our small family are there,
my brother, my father's sister, her friend,

a couple of cousins. My mother, smiling
almost shyly it seems, has yet to take

her eyes off my father, who stands there trembling
a little, partly from the tumor, partly

from emotion which the tumor's location
has only exacerbated these days.

I would like for my father to return
my mother's gaze, but he is staring off

in another direction, his shoulders
perceptibly shaking, past the minister,

past the altar, as if he doesn't have to
look at my mother to know that she is there

and will be there. Even as he speaks his part
his eyes are somewhere else, some far corner,

and he is waiting there until, at last,
her hand reaches his for the final passage

of the ceremony, before the book
closes and there are no more words to repeat.

This poem recalls a poignant event, the renewing of Schmitt's parents' marriage vows, but also darkly foreshadows the death of his father. Fluidly moving through these emotional contrasts, "Renewing the Vows" achieves a distinctive power--as do the other poems in the book.
0 Comments
I took a little break from blogging because the task of updating the WordTech Communications sites--all nine of them--proved to be a herculean task. I pretty worked on nothing but the websites for more than two weeks; this is a once-every-few-years project because of its scope.
The sites don't look much different--they still have the same content, the same font, and a similar layout to before--but, "under the hood," their foundation has been substantially rebuilt. Fortunately, this will make future updates much easier, because they are now much cleaner and more streamlined.
With that done, I'll be getting back to poetry, including blogging about poetry, over the next few days. We have a lot of new books out, and I'm looking forward to discussing them.
0 Comments
I'm in the process of updating the WordTech Communications websites, all seven of them, with a new look and a new structure "under-the-hood," which will make future updates easier.
It's a huge undertaking, because there are several hundred pages there, and also because there's a lot of bad, crufty HTML there that dates back to my earliest days doing web pages, when I knew a lot less than I do now. Before I can even begin to implement the new design, I have to remove vast quantities of junk from the HTML--font settings, extraneous tags that come from exporting HTML from another program such as Microsoft Word--and this is time-consuming.
Many editors wouldn't do this kind of work themselves, but I'm technically inclined--I'm comfortable with writing HTML by hand if necessary. Still, it's time-consuming, and I'm trying to reduce it to as few steps as possible so that it can be done in a couple of weeks instead of several months.
I can't think of a better indicator of how much WordTech has grown than by the size of this project. The number of web pages we have is directly related to the number of books we have in print: each book we publish gets a minimum of two pages, one promoting the book, one featuring sample poetry. (For the past year or so I've also been blogging about each book we publish, trying to offer a personal take on the book rather than PR/jacket copy, so that's an additional writing task.)
What's amazing is that it's still just the two of us, Lori Jareo and myself, plus our large family of authors. Lori handles nearly all of our marketing, production and sales tasks, and I handle the editorial and technical side. And our authors are also partners in our work, by writing outstanding poetry, and helping to organize readings in their communities.
To all of our authors, thank you for your wonderful work. And to their readers, thank you for supporting poetry. We're looking forward to many more years of publishing, and even bigger websites!
0 Comments
Book of the Day: Fathom by Philip Brady

Philip Brady is a highly skilled craftsman; his poems sculpt experience into brisk, elegant lines. His topics are varied, but collectively the poems in Fathom offer an invigorating read.
"Rhyme" is a good example of Brady's technique:
Rhyme

Unseeable, unsayable, being dead.
But shadow-blooming iris, lip blooded--
I see and say. A child, I hummed
and rocked and hummed to dilate time.
Unplumbed, my tongue; but palpable
the pulse of subterranean ventricles
from Queens to Tokyo--turnstiles
ticking by the billions as deep as
Cocytus, where all suns clot.
What's mute, can names dilate?
The salt unseeable, where does it steep?
A key twitches my shadow, trickles blood.
An iris suddenly clots, the blooded word.
Unsayable, all future days unseeable
as unbloomed suns, even tomorrow blind.
My bones steep. Will we wake in time?
Does fear of not returning shadow rhyme?
Unseeable, seeable, rain unsalting seas,
and steeping in my saline blood a key
to Queens or Cocytus. Sayable,
mute death, the day all ventricles
dilate in time. A child, I could pretend
I saw echoes. Time and darkness bend.

"As a child, I could pretend/I saw echoes Time and darkness bend." This couplet, crisp and quick, crystallizes perception in an original and memorable way--like all good music does.
0 Comments
Book of the Day: Eden in the Rearview Mirror by Susan Elbe

Susan Elbe's Eden in the Rearview Mirror is a dark book, taking a subversive look at the idea of Eden as paradise; there is no paradise, Elbe suggests.
This poem is emblematic of her technique:
At My Mother's Bedside

Bony hull and sunken wreckage, she sits
propped up by pillows , hands folded
like a splintered bow across her swollen stomach,
her thinned hair, skull cap of dune grass.
I stand next to her, my throat an ocean shell
filled up with sand, with everything
I don' t know how to say. This room, a seine
float, wavery with limit ation. Here, now,
life starts to blur, warps like fish under water.
Outside, voices of my playmates yap joy
in early autumn. I am eight years old, learning
that no matter how much life is left for me,
its exquisite green glass will always be distorted--
death, a dark meniscus of salty water leaching in.

Elbe's work is as far from sentimental as can be imagined. But the result is bracing, like a splash of cold water on a sleepy face.
0 Comments
Book of the Day: The Journey of Hands by Hank Hudepohl

The fluid poems of Hank Hudepohl's The Journey of Hands are full of surprises. Hudepohl is especially skillful at a sharp turn of perception or phrase, so that the world we thought we knew is suddenly viewed in a different light.
Consider "Burial Grounds":

Burial Grounds

Beyond the gate, headstones: angular
and pale against a backdrop of leafshade,

jutting up out of uneven, mossy ground
in skewed angles, sunlit gray. Pines taller

than oaks border the fence, and inside,
brown needles fleck the graves. Chiseled

on the stones, two names: Clay and Hatfield.
My grandpa walks off to the far end

and looks up into a bewilderment of trees.
"This place has calm," he says,

one hand in his denim jacket, the other resting
on the holster of a gun. He says it almost

to himself, as if he is showing me
where to bury him. I don't answer:

I am studying the faces in the graves.

The poem, like the place it describes, has a sense of calm, but underneath the commonplace surface are faces, hidden, undiscovered.
0 Comments
Book of the Day: Terrain by Julia Lisella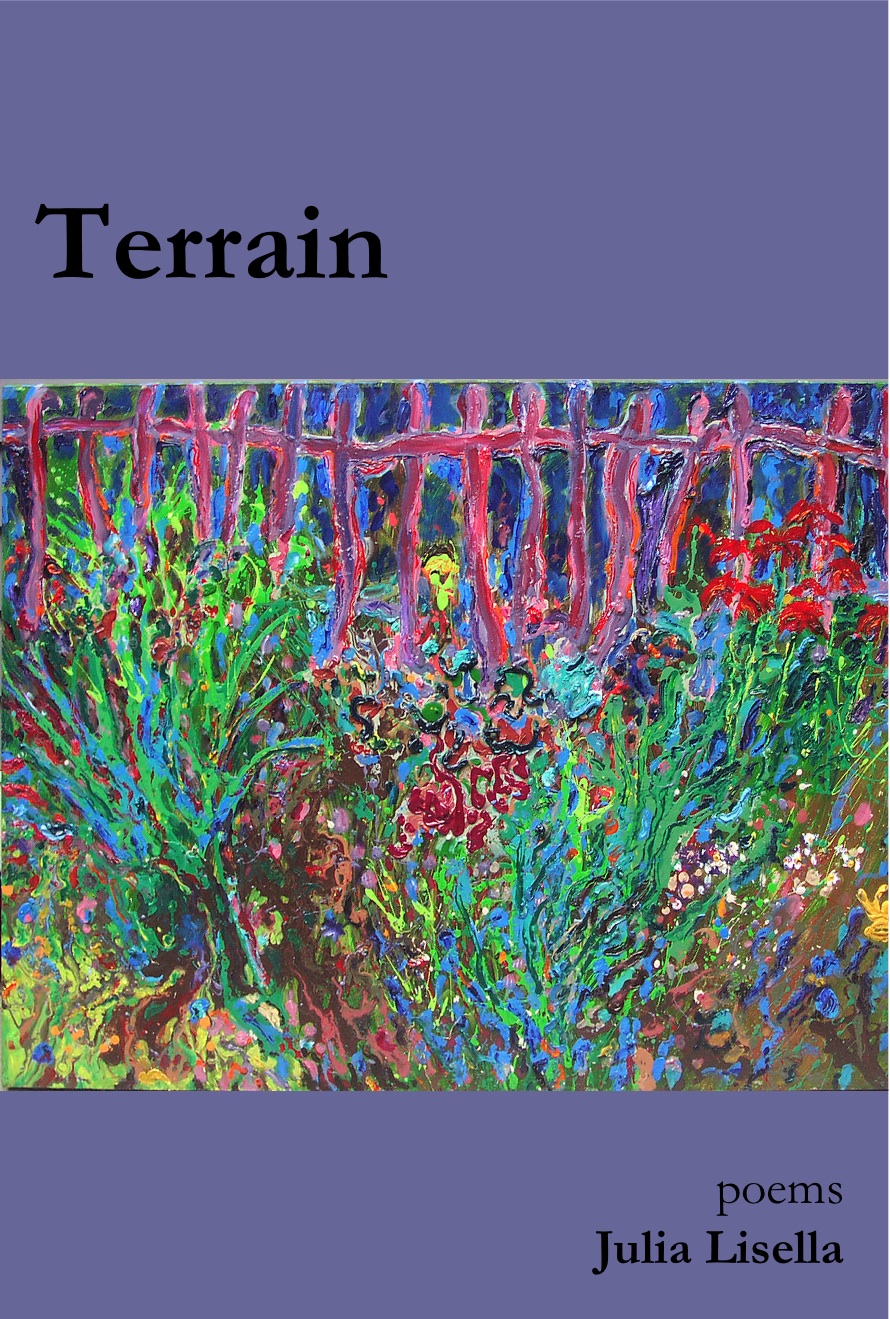 Julia Lisella's Terrain is a haunting book, part lyric and part narrative, about grieving and loss. The poems are at times oblique, at times blunt, and always engrossing.
The bare simplicity of this poem is characteristic:
Hypothesis

What if it had been you who said
once you'd thought of killing yourself,
that more than once you'd thought
you hated your life but every way to end it
seemed too horrible, for me? What if
it had been you who cried past midnight,
each night holding your belly or your chest
as if your insides would fall out?
And what if it had been you
who held on to the possibility of dying
like a person who holds on to the memory
of an unworthy ex-love?
What if it were me who suggested,
arm's length away, that maybe a drug,
some small pill could keep you sane,
keep you near me, could make you love your life?
What if it were you who'd said
you'd find your own way back?
And once you had done it,
come back so whole, so entirely,
I could not recognize
ever having almost lost you?

Quiet, yet powerful, Terrain is a book to delve into slowly.
0 Comments
Book of the Day: Toward Any Darkness by Rick Mulkey

Rick Mulkey's Toward Any Darkness is a strong collection of poems; it delves into the darker side of experience that lurks behind a bright surface. Mulkey's work is quiet and unobtrusive, but unfolds its depths in powerful ways.
This poem is exemplary of his technique:
Devolution Theory

Late at night when I remember the women
who shaped their lips into a perfect "O"
over the burning end of a joint and blew
shotguns into my mouth until our heads
grew as full of static as the AM station
out of Dubuque and we slid naked and willing
into the backseat, I'm amazed I've ended up
this marginally respectable, 401K contributing,
family man. I'm as likely to be caught
today reading Popular Science on a park bench.
Or if I'm really daring, you might find me browsing Darwin
at Hot Rodz, the local exotic bar, where $4.50 buys you
a watered-down bourbon and a corner table
far enough back not to be bothered or recognized
but close enough, between paragraphs, to watch the dancers.
There are moments when I allow myself these visits
into the smoke and light of my former life
that I hear my name denounced through the megaphone
of what's correct and decent,
and I rush outside to make certain no one
is photographing my car and license plate
for distribution on the Web under the title
"Perverts and Miscreants of the Carolinas."
It isn't that I've forgotten my wife,
or the women before her I spent whole nights with
arguing the rules of love. I wouldn't
exchange a single one of them for any
locker room myth-fest or testosterone prom.
But I won't renounce that world of men either,
leaning against their Mustangs and pickup trucks,
their hoods lifted like battle flags,
groping beers and engines as readily as anything,
sniffing the exiled edge of a wilderness of their own making.
Maybe this is the best that natural selection can do.
Marking trees and tires with our own pee's scent,
barking out lists of boasts, we dream of wading mouth-
deep in the slough of primordial love, not because we're afraid
to hope for something finer, but because we see
those invisible borders drawn on bodies,
places allowed and forbidden, and growing closer
we hear the robotic clamoring of the soul.
So like any good primate we thrust a hand deep
into the stinging ant's hill because what's hidden there
tastes sweet, and the pain, being this much
alive, sweeter still.

The unexpected image of thrusting "a hand deep/into the stinging ant's hill" becomes a striking metaphor for the joy of living. This wry, affectionate poem ends on a deep note of satisfaction for the reader.
0 Comments
Book of the Day: Bird Missing from One Shoulder by Linda Annas Ferguson

In Bird Missing from One Shoulder, Linda Annas Ferguson lovingly recreates the entire world of her childhood, retelling not just family history but family experience. Consider this poem:
Making Biscuits

Mother has never operated
a motor vehicle
or programmed a VCR,
never danced in my father's arms
or listened to the trill of crystal
from the flick of her fingernail.

Each day she rises at five
to the tin music of morning
and the monotony
under the measure
of her breath, her memories
like someone else's life.

She finds comfort
in repetition,
gets lost
in the act of every day.
Her mind wanders
past the window.

Her hands form biscuits,
the dough an ivory cloud
to smooth for her children.
She kneads it with such ease
it barely touches
the heart of her palm.

Ferguson's craft is much like her mother's hands: shaping her lines carefully, effortlessly.
0 Comments
Book of the Day: Season We Can't Resist by Martha Carlson-Bradley

Martha Carlson-Bradley's Season We Can't Resist is striking for the way it blends scientific exactitude with a lyric sense of the world's possibilities. For Bradley, image is music, and her lovingly-crafted free verse poems capture the world's visual nuance in a way that becomes almost aural.
Here's an example:

Surface Tension

Clear as tea, the river

ferries floating leaves--
birch and alder, ash--

as spangles of October sunlight
burn, blinding:
&nbsp&nbsp in shade

one yellow maple leaf
glides vertically

beneath the surface, curved
like a hand at rest--

a gesture not sustainable
in air:
&nbsp&nbsp my eyes adjust

and here--here too--

hundreds pass, whole cities
dimmed beneath water,

swift as if some purpose
leads them east.


The world, in its infinite complexity, can withstand any scrutiny we give it--even (or especially) the careful, informed attention of Bradley's knowing eye.
0 Comments
Book of the Day: This Many Miles from Desire by Lee Herrick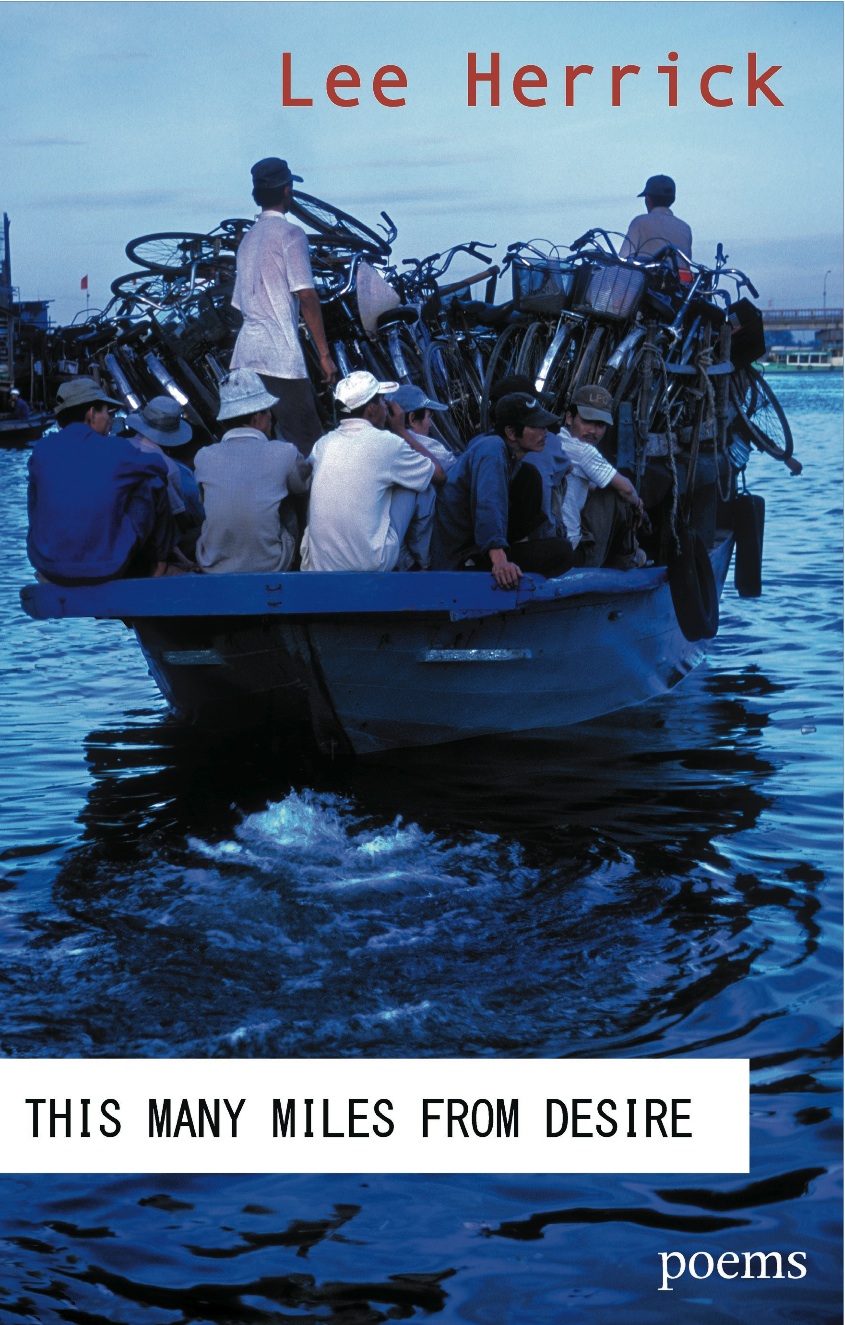 Lee Herrick's This Many Miles from Desire narrates, in a non-linear way, the author's experience as an adopted child and the journey such an experience requires: between cultures, between the past and the present,from uncertainty to rootedness. Herrick's lyrics effectively convey the inner life of such travels.
Consider this poem:
Adoption Music

I am learning to play the taiko, to feel
how leaves reappear in the trees with such ease.
One monk says this will teach me to hear
the variations of my name:
how my lover sighs it,
how a teacher grinded it out like a curse,
how your mother says it, drowning in a lake
before she leaves you. How it means somewhere
between mothers, not quite the rose
but not quite the roots. Like the woman
who finds you says, Lee, like a discovery--
one more child found in the world's history
of found children. How she said it like the echo
of one plucked e string, a clear pang of delight.
This is a complex poem, striking (literally) a chord in the reader's heart, evoking "the world's history/of found children." Herrick's technique here is simple, fluid, and powerful.
0 Comments
Consolidation in Poetry Distribution: Harmful or Helpful?

A recent article at the Poetry Foundation website notes, with alarm, the trend toward corporate-style consolidation in literary book distribution. A large distributor, Perseus, has been buying up smaller distributors that specialize in literary publishing, including poetry; its largest acquisition is Consortium, the Cadillac of poetry distributors, which includes such venerable publishers as Copper Canyon Press and Tupelo Press among its clients. Another acquisition was Publishers Group West, which was in bankruptcy.
This kind of corporate acquisition, while not unusual in other industries, is unprecedented in the smaller-scale, frequently non-profit world of poetry publishing. The Poetry Foundation article sums up the concerns of many poetry publishers this way:
Perseus's acquisitions---startlingly aggressive, corporate moves in the mom-and-pop world of poetry presses---have changed the small press landscape, undoing an infrastructure that might have had its weak spots, but was familiar and established. It means the transformation of companies that small presses have worked with for years. Now the small press publisher is asking: who am I sending my books to, and can they be trusted?...When Perseus bought Consortium, the move came as a shock to Consortium's clients, and it had many of them wondering whether or not their hard-earned positions within the distributor's roster might be undermined by the new management.
Apparently Perseus sees commercial potential in small-press distribution, so, despite the uncertainty, it is hard to see how their investments are a bad thing. These purchases mean that distributors such as Consortium are on firmer financial footing; they may be able to grow in ways that they could not under independent ownership. This, in turn, may mean more distribution opportunities and channels for their clients. These distributors haven't exactly been driving huge annual increases in poetry readership, as noted by the Poetry Foundation article: "it's a truism in poetry publishing that most books simply aren't getting out there." Some publishers fear that the consolidation represented by Perseus would lead to fewer, rather than greater, sales: "How can we maintain our visibility when we are becoming an ever-smaller piece of a larger puzzle?" asked Michael Wiegers, the editor of Copper Canyon Press. (For what it's worth, I doubt Copper Canyon has much reason to worry: their 2006 financials, which you can access at their website, show gross revenue of nearly $1.2 million, and a surplus of more than $98,000.)
Of course, the flip side of Wiegers' question is this: Would poetry be better served by distributors such as Publishers Group West going bankrupt, and having their poetry clients just tossed on the street? I doubt it.
The move to bring a more business-like structure to the world of poetry publishing may be unsettling to those publishers who operate as much out of a love of literature as a desire to earn a living. Corporate values--to maximize profit--are not much loved in the world of poetry publishing, where most organizations are incorporated under a not-for-profit basis. Revenue from sales are only a small portion of the budgets of most such organizations; fund-raising, in the form of grants, donations, and so on, are as much a part of the organization's daily work as editorial tasks such as reading manuscripts, proofing page layouts, and designing covers, and as marketing tasks such as sending out news releases and placing advertisements.
Obviously, it remains to be seen whether Perseus' consolidation of small-press distribution will have a beneficial, benign, or harmful effect on literary book sales and readership. I'm hoping that it will be beneficial. However, the issue of bringing poetry to a readership is a vexing one. As the Poetry Foundation article asks:
if the American public will read poetry when they can find it, and if all over the United States warehouses are stacked with books, how, exactly, can we get these books to move? How can we get the poems within them to be seen? Perseus? Anyone?
It's a good question, one without easy answers. Paradoxically, bookstores are a lousy place to sell books--at least, poetry books. When we started WordTech several years ago, we looked at the hurdles we'd have to leap to become a publisher of any size. Under a traditional publishing and distribution model--large press run, warehousing books, and trying to push books into bookstores--it seemed an impossible task. Fortunately, print-on-demand was maturing as an alternative publishing model, and this approach seemed ideally suited for a field such as poetry. (I've discussed the economics of traditional vs. print-on-demand approaches to publishing poetry in a previous blog entry.)
Our approach is one way--one that works for us. I hope that Perseus is able to do a good job for its clients, as well.
0 Comments
Book of the Day: House of Bone by Shelia Black

I'm very fond of poetry that delves deeply into the connections between human and natural experience--poetry that touches both stones and bones, if you will. Thus, when I first read Shelia Black's book House of Bone in manuscript form, I was intrigued. And her work did not disappoint.
Lyrically rich, brimming with mystery, this poem is a fine example of Black's work:
Playing Dead

Begin by imagining
a failure of will,
the boundaries of the body erased
like lines on a chalkboard.

You might picture the usual things:
night sky, waveless sea,
the greeny depths
which plummet to pure dark

or something as small
as a single square inch
of soil, packed with rotted
leaf, root scrap, cracked

shell, the molted wing
of a specked moth, a handful
of sand, a handful of dust;
it all comes to much the same.

It is the absence of conscious
motion that takes getting used to,
no sound but the slow
settling, the ripening of decay:

burst liquid, gelid light.
The old story of how stars
are born of frozen dust
and radiance

from this house of bone.

Stars, dust, radiance, light: what is more elemental, more fundamental, than this? The dark music and sharp images of Black's work resonate.
0 Comments
Book of the Day: The Matter of the Casket by Thom Ward

Thom Ward's The Matter of the Casket is a collection best described as vigorous: Ward ranges over a wide range of subjects, both dark and light, exploring them with a distinctive sense of brio. These prose poems have many effects on the reader, but boredom is not one of them.
Consider this macabre poem:
Nuclear Family
I was happy as Hemingway's bartender. Probably because I didn't know my old man from a seal. Hounded by megaloidophobia, he sequestered himself in our vegetable garden, a place far from big ideas. That's when my mother jammed her green thumb up his ass, metaphorically speaking, I think. Probably because she could and he wouldn't misconstrue it for general relativity or the quadratic equation. Sis continued to smear carrot mush across her face, the high chair's silver mouth, each of us an open system, the biosphere closed. Meanwhile, I dreamt of having a dog that didn't eat or need a walk. Of course, this was years ago, only my perspective, and sometimes it's difficult to see the barrel for the butt end of the gun.
At once dark and comic, "Nuclear Family" is characteristic of Ward's powerful technique in The Matter of the Casket. I don't always know quite how to read prose poetry, but Ward's poems exert an powerful pull on me, page after page.
0 Comments
Book of the Day: A is for Anne by Penelope Schott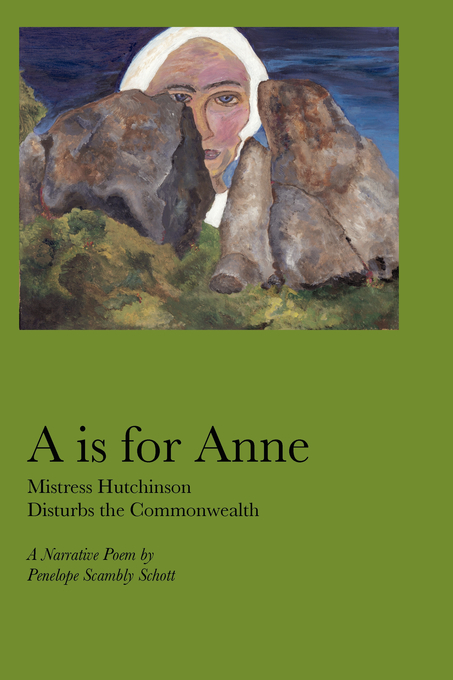 A is for Anne by Penelope Schott is a powerful imaginging of the life of Anne Hutchinson, who defied the Puritan leadership of Colonial America to proclaim God's word as a dissident. Schott's poetry is equal to her important subject, and memorably depicts Hutchinson's life and times through a collage of voices, images, and narratives.
"My Two Primers" captures a small snippet of Hutchinson's experience, and Schott's technique:
My Two Primers

In the Dame School we have just one,
the Holy Scriptures, but here at home,
I have two books to read: Scripture
and Papa's Trial.
He likes to help me
point by point as I sound out his words.

We see the bishops are very naughty
but Papa is very wise. Sometimes
when he tricks the Bishop, we laugh,
sometimes out loud, or in our hearts.

I like how Papa can be funny, also
I like how he is always right. Christ
likes us smart as well as good.
Yes,
I do try to be good. I'm mostly good
at being smart.


Well done.
0 Comments
Book of the Day: The Third Body by Jeff Knorr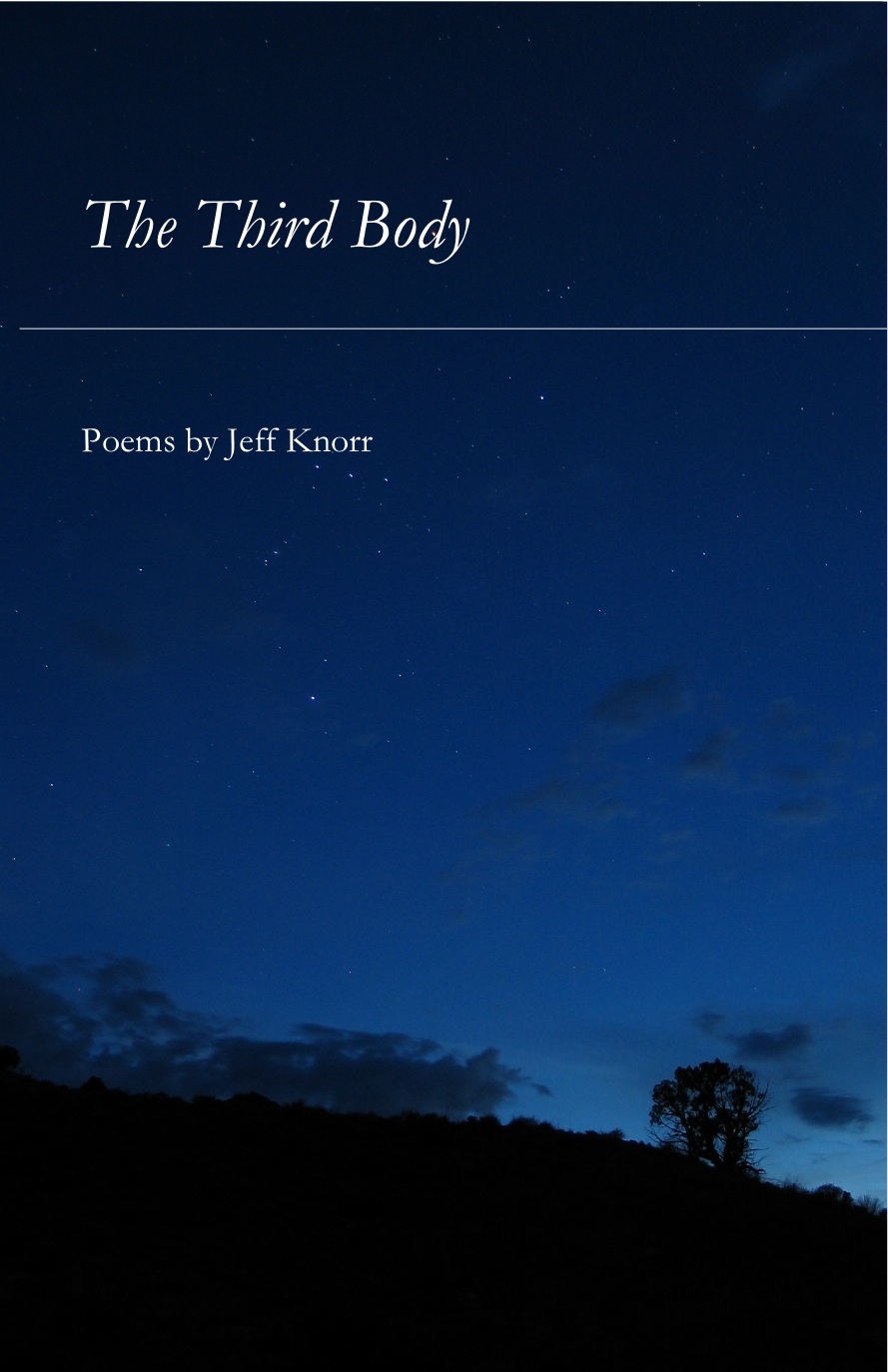 What I admire the most about Jeff Knorr's The Third Body is its quiet, its silences. Knorr is not afaraid to sketch a scene in the sparest of manners, yet his understated fluency opens up great depths of awareness and insight.
This poem is a fine example of his technique:
Under a Brick Orange Moon

I've never been much good with stars.
But I search tonight
this dark sky pulling itself west.
I look for Orion's belt you showed me years ago,
for the bear, because I call our son Osito,
and hope that across this canyon of night
our eyes might turn in the same direction,
reflect, become a moment of gravitational love.

This field of stars winnows across the sky,
leaps forward under clouds like wild horses.
In an instant I feel you,
a ripple rising from deep, slow water, and we meet
under the low branches of our cherry tree
shifting against this autumn night.


Reading "Under a Brick Orange Moon," I am allowed to simply live in the moment, to experience and revere the night sky as Knorr does. This is what lyric poetry does best, and Knorr is an unusually skillful practicioner of this craft.
0 Comments
Book of the Day: Odyssea by C.J. Sage

I love seeing traditional poetic narratives re-cast in a new light. That's why we eagerly accepted C.J. Sage's Odyssea: in breezy terza rima, it updates the ancient tale of The Odyssey from a female point of view. Sage creates a complete world within this book-length poetic sequence, and it is both entertaining and memorable.
Here's an excerpt that gives some flavor of Sage at work:
The Song & Dance of Odyssea's Advocate

The women blared the stereo; the bass
blew out the speakers. Into the ear
of Justina, Tilly flirted: "Whose face

is yours, why do you come, from where?
And how? By plane? By ship, then? Surely
you did not swim to Hawaii. Been here

before, have you? And our pearly
shores beckoned you back? Never
have I met someone so burly,

and yet you seem familiar. Clever
as I am, I'm at a loss, I think!"
Tipsy, she wasn't feigning. However

wilting at times, here she'd sink
lower, pressing her head to his shoulder:
"Be a gentleman. Tell me your link

to this neighborhood." Justina would hold her
tongue and tell the cover story:
"My name is Mark. I come from a colder

climate, the northmost state, glorious!--
though without your wide green pastures.
I sailed here on the word of a hoary

fellow captain; he says your mother's
come home. But it seems she's delayed?
No, she wasn't killed . . . . She'd crashed her

ship on some island, betrayed
by the sea and her wit. She couldn't swim,
weak from the wreck--but I think she relays,
now, for home. The gossip is grim:
savages held her captive--wild-haired,
naked savages--they tied her limbs
to trees . . . but don't worry. She's dared
an escape, so much for her family she cares."

Sage's verse is at once colloquial and rhythmic, remaining true to the propulsive force of terza rima without alienating the modern ear. Odyssea is a strong accomplishment of both narrative and verse craft.
0 Comments
Book of the Day: Victory by John Burt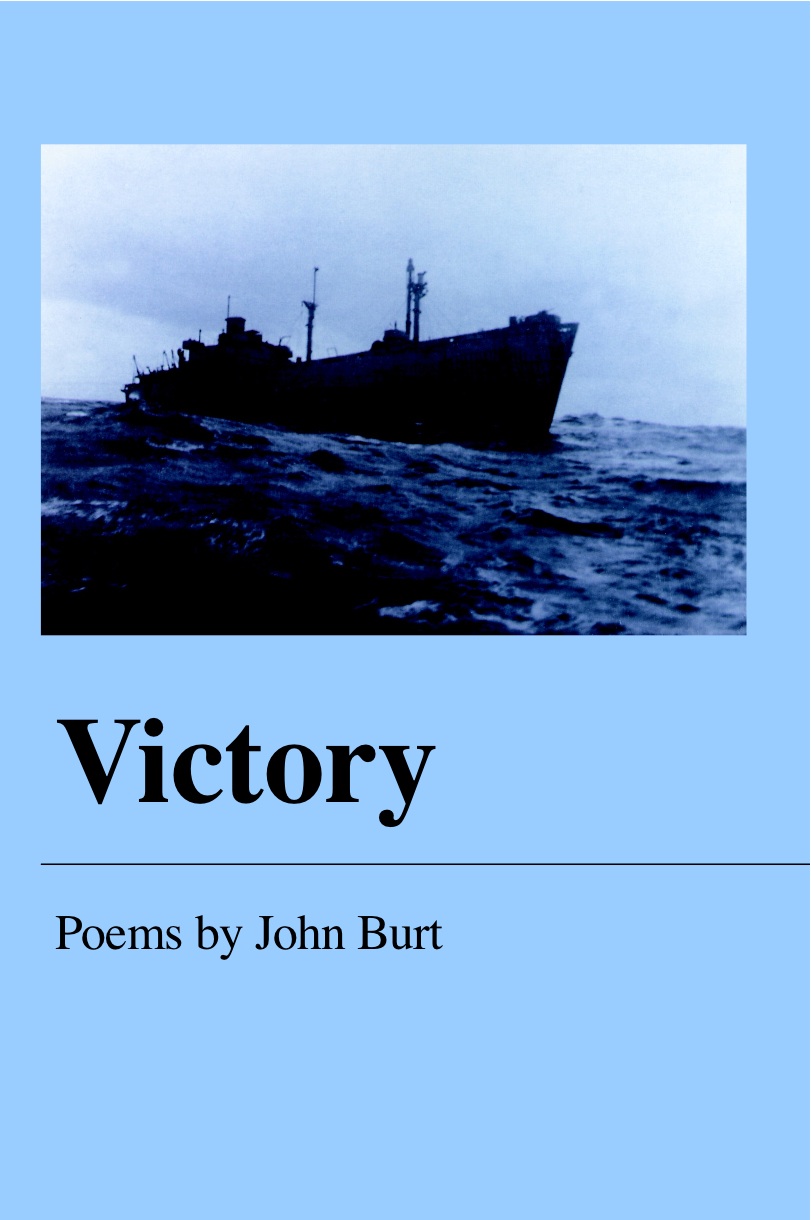 John Burt's Victory is a complex book, composed of several long narrative/historical poems about conflict and courage. These poems are not easily read outside of their context, but these lines give a little of the flavor of Burt's method:
I. April 17, 1825

I had to write my father one more time,
My last not having opened up the springs
Of his compassion and his bank account.
I'll bend as low as he can make me bend,
And lower still, if that is what it takes
To help him to persuade himself afresh
That he is not the man he knows he is.
If I pretend to honor his advice
When he pretends to have advice to give
He may forget himself just long enough
To render up just what paternal care
Might owe to filial duty fully done,
And fully done with, soon enough, I hope.
Pecunia non olet, though it be
All raised by taxing pisspots in the stews
Or selling wormy meal and raddled meat
To all my classmates at not quite a bargain
But cheap enough the College has to buy
And dear enough to pay part of his debts,
Except the debt of shame to me, which mounts
With every glance I get across the plate
I too am eating from, the last of all.
Perhaps old Mister Fox gave an advance
To keep our hopes alive about his will,
Or make my father soon forget he saw
That skinny hand just brush my sister's breast
As if by accident another time
While he was grinning in my father's face
And she looked far away and kept her peace
Like someone very used to keeping peace.
It's like enough just at the very last
Old Fox will fox the devil of his soul
By dowering Savannah's biggest church
With some new fund they'll have to name for him
For doling Bibles to the Cherokees.
We put out honor like a plate of tarts,
And passed him samples, but he didn't buy.
And so the steward's son must beg his Pap
For some one else's money for a coat,
All blue and buff, and buttoned up with brass
For him to cut a striking figure in
As President of the Euphradian Club
And this year's Convocation Orator.
And for that hour, not one of them will mark
How rancid vittles bought that coat for me.
But what bought their fine coats? A draft on God?

Burt's poems have the narrative richness of a novella: they have complexity and depth not only in their lines, but in their characterization. It is unusual to read poetry these days that can bear such praise, but Burt's work qualifies.
0 Comments
Book of the Day: The Dreamer Who Counted the Dead by Robin Chapman

What I admire most about The Dreamer Who Counted the Dead by Robin Chapman is Chapman's careful, patient exploration of the intersections between memory and history. Her understated lyrics methodically unfold these intersections,these connections, until a deeper insight dawns upon the reader.
Consider this aptly titled poem:
Let's Imagine Each Room Is an Entire World

This one, for example,
The anonymous drapes and spreads,
Dust-streaked windows
Overlooking the heating vents—
Each of us amazed
To find it holds the other;
Haven't we slow-danced
To the big bands of the 'thirties
As the city sirens
Cried the blocks?
In childhood it was enough
To throw a blanket
Over the cardtable
And pull the flap
Slowly aside to enter
On hands and knees
Another kingdom,

While outside
The wind howled, rain beat,
Or the sun shone, pitiless
On the endless sand dunes—
And we alone, in those
Vast rooms, arranged
Our imaginary friends.


Stepping through its images, line by line, the poem does indeed create "an entire world" in a single room. This fine poem is characteristic of Chapman's work.
0 Comments
Book of the Day: Tahirih Unveiled by Julia Older

Julia Older's Tahirih Unveiled is a compelling narrative collection, one that approaches a novel in verse: it is a character study, developed in lyric poems, of Tahirih.
Here is a sample poem:
Tahirih

In this small room waiting for death
my childhood returns, child bride
of nine bearing babes, one a year
grabbed from my arms by female servants.
They would have me sew pearls on velvet
and send for the sorceress to read my fortune.
They would have me carve fruit and look
with downcast eyes into the pool in the garden.
They would have me live in great silence
behind a piece of cloth, my mouth stained
by pomegranate and the kisses of a strange man
who shared my bed in the fragrance of jasmine.
Who asked me to give a body grown devout
and then no longer asked, but took.

I was born to throw off the chador,
to question the Mullahs on their superstition
even when my father, himself a priest,
sided with the fitting of the Word
to worldly custom. But I, who they call
Qurratu'l-'Ayn, Consolation of the Eyes,
grew beyond my father's protestation.

I go to Allah in white,
joyous and hopeful. I go
to love anointed while my murderer,
a cord in his unclean hands,
rushes to the Shah's bidding--
the Shah who once pierced these kohl-lined eyes
and pleased his fancy with a comely face.

How well I knew his Majesty's persuasion.
He said: "I like her looks so let her be."
He tried to dissuade me and yet--
it was my duty to announce the Bab.
One might as well ask
the nightingale not to sing.

I was born to serve
the New Teacher and show my sisters
that we are equal.

With their multiplicty of perspective and voices, these poems draw me in, and immerse me in the fascinating life of this woman.
0 Comments
Book of the Day: Amigo Warefare by Eric Gamalinda

Eric Gamalinda's Amigo Warfare is a powerful, emotional collection about connecting with other human beings, about transcending our individual isolation to enter the larger world of community and fellowship. I found it invigorating and enlightening from beginnning to end.
A good example is this poem:
DMZ

At the end of my life I must stagger back to love,
my body a weight I am sick of carrying,
my pockets filled with intricate maps
and useless strategies.

I ask forgiveness of everyone who loved me
—you have been grievously misled.
I cash my name in, such a useful thing
—let's hope someone else has more luck with it.
I return the suit I borrowed,
promises I couldn't mend,
the happiness just one more quarter-inch
within my reach—loose change
still good for a pauper's meal.

I surrender my history
and all memory, its ammunition.
The nameless claim me. Exiles
offer me a home. Who else sees me
as I truly am, just another vehicle
transporting so much fuel?
I light my anger like a pile of twigs.
I do this in the desert: it scares away
anything that will devour me.
I do this in the city, where the jackhammer
cracks the cranium of the earth, and nothing
can save me. I lose myself
among the restless immigrants,
their bodies still warm
from the lust and gunfire of slums.

Grief is a nation of everyone,
a country without borders.
I roam the avenues of it
out of habit. Summoned to testify
on everyone's behalf, I'm sticking
to my story. It's better not to talk
about the wounded, or the moist remains
of the disappeared. But there's always one
who can tell, in the packed
amplitude of crowds.

We are so many bodies, my friends.
We all move in the same direction.
As though someone had a plan.

"Grief is a nation of everyone,/a country without borders." Those lines pierce to the heart of the matter. Powerful, powerful work.
0 Comments
Book of the Day: The Underflower by Jay Snodgrass

Jay Snodgrass's The Underflower is a book of tough, uncompromising poems that twist the notions of landscape and spirit into something utterly and indelibly new. Drawing freely from popular culture and the specific landscapes of South Florida, Snodgrass's work looks and sounds like no one else's.
This poem is characteristic of Snodgrass's technique:
Signals

One if by sea. Twice if by handgun.
I lay down in the dewy grass
While insects ask me new tough ones.
I crumple the paper of your moon
In my heart.
Together I am broken bread, apart
I chew through the lord's nails.
I'm sure I've said this before:
Eternal Highway. The vault
Opens outward to your just standing there.
I am sanctuary inside the improvised
Bomb of your heart.
I sweat tree sap and road tar.
While driving down the absolute
I hear the chorus of unstopperd
Insects drill their anthem into the landscape.

The knotty syntax and driving rhythm of these lins make this poem difficult on the first reading, but it repays the reader's attention. Snodgrass is a unique stylist in contemporary poetry.
0 Comments
Book of the Day: The Weather of Dreams by J.E. Pitts

One shouldn't judge a book by its cover, but the cover of J.E. Pitts's The Weather of Dreams is entirely apropos: a road through wooded land in winter, barely plowed. The photo has an ethereal quality; the tire tracks mark but do not mar the larger scene that contains them. Such is the quality of Pitts's poems: they tread lightly through the landscapes that they depict, never subsuming the world in which they take part.
Here's one example of Pitts's craft:
Young Hawks

Objects in mirror are closer than they appear
while driving down the turnoffs to places with names
like Pleasant Hill and Locust Grove right before dark.
Young hawks fly in a circle above the car.
They are tracking some animal
moving through the tall grass.
Young hawks can swoop down suddenly
when they grow bored.
They do grow bored–it becomes old hat
to track your eventual prey across a field.
It's the same in war when the targets are lined up
and the planes fly in and bomb them to smithereens.
The answer nags--
The animal on the ground, looking for a thicket.
Young hawks, waiting on the right moment.
A driver in a car, watching
the grass move in the mirror.
All of us trying not to think of
all the things, just ahead,
that lie in wait.


Aware of hawks flying above, Pitts pauses, "trying not to think of/all the things,/just ahead,/that lie in wait." Here is a speaker who is willing to observe without intruding. This fine poem is characteristic of Pitts's method.
0 Comments
Book of the Day: Shouldering Zero by S. Beth Bishop

S. Beth Bishop's Shouldering Zero is an exciting find: a first book that is both intellectually rigorous and emotionally sensuous. Bishop's book explores the subject of zero as metaphor, as unit of measure, as site of geography. Georgraphy itself--of land, and of the heart--also figures in Bishop's work.
This poem encompasses several of Bishop's concerns:
Orientation

No map, you understand. Where water seeps, it isn't
blue. Imagine Morning drags her feet, leaves a gilded
trail. Her dress is wet. Her tongue swells. Make the best

of what she says, for she is short of phrase, without gesture,
and resigned. There may be a sense of land, but it is only
a sense, an as if, as though ground were just what kept us

from falling further. Imagining a map won't set the curve,
won't turn sand to grass, brown to green, or sprout sweet bean
flowers out of sour alfalfa. Words run down from earth to holes

in earth and freeze there. Yes, no way from here to here. Even
where water might be blue, it never is. We have to guess where
never waits, and whether there is any always left after our light

gestures burn away like dew. Morning drags her tail, turning
animal, just as we become land again, ourselves. No maps. You
understand. Wet guesses. Guilt in our steps. It's best to imagine.
Bishop is an unusually adventurous poet, and her work is a strong debut.
0 Comments
Book of the Day: Flaws by David Galef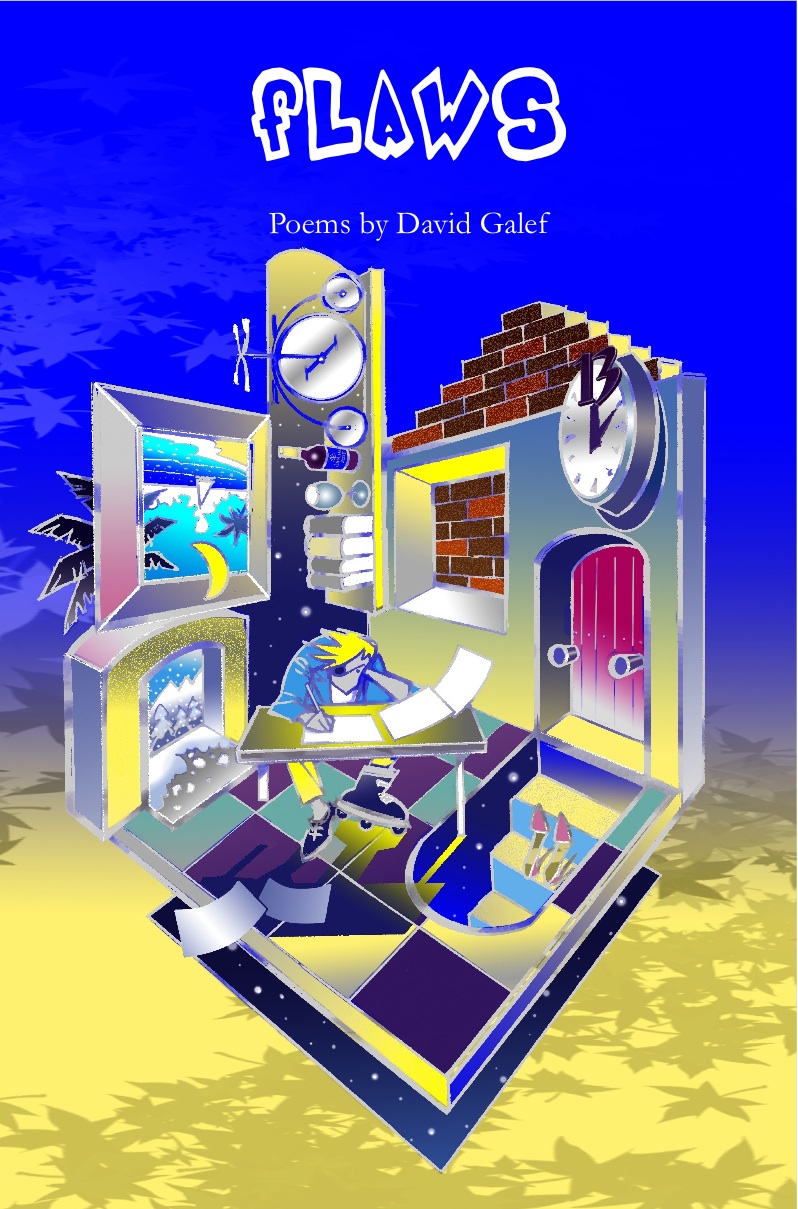 David Galef's Flaws is a book of sharp, sometimes poignant humor and wit. Galef is not afraid to go for the laugh, a tendency all too rare in contemporary poetry. Yet his verse can take a sudden turn into deeper waters, as this poem exemplifies:
Night

His wife sends him out to shovel the snow,
But the ground outside is bare.
The door has shut. There's nowhere to go.
All he can do is turn and stare
At the cloudy spot where the moon should be,
Marked by an uncertain trace.
If he squints, he thinks he just might see
The outline of a child's face.
And so the man waits as he has all his life
For a lucky break, for his job,
A family, his lonely unsatisfied wife—
His joints begin to throb.
He reflects that his house is a hovel
In a world he never made,
When softly falling onto the shovel
A snowflake glints on the blade.


The turn in the last couplet is as delicate--and yet as sharp--as the snowflake on that blade. Good show.
0 Comments
Book of the Day: Enduring Wonders by Dory Hudspeth

Dory Hudspeth's Enduring Wonders is a quirky, lyric collection that examines the enduring truths that persist beneath the surface of everyday life. Hudspeth's poems always surprise with their attention to detail, their sharp turns into deeper insight, and their crisp lineation.
"To Prevent Tears" is characteristic of Hudspeth's technique:

To Prevent Tears
Some people hold a match
between their teeth and others
wag a piece of bread, half in,
half out of their mouths.
Some say tears are from harvests
in the wrong moon sign,
shaggy root ends, or the past
season's drought. The knife
moves as steadily as time.
Those careless cuts throb
and grief comes ever closer.

"Those careless cuts throb"--a sharp line that captures the essence of this sharp poem. Hudspeth's brisk linguistic economy belies the depths of insight this poem opens up.
0 Comments
Book of the Day: God Bless the Magicians by David Higginbotham

David Higginbotham's God Bless the Magicians has an edge to it that is unusual in contemporary poetry. By turns humorous and dark, Higginbotham writes about an unusually wide range of subjects, but his poems always have a sharpness to them that is refreshing.
"The Funeral" shows Higginbotham in an elegiac mode, but with his characteristic toughness:

The Funeral

Taking back roads south, I knew I would be late.
Windows down, had to run the heater
to keep from overheating--
Willie Dixon's "Keep To The Highway"
on a backwoods AM station;
should've been a sign.

I drove out of my way,
stopped in Lumber City for directions.
Bought gas station postcards of cotton pickers,
someone's idea of the perfect Georgia peach.
So when you see them, they're from me.

And it was a wilting afternoon.
August heat drying the tobacco
in the fields, blurring the horizon
into a shimmering eulogy of light.

Was it the postcards? Maybe
my sense of direction. I'll tell you:
I was glad to miss the sermon.
I walked up as they lowered the coffin,
took your mother's arm. Don't think she expected me.
Above the welling silence, her cardboard funeral fan
beat like a crippled angel's wing.
In its fragemented recollection of the details of the funeral day, this poem never lapses into the maudlin, just as his humorous poems resist the easy chuckle in favor of deeper insight. Higginbotham's debut collection is a strong one.
0 Comments
Book of the Day: Bridge and Tunnel by John Hennessy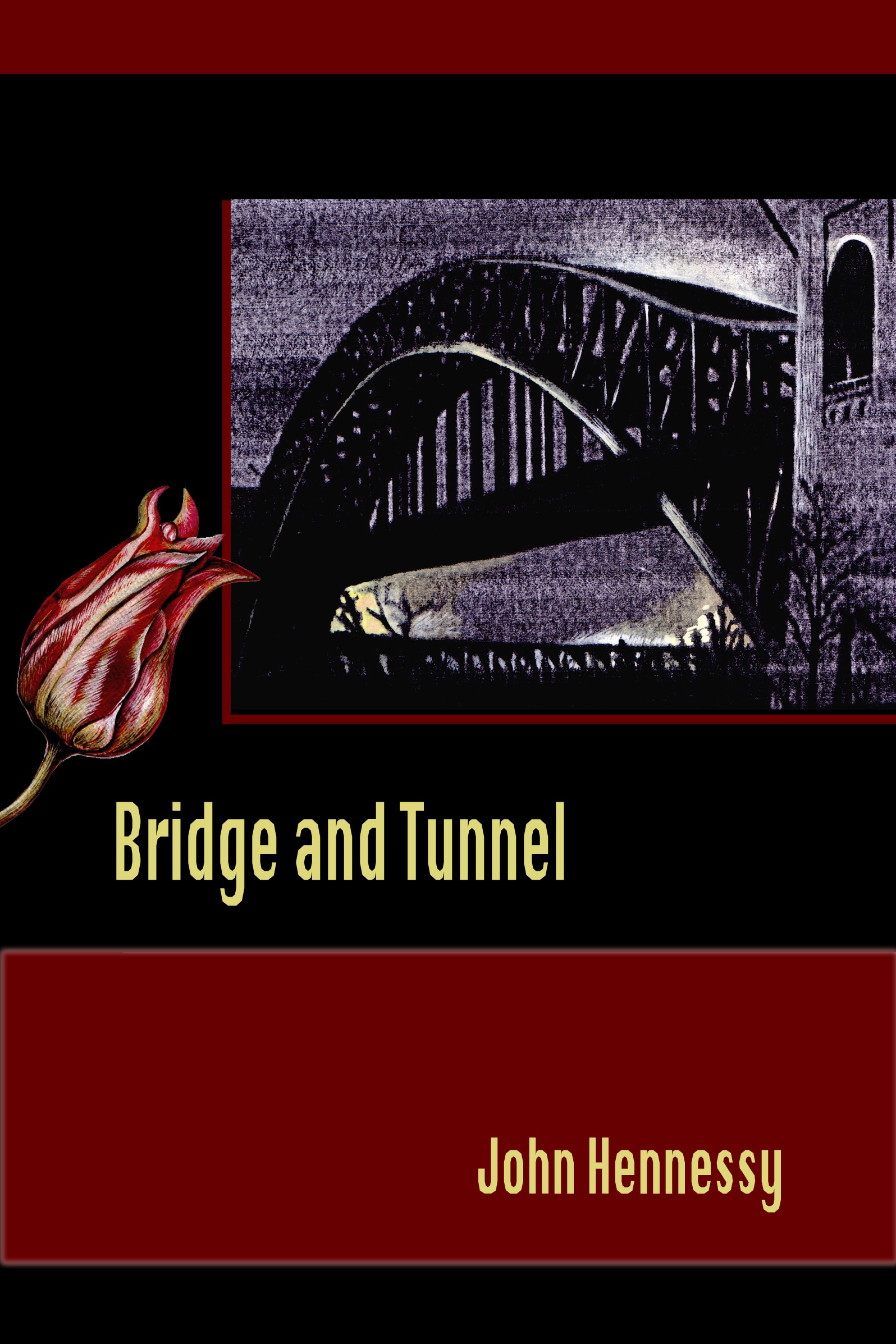 John Hennessy's Bridge and Tunnel places me as deeply in a specific place--the urban landscapes of New Jersey--as any book of poetry I have read in recent years. This is not faint praise. Through voice, autobiography, and history, Hennessy brings a multiplicity of perspectives to bear on the world he has chosen as the root of his poetry--or, just as accurately, the land that has chosen him.
Consider "Dog-Star Freddy":
Dog-Star Freddy

He hated anything that flew, he said,
stuffed hooks in chunks of Sunbeam bread and went
pigeon-fishing, hauled scores off leaf-plugged gutters
and out from under eaves on nylon thread,
swung and beat them overhead, the Roman soldier,
new David, bastard of both testaments.

He poisoned sparrows with washroom bleach,
gas in the bird bath, hung them by their feet
from swings at Shotwell Park. Pale little nestlings
hovered like stunned hummingbirds, upside-down.
We stuck to basketball or slammed stickball
off the apartment building wall, crowned the king

of the jungle-gym with stitches, skipped the swings
until he copped a wrist-rocket, cocked at crows.
He plunked them off power-lines and streetlights
with marbles, gravel stolen from building sites,
plucked them before they died, stuck feathers in
his puca-shells, played Vietcong scalps Navajo.

Mid-summer and the whole neighborhood reeked:
sun-burned dumpsters, rat sunk in hallway walls,
drunken vets stumbled singing out of Pete's,
incontinently sprinkled streets,
Merck chemical plant's fuel tank leaked, and all
those rotting birds. Dog-Star inspired, that freak

in stinking feathers took prisoners to his basement
bunker--the smell of lichen, slugs, and newsprint,
and cool, at least. His ambush spread, we all went,
boys, girls, anything with eyes and orifice;
even the youngest made good audience.
Me, I skimmed his porno-stash, watched when asked,
scared, not uninterested, learned words for what
our parents did, studied and waited when he bent
and said, it looks just like a starfish, slot
for human pinball, blazing Aztec sun,
a burning basketball, it's where I vent
the souls of all the birds I catch, it's one

odd nest: sick, yes, but subject to his muse.
Character, scenery, and historical reference: this poem is a microcosm of an entire world. Read in the context of the other poems of the book, it is one more dimension of a world that, even if its boundaries are limited to a specific region, offers nearly infinite complexity and richness. Only the best poets can accomplish this.
0 Comments
Book of the Day: Natural Forms by Dana Sonnenschein

Dana Sonnenschein's Natural Forms is a well-named book: the poet takes the natural world of her subject, and renders its forms with an almost tactile grace. Both visually and sonically, Sonnenschein's poems are a pleasure for the reader.
"The Memory Horses" is one such example:
The Memory Horses

The horses in the pasture behind the house
never seemed to belong to anyone.
They came, big as gods, to the fence
every afternoon and stared back at me,
blinking away flies, knocking the wood
with a hoof now and then.

I knew to hold my hand flat
when offering them grass, to stand
perfectly still and let the hot breath
and whispery lips pass, as if there were
nothing, over my palms, and to move
around them as if no horses
were there, the way the shadows
moved around the pine trees.

The memory horses, brown and buckskin,
still bump their bony foreheads
against my shoulders, offering the softest
spot to touch, the stretch between
flickering nostrils and ears.
There is a gap behind their teeth
where the bit lies easily,
and they cannot feel my hands
in their manes when I mount.

Because they have never left the pasture,
because they barely change the grass
they live on, the memory horses still pass
through the world, invisible, and gallop,
evenings, as if there were no shadows,
as if the world were not there,
moving carefully, painfully around them.

"The memory horses, brown and buckskin,/still bump their bony foreheads/against my shoulders, offering the softest/spot to touch." In Sonnenschein's lines, these horses are alive, physically present, nuzzling, their actions embodied by Sonnenschein's skillful use of sound.
0 Comments
Book of the Day: Pascal's Other Wager by Rush Rankin

Rush Rankin's poems are not easy to read. By turns discursive, narrative and historical, they explore complex themes in an indirect way. I found myself drawn in by the chatty, witty discourse of Rankin's speakers in his new book, Pascal's Other Wager. As I read, what unfolded for me beneath the poems' smooth surface irony was a gracious love of the world. Consider "Yet Another God in Mexico":
Yet Another God in Mexico

Frayed palm trees surround
the white hotel fronting
the beach. The couple
passing by is old enough
to admire and savor
a consoling picture
of sadness. Large boats,
turned over to dry
on the sand, resemble
dead whales, whose ribs
shine in the darkness.
*
Of course, the real victims
of history must adopt
a new religion. Ghosts
float like dust in the shadows,
in the chapel, as tourists
watch modest people
kneel down to pray.
*
At the market a morose Indian
tries to protect her face
from his camera, which breaks,
thus pleasing his companion,
who admires real-life magic
and women who frown.
*
Of course, the real
victims of history succumb
to more than just
a new religion. Mexico,
too far from God,
they say, and too near
the United States.
*
Dazed American hippies
on the sidewalk sell beads
to the surfers laughing
and playing together
like seals. Waving
off every plea, the slippery
smiles, the couple leaves.
*
Of course, they're old enough
to admire and savor
a consoling picture
of sadness. Large boats,
turned over to dry
on the sand, resemble
dead whales, whose ribs
shine in the darkness.

Dense, allusive, and leisurely, Rankin's poems do not reward casual reading--but they do reward sustained attention.
0 Comments
Book of the Day: Babel's Stair by Rhoda Janzen

Babel's Stair by Rhoda Janzen is a deft, sometime wickedly funny exploration of the worlds of beauty, religion, and gender issues. Janzen explores her experiences growing up in a religious community and working as a fashion model. These unusual subjects are given memorable treatment in sharp, witty poems, such as "Why I'm Right for the Job":
Why I'm Right for the Job

Folding underwear in symmetrical
squares of three, blackblackblack,
thongthongthong, strikes a heartnote
of ease. From early childhood I trained
in pews that I'd lemon oiled the day

before. I stiffened Sunday mornings,
with my washboard spine (hands folding
silence into sunshine while the sermon
looped like a cumbersome bee.) I
rearranged nothing, drew no squiggles

on no bulletin, did not accost the tiny
cups for grape juice. Face like a hush,
interior licked by flame, I remained, yet
was consumed, a burning bush. Consider
as well my fashion years. The braided

chutes of youth had come undone, huge,
accidentally spectacular: pure cold flume
that took me to the banquet of the world.
Still my greatest pleasure was holding
still for photographers. Rotate your chin

ten degrees to the left, do not move, do
not move, hold it, freeze it, hold that
mouth. Oh, prayer!--I can pray without
moving a muscle. I can stare any god
right out of the room. Budge me, and I

will loose a glacier that cuts inchmeal
through your centuries. Heaviness
is mine to command. I am the mother
of frozen monoliths, spook-white,
inexorable, and still in my Sunday clothes.

Janzen's work is distinctive, accessible, and rewarding for a variety of readers.
0 Comments
Book of the Day: A Woman Milking by Marcia Slatkin

Speaking as one who has spent all of his life in suburbs and cities, I found the poems of farming life in Marcia Slatkin's A Woman Milking fascinating. Bristling with vivid details about the daily life of a farmer, these are poems of hard physical labor, suffused with a deep sense of spiritual connection. I learned much from them, both in terms of the work of farming and the deeper sense of farming as a spiritual vocation.
The power of Slatkin's poems is seen in "Labor":
Labor

It starts: a splash
stains your udder.
I see jutting neon teats.
Your grunts plead.

I stroke your nose
and offer feed
as a man's hand
invades the space
where hooves and head
are late. He tugs

your half-born, wet,
from your womb.
Neck bells
bash your teats
as you turn
to lick its feet.

One last twist
and the stall is a morgue,
your bleat a scream.
Young bones snapped,
your blood and sap
splash to the straw.

Next day,
your milk is rich.
my fingers ache
with the taking.
I buy ducks as company,
and their twittering distracts you.

But often,
you sniff the straw, lick
the walls, paw the ground
for all that's hidden, lost,
that was yours.

The sense of loss in this poem is palapable, and powerfully rendered.
0 Comments