About
Public Poetry, Kevin Walzer's meditations on poetry, publishing, business, and other creative pursuits

Your Host
Kevin Walzer, a poet, poetry publisher, husband, and father.

Subscribe to RSS Feed
Get a syndicated feed of my weblog.
Archives
2013
2012
2011
2010
2009
2008
2007
2006

Categories
Books
Business
Poetry
Publishing

May 2013
Sun
Mon
Tue
Wed
Thu
Fri
Sat
1
2
3
4
5
6
7
8
9
10
11
12
13
14
15
16
17
18
19
20
21
22
23
24
25
26
27
28
29
30
31
Site design: Skeleton
Book of the Day: To the Archaeologist Who Finds Us by Gary Thompson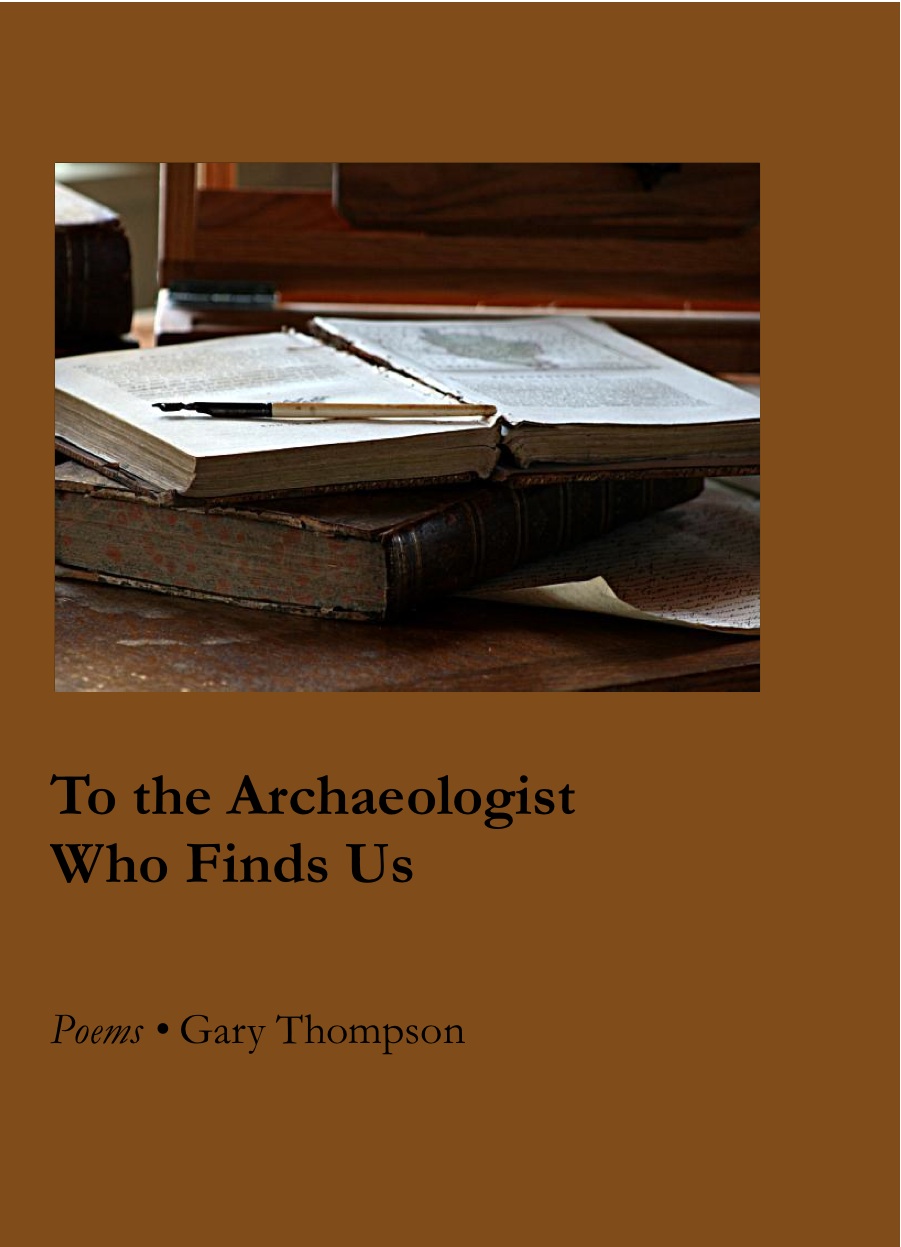 The poems in To the Archaeologist Who Finds Us by Gary Thompson have a sharply incsive quality. Thompson's lines are often short, and move with quick leaps and rapid turns from specific detail to general truth.
Here's one chracteristic example, "Before Christmas":
Before Christmas
I go down
in spirits, these difficult days
before Christmas, like sand

sliding through the neck
that separates bottom from top
of an egg-timer. Inevitable.

And inaccurate, I know.
Forgive the bourbon in me,
ancestral and bottle,

sliding from pompous
to silly, bottom to top,
and days that sink or float

with love or without.
Forgive the bottleneck
in my throat.

The image of the "Christmas spirits," with its dual meaning, is the sharp edge that this poem successfully navigates.
0 Comments
Book of the Day: Sitting in the World by Richard Moore

Sitting in the World by Richard Moore is a collection of deceptively simple lyrics--sometimes somber, sometimes satirical, always human. One does not usually think of Moore in connection with Zen Buddhism, but there is little doubt that the book's emphasis on being in the here and now has connections to, or at least echoes of, a Zen sensibility.
Here's an example, "Burials":
Burials

The children grown
to rage, disaster,
having long known
they wouldn't last her,

declared my sweet,
my erstwhile lover:
Our life? Complete.
Finished now. Over.

Therefore we sever.
Such things, diminished,
far one, but never,
we have found, finished.

To the archives
that wrench and rend
of broken lives
there is no end.

Still, still they haunt us,
in every breath
breathe on us, taunt us,
dance on our death.

The deft meter and rhyme move quickly and surely to a larger awareness of life's mysteries.
0 Comments