Reading period is on: Some thoughts

We're about halfway through the annual submission period for the WordTech Communications poetry series. I haven't started reading in earnest yet, but perusing the large number of entries so far, I've seen a few trends worth commenting on.
One thing that I'm observing is a distressingly large number of submissions that show no evidence of having read our guidelines closely.
If you read our guidelines thoroughly, you're aware that the press places significant emphasis on the poet's ability to help promote his or her book through readings and similar events. A strong submission takes this fact into consideration, and the author makes some effort to tell us how they can assist in the promotion of their book. Such statements don't guarantee publication, of course, but a strong manuscript coupled with a strong record of doing readings--or good ideas on how to help promote the book--makes a very compelling case for publication. There are some of these submissions in the pool, but not as many as I'd like to see.
A larger proportion of our manuscripts include a standard cover letter with a biography and credits, a bit of discussion of the manuscript, and perhaps a line or two about which imprint the manuscript should be considered for--our guidelines ask poets to address this. These manuscripts are a bit harder to evaluate in terms of their sales potential, because the poet give little indication of how he or she might help promote the book. In such cases, when we have a strong manuscript, we have to make an educated guess about the book's sales potential, based in part on the poet's background.
The most disappointing submissions are those that come with only a brief cover letter and biography, or worse, no cover letter at all. Such submissions are usually set aside quickly unless the poetry is absolutely stunning. It's difficult to believe that a poet will be on board with our approach to publishing if they don't even make a cursory effort to show they understand it.
I make no apology for this approach to selecting our manuscripts. Excellence is the first criterion, but as a private press operating without subsidy from public agencies or private foundations, we survive solely on book sales. This absolutely requires the poets we publish to assist in the promotion of their books. There are plenty of presses out there that take a different approach, and if you're not comfortable taking a hands-on role in bringing your work to an audience, then we're not the press for you.
0 Comments
MOVING HOUSE by Angela Alaimo O'Donnell

The taut poems of Angela O'Donnell's Moving House are spare but unrelenting in their accretion of detail. The composites that emerge from these details are beautiful, but in a dark way:
Breaker
At home among the slag heaps
where culm dumps rise camel-backed
against an ashen sky,
fathers did not embrace their daughters.
The breaker on the back road
stalked us in our dreams.
Blind and bent with age,
its black apertures menaced us,
relic of a dead life
in a slowly-dying place,
a town of heaving men
who slept upright in their darkened parlors.
Fire never visible for all the damp.
It smoldered low in stoves and furnaces,
burned quiet in our breasts,
smoke and soot the only signs of heat.
This is a bleak house, a house of little love or hope: "smoke and soot the only signs of heat." The poem itself smolders, burning, with restrained intensity. I find this poem, and its book, compelling.
0 Comments
ANONYMOUS FOX by Naomi Feigelson Chase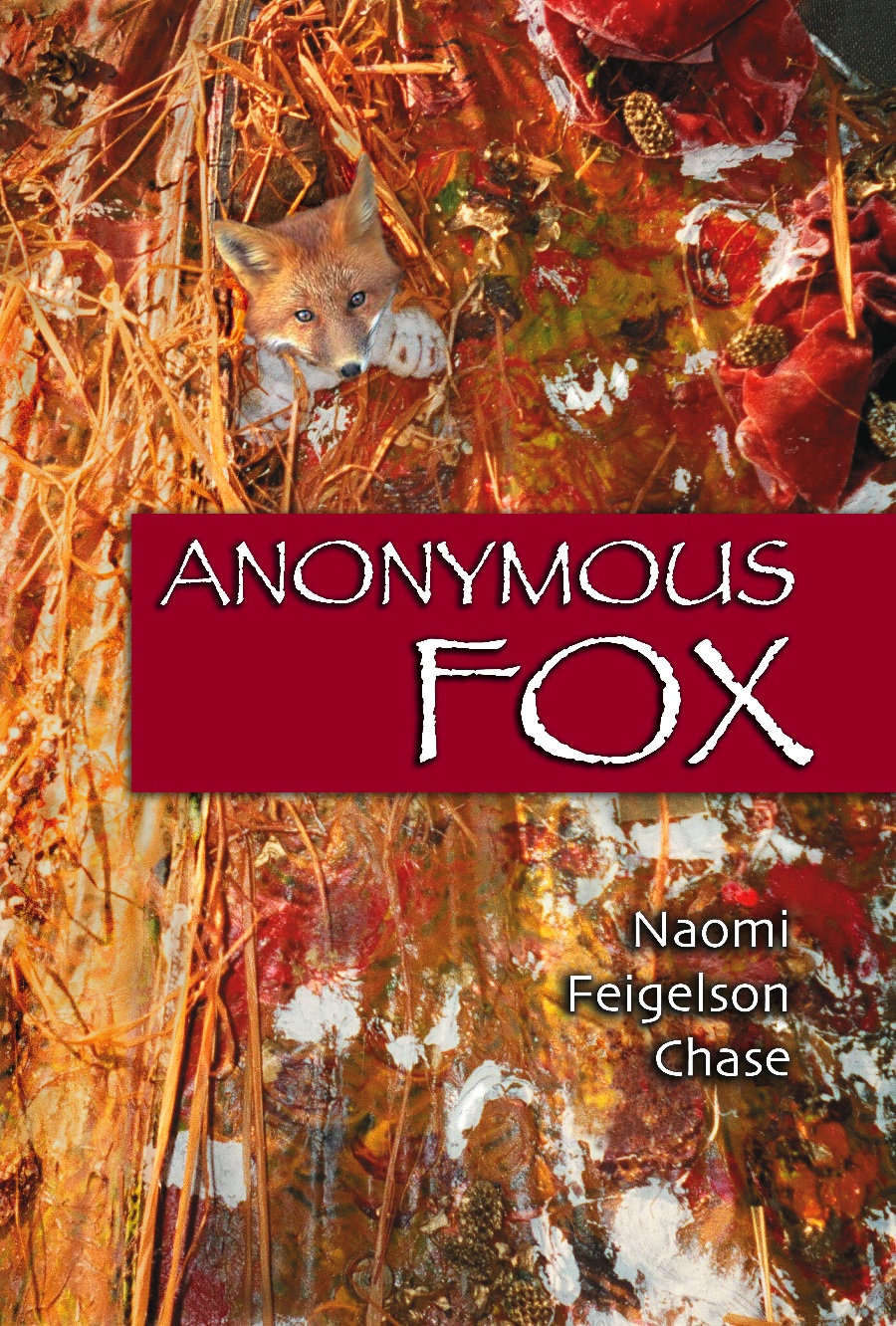 Naomi Feigelson Chase's Anonymous Fox is a striking collection of brief lyrics that engage their subjects with dark, gnomic wit. "The Dead Like Kites" is a characteristic example:
The Dead Like Kites

Arms like sails,
They shake their salt
Down on the world,
On me,
Like tar glitter,
Warning shots across the bow.
What if, obedient,
I offer them
A Roman niche
On my heart's slate hearth,
Feed them
The day's first bowl of rice.
What if I offer nothing
But rough bandage,
Splinters that hobble me,
Hands that clap ears shut,
And robed in grave grass,
Join them.
This poem engages in leaps of perception, as the speaker moves from the strange image of death kites, to joining the dead herself. It's a strange journey from a gray light into darkness, chilling and striking for the reader.
0 Comments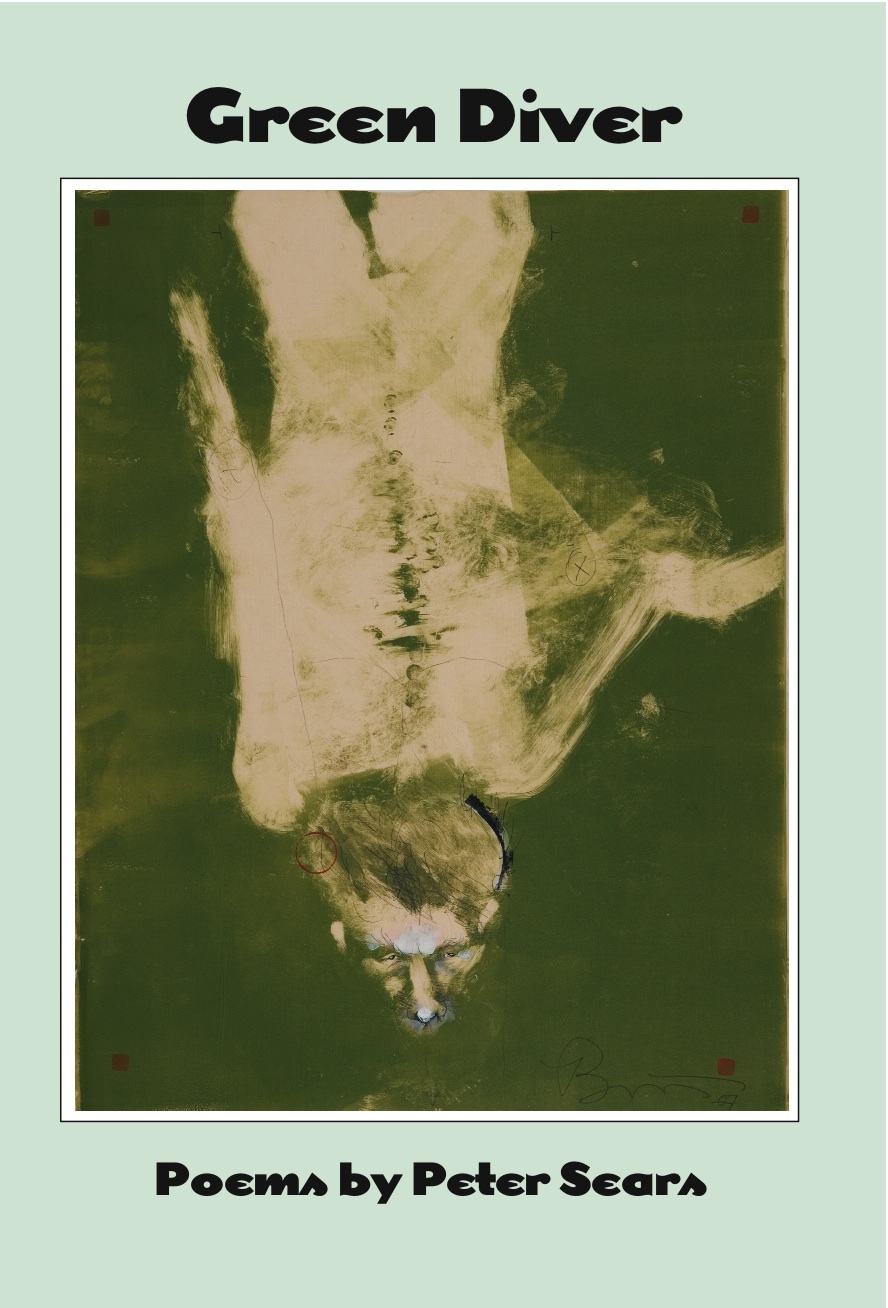 Green Diver by Peter Sears is a book that regards the world with amusement, affection, and concern. A variety of tones pervade the book; sometimes Sears writes with plain realism, and other times approaches a more surreal perspective on the world. The result, though, is always surprising.
One poem, "High in the Bamboo," shows Sears in his quiet mode:
High in the Bamboo
The cat likes to sit in the bamboo,
rest its head on its front paws,
and look out at the world.
I like to sit on the porch,
rest my head against the back of my old chair,
and watch the cat look at the world.
I look up into the bamboo, too,
glance back down at the cat
to see if it has moved.
It hasn't. I try to catch it moving.
I don't succeed. I squint to pretend
I am falling asleep. I fall asleep.
When I awake, the cat is gone.
I look back into the bamboo.
The bamboo tops move.
On the surface,this is a poem about nothing, or perhaps more accurately nothingness: on a deeper level, it is a poem about perception. Its quiet grace reminds the reader that everything in the world is worthy of attention.
0 Comments
THE GODDESS OF GOODBYE by James R. Whitley

The poems of James R. Whitley's The Goddess of Goodbye resonate with an energy that belies the somber subject matter of many of these poems: decline, disease, death. His lines are intense, fast-moving, even furious in their wit and rhythm.
Here's one poem:
Memento Mori

October is intent on having its way with us:
haughty glabrous moon glaring down,
bitter wind bossing us around like twigs,
your cancer still spreading like an oil spill
in the once-pristine waters of your body.

At the window, a gypsy moth is negotiating
between two compelling choices—
the path of blue moonlight versus the frail
glow from the lamp next to your bed.

Of course, the moth knows nothing of nature's
cruel jokes, nothing of technology's artifice
and its flimsy veneer of resolution, salvation.

Back inside the room, everyone hovers in
quandary, each pair of confused eyes soaring
to and fro, hoping to land on something painless
to talk about, something perhaps lost in a corner
or encoded in the scuff marks on the floor.

None of us has been given any directions.
No one knows exactly which way to turn next.
This poem moves rapidly until its haunting ending: "No one knows exactly which way to turn next." In its shape, it's almost as if the poem understands that the end cannot be avoided, but the journey can be embraced fully.
0 Comments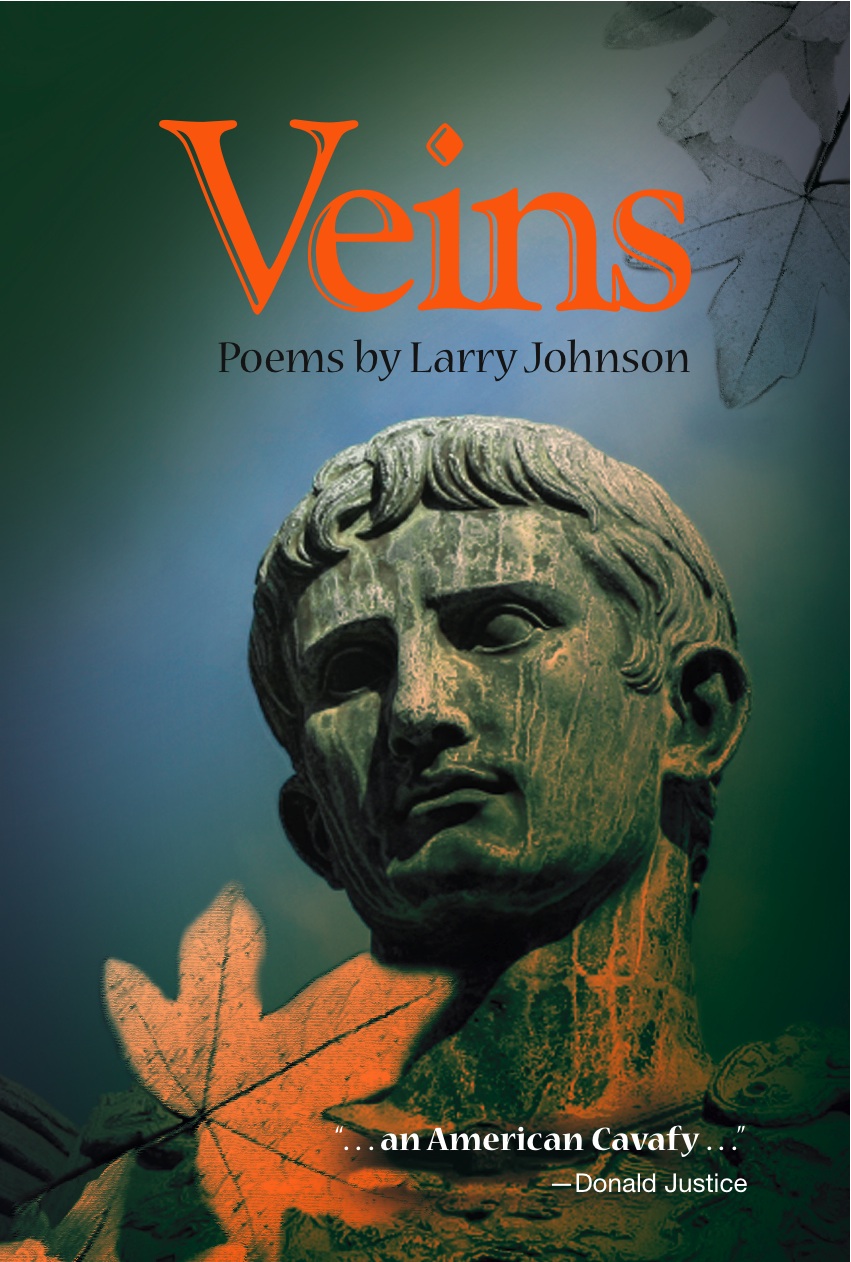 History and sharp craft come together in Larry Johnson's Veins, a collection of formal and free poems on a wide range subjects. What unifies these poems is their large sense of the interconnections of history and individual experience.
"Jean Sibelius Bags a Soviet Plane, 1948" exemplifies many of this collection's strengths:
Jean Sibelius Bags a Soviet Plane, 1948

The maestro's yard, near mossed, penumbral pines,
Echoes the bluesteel hunting rifle's crack:
The fighter circles, wings off—was it a Yak
9 or Mig 3? No matter. Another shines
In cloudsifted sun, dropping lower. He fires again,
Leading the target this time with a vow
To sacrifice his frozen Eighth if now
He pierces the smirking aircraft, causes pain
For one damned Russian cog . . . so slivery smoke
Trails from the engine. A wobble. The pilot turns
East, igniting oil billows out. Fate's joke,
He thinks, watching the smeared speck as it burns,
Roils brumy below horizon, its soundless crash
Too soon avenged by his music's snowclean ash.
Evoking the Cold War, with humor, "fate's joke," in elegant rhyme: well done.
0 Comments
DIMINISHED FIFTH by Jeffrey Bean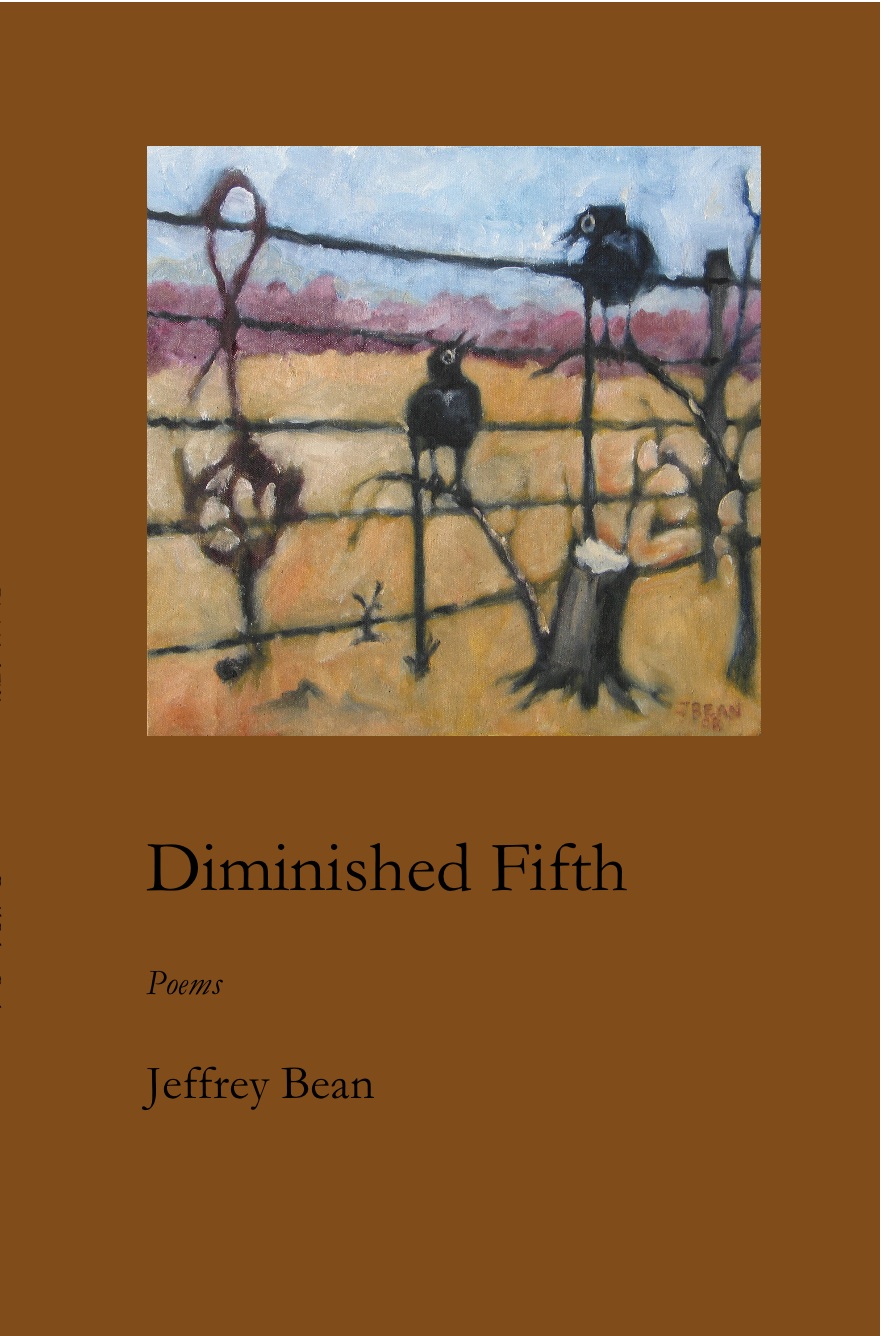 In the poems of Jeffrey Bean's Diminished Fifth, music uplifts, despite the diminishments of the world. "Major Third" is a good example of these poems' flavor:
Major Third

It comes from gravel lots where the state fair
pushes fried dough and bagged fish out the mouths
of red-lit tents. It's pumped out of dunking booths
across the blocks and into windows, up the stairs

of the apartment where my grandfather is
dying in a room of mums. It's the song of Sunday
traffic, the car horn's hot punch to which he
tunes his hymn, the last tune he remembers.

It's where the voices in rooms above him drift when
they cheer, or sing, when they ooh and ahh
or rise in anger, say where have you been,
when they call out for help or to mourn—even then.
It's La Cucaracha.
It's When the Saints Go Marching In.

Even in the face of death, one can soar on the wings of music, "when they call out for help or to mourn--even then." Such willingness to try flight is necessary in these trying times.
0 Comments
DRIVE BY HEART by Michael Milburn

Michael Milburn's haunting poems in Drive By Heart are powerful in their longing--they really engage the reader's heart. I don't always like to use such language to describe poems, but here it applies: Milburn's work has an emotional wallop.
"Freeze Frame" shows Milburn's strengths:

Freeze Frame
Some comb the past for blame,
forever reviewing the tape
like Monday Night Football
to say, "There, stop it for a second,
the injury occurred there." Others
know deep down they'll be hurt,
say so and it happens.
In the kitchen today,
remembering a conversation
from six months ago, I stopped
the tape, but couldn't tell
from the angle if you were
pushing or I was simply falling
and would have crumpled anyway.
I'd like to have you over to see,
run the tape and you could cue me
to stop it and say what we're doing,
like football where someone watching
from a distance decides and it's over.
They just decide and it's over.

"They just decide and it's over"--would that things were so simple in life. The simultaneous longing and regret in that line is piercing.
0 Comments
NIXON AT THE PIANO by Sid Miller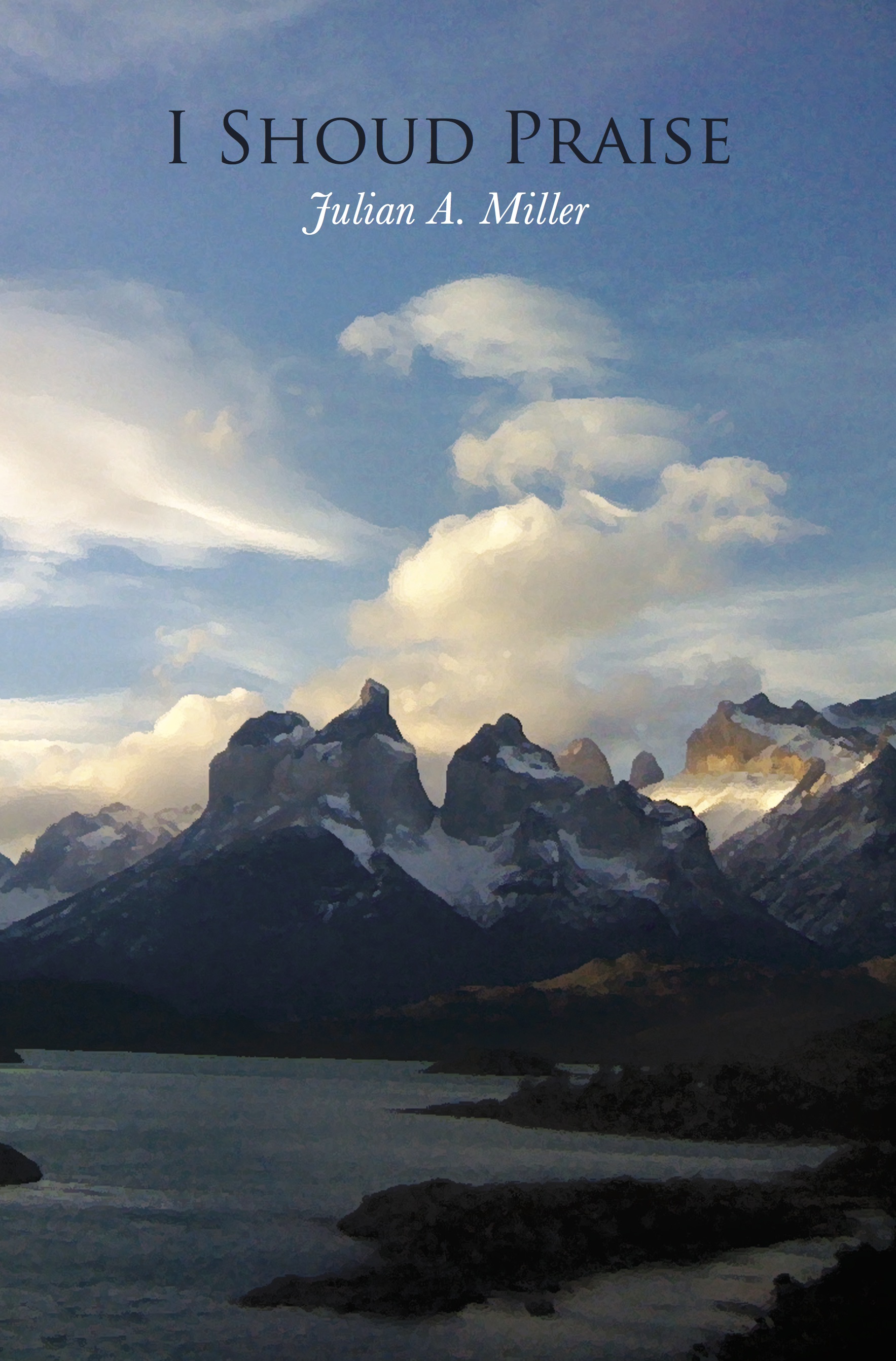 What I admire most about Nixon at the Piano by Sid Miller is its wit, its sense of irony, and the self-awareness the poems display. Miller is a savvy poet whose control of language is so strong that his poems, aware of the spell they cast, nonetheless grip the reader.
Here's one good example:
Cayenne Pepper and Other Rotting Vegetables

It's a shame that it all has to end
like this, me in these dirty jeans,
pulling up this garden that has died

of circumstances. This finale is so tired,
such a played out metaphor;
girl leaves boy, boy lies on couch,

vegetables are strangled by rogue
morning glories and begin to parch
in the dry sun of the summer.

Then the boy thinks of leaving too,
boxes up his life, sweeps out the house,
shuts off the power and returns

to the garden that he planted
to show her that he could do more
than just eat words and throw them back up.

And I should have done this first, but everything
got mixed up like everything else and I'm
stuck here without so much as a shovel,

pulling up everything by hand, eating
cherry tomatoes that have somehow
withstood. The zucchini plant has taken over

a corner, so prickly, weighed down
by five pounders that have molded.
The ears of corn have withered on the stalk

and are covered by bugs. The chamomile
which I promised tea from, is dry like hay,
not one flower missing.

The carrots, beans, cucumbers, strawberries,
all ripped up, leaving just the cayenne plant,
the first one in the soil after the thaw.

The peppers have dried and are as dark as blood.
I pick three off and tuck them into
my shirt pocket, to allow

this metaphor to extend even further.
In lesser hands, a line such as "this metaphor to extend even further" could be tired, even hackneyed, but Miller pulls it off. The poem's rueful sense extends to the very end and opens up larger perspectives.
0 Comments
SURRENDER TO LIGHT by Elizabeth Kirschner

I love the intense lyrics of Elizabeth Kirschner's Surrender to Light: they are alive with music. Kirschner has a gorgeous ear that allows her to embody larger truths with preceise images.
Here's a good example of her technique:
A Parallel Universe
--for Dylan
Exists in our antique mirror where there are
somber gray hills and rosy swirls in the valleys.
"Dawn's eyes," says our dreamy child,
to which you sternly—but why?—reply,
"Blood-shine." Our son already knows
about the singing bridges between stars,
the striptease of white roses letting petals
fall like manna upon his tongue: succor,
happiness happens somewhere else. But
where? Between two cusps of facing
crescent moons, a celestial marriage
meant to mirror our marriage here
on earth as we lie in a snowy bed,
our milk-fed child kneeling in between
us, knowing who christens whom upon
this ravaged earth.
"This ravaged earth"--that line is not overdone but instead is the climax of this resonanting poem.
0 Comments
PUBLIC HEARINGS by Richard Hague

Richard Hague's Public Hearings is a striking change from his earlier work. While his fluid poems have often dealt implicitly with historical and social subjects--particularly the environment and working-class life--through lyric and narrative depiction, they have seldom addressed them so directly, even bluntly.
Here's one poem, "The Price":
The Price
You can't get a thing anymore that don't cost you outlandish.
--woman overheard on the street, Madisonville
For the morning,
it costs you all night,
bad dreams maybe,
kid crying in his fever,
smash of car wrecks on the street,
gunshots down the block,
reruns on TV,
heartburn like a hot wire in the ribs,
when it used to cost you
nothing but sleep.
For supper,
it costs you a day and overtime,
two quarts of sweat,
madness of parking lots,
crash of cash register,
bitter tin taste of dimes on your hands,
moanings in line,
when it used to cost you
nothing but a garden.
For the place to live,
it costs you thirty years
of interest,
or a month and half's pay each month,
seven city bureaus,
rats and termites,
landlords with suntans and Jaguars,
leaks in the roof,
sudden waters in the basement,
when it used to cost you
nothing but wood, and nails, and work.
For peace,
it costs you taxes,
calling the cops,
voting for weirdos and crazies,
talking thirteen languages,
reading thirty papers,
maintaining surveillance,
knowing when some sorry bastard lies,
cell phones and stamps for the CIA,
telling the generals No,
when it used to cost you
nothing but getting to know your neighbor.
For happiness,
it costs more than you'll ever have—
good health continually,
faith, beautiful children,
a government that makes sense,
all your wages,
prayers answered,
enough wood and nails for a house,
enough yard for a garden,
enough sleep at night.
This poem displays Hague's characteristic strengths--depicting a subject with slow, musical precision--but it opens up into larger, troubled questions about our society. Given the temper of our times, such questions need to be asked.
0 Comments
SWEET SISTER MOON by Norbert Krapf

Norbert Krapf's Sweet Sister Moon is a rich celebration of the feminine spirit, manifested through a wide range of subjects. Krapf's carefully-crafted poems encompass history, emotion, and the natural world.
One of my favorite poems is "The Figure in the Landscape":
The Figure in the Landscape


I found my goddess
in the lay of the land
I love, in the curves

of her rolling hills,
the rise and spread
of trees in her woods,

in the tangle of
weeds and wild flowers
that grow lush

in her fallow fields,
in the way she
opens herself to rain

and accepts the snow
and swells and heaves
in the hot sun.

When I tongue
the names shagbark
hickory and white oak,

sycamore and sweet
gum, beech, black
cherry and walnut;

prairie grass, Queen
Anne's lace, mullein
and blackberries,

sassafras, pawpaw
persimmon, pecan
and tulip poplar;

Dutchman's breeches,
bloodroot, May apple,
and wild geranium;

and voice the names
of those who came
before me and mine,

Miami, Piankashaw,
Lenape, Shawnee
Wea and Potawatomi,

I feel my goddess
listen and respond
to my naming

and know she
welcomes me back
to the land I love.

Connecting the landscape, history, and the female spirit, "The Figure in the Landscape" is a resonant poem.
0 Comments
It's tempting to use grandiose language to describe this book: "Peggy Miller's Stone Being uses brief poems to ask grand questions: about the nature of being, and the being of nature." While that sounds hilautin', Miller's book merits such a description. I greatly admire how these brief, dense, solid poems open up into larger spaces.
Here's one example, "Fusion":
Fusion

If everything has substance,
our impression of empty space now
teeming with the swirl of dark matter,

then transitions lose any significant demarcation,
like layered dessert, green, then orange, then red,
but all jello,

and a human loses her separateness,
being only a lump of the same
as surrounds her

sweeping from here to the outer reaches.
Her being equal to her not being,
she is merely a moving flavor

borrowing fabric from time and wood and air,
her mind waving out through
the great cosmic blend.

The poem is aptly titled. Well done.
0 Comments
OUT OF SILENCE by Pamela Harrison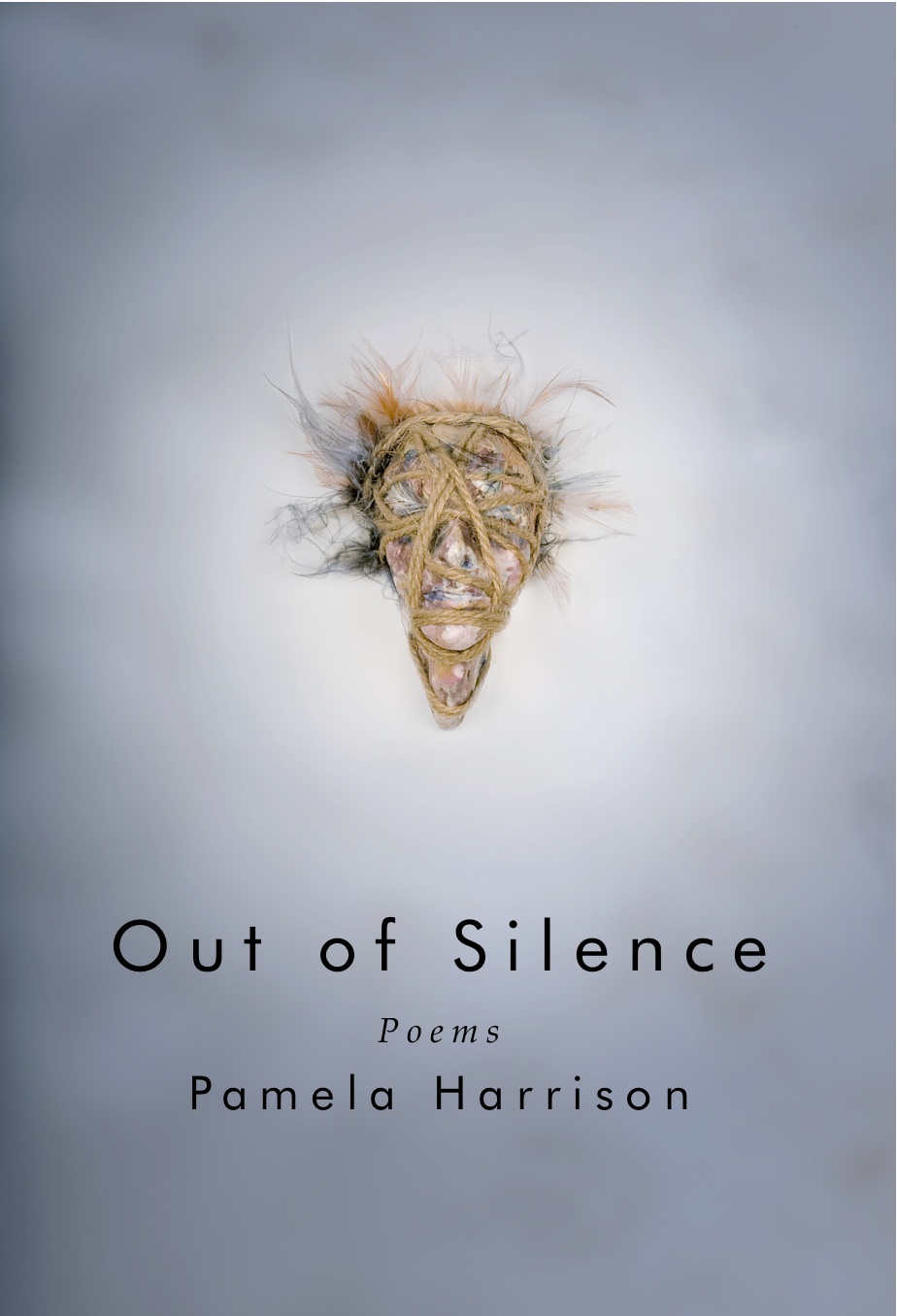 The family drama enacted in Pamela Harrison's Out of Silence is a powerful one. These poems, though restrained in their tone, have a depth and weight to them that belies their surface calm.
Here's one good example, the carefully sculpted "Aquamarine":

Aquamarine
That summer, I spent every waking hour
at a swimming pool sunk in the red dirt
east of town. Mother dropped me there.
I don't know how she passed her days.
It was the year her picture changed.
Her smile was darkly lipsticked on,
her eyebrows painted to a point as though
she was caught in some permanent surprise.
Now she's gone, what I recollect
is being in the water alone, bobbing
in the deep end, rising on a downward
stroke of arms, taking a breath and letting it out
all the way to the bottom. I did this for hours,
hearing the laughter and shouts of others,
blowing them away.
"The year her picture changed"--the overarching impression here is one of loneliness, for both the child and her mother. Every detail tells.
0 Comments
I've updated the tool that we use to connect new postings at this blog--the news feed for WordTech Communications--to the sites for each of our imprints. The previous tool worked OK, but it was slow, and the server to update the tool was often offline. We've since moved to rss2html, which is fast, lightweight and easy to use. I'm very pleased with it.
0 Comments
The poems of Serena Fox's Night Shift are gritty in their subjects--scenes from an emergency room--but surprisingly varied in technique. Some of Fox's poems are traditional lyrics, while others are more fractured and fragmentary sequences--a collage of voices, images, data, and stories.
Here's one good example of Fox's style:
The Angio

My father lies at the end of my white coat,
witnessing his own angiography. He jokes,
winces occasionally. The techs are reading
Malcolm X. Two vein grafts are

occluded. The internal mammary artery graft
looks good in many different projections. In
this decade, we are redirected towards the
mammary, for our hearts' blood. It

strikes me that my father has no grandchildren.
A patient of mine had his coronaries done for the
third time with a graft from his gastric artery.
Truly, the way to a man's heart...

ha ha... We have bitten of the heart and the
heart is The Tree. The serpent recoils post-op.
Not one of us is ready for the next exposure.
I did not want to

bring him here, because I did not want him to
know how easily he fits into my pocket, and
to what lengths I'll go to keep him there. My
father observed the

autopsy of his father, who walked around Miami
for a week with a massive coronary occlusion,
and he can— my fingers at his temples,
holding all I ever need

to be-- watch steadily as the
dye, serpentine, drips
down the screen.

The rapid stream of images here, bordering on surrealism, evokes the sense of dislocation that a patient faces: this small example is entirely characteristic of Fox's strong technique.
0 Comments
GEOMETRY OF DREAMS by Barbra Nightingale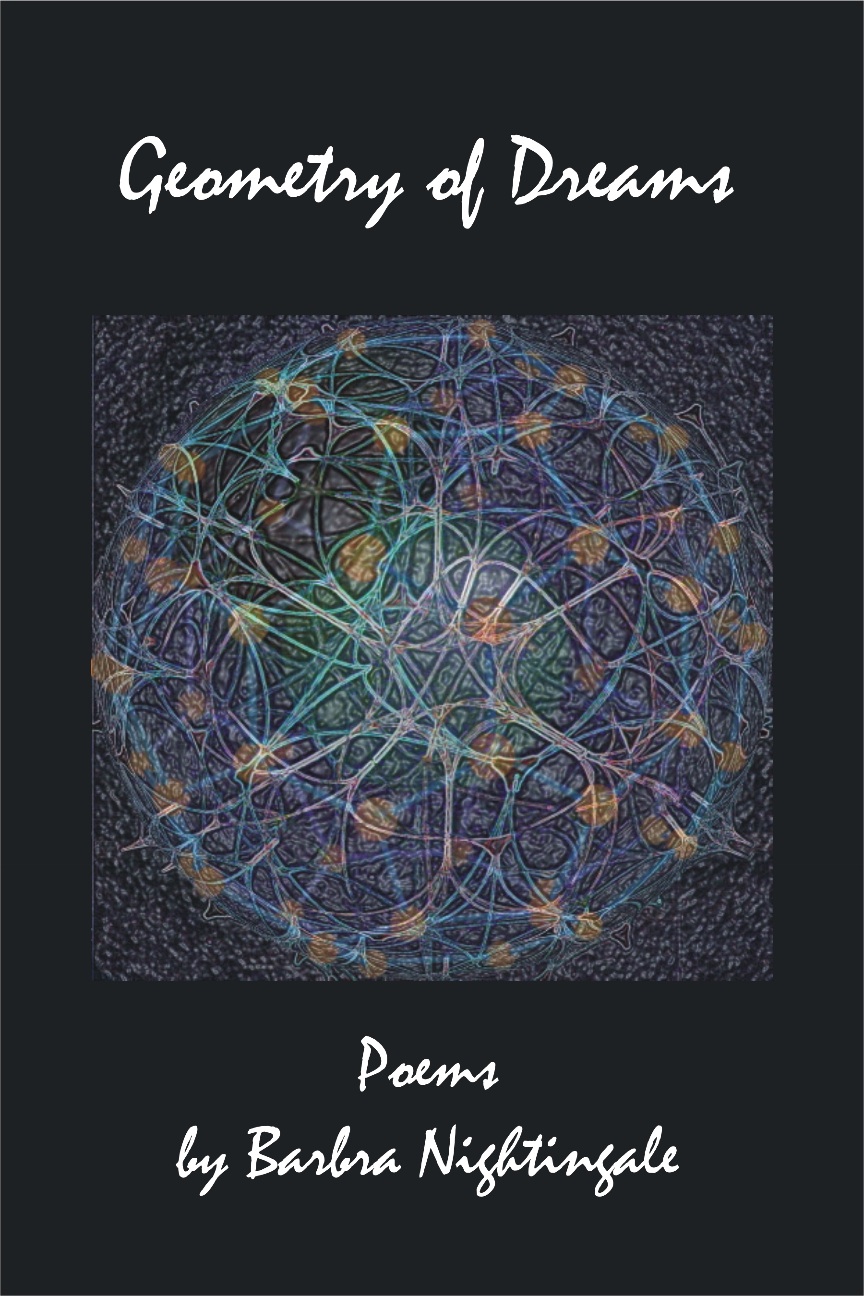 Geometry of Dreams by Barbra Nightingale is a collection full of surprises. Nightingale is not afraid to make connections between the small events of everyday life and large, even fundamental questions about love, the physical and natural world, and more.
Here's one good example:
Particle and Wave: Quantum Physics

Say there is a wall
and a gun
and atoms clustering
where they can't be seen.
Each "bullet" floats
to a Bell curve
as clearly as if pasted,
as unexplained as light
exiting before it enters
like two people
whose spatial planes
move together and apart
in the destabilized air
if only for an hour.
What quark of recognition
ignited in that time?
What charm created or broken
in the unstill space between them?
Does movement make a sound?
If so, does it go ta dum
ta dum or tinkle softly
like broken glass?
Evoking atoms as if they were bullets, as it were, is a striking connection. Nightingale's work offers many such pleasures.
0 Comments
GHOST OF FASHION by Leslie Jenike

Ghost of Fashion by Lesley Jenike is a jaunty, humorous read: Jenike riffs on popular culture with a casual wit that belies the sophisticated intelligence at work.
Consider "Bye-Bye Birdie":
Bye-Bye Birdie
The army's got you now
So the Lord came down, said, Lemme make you
sovereign of Heaven and I said, Man, take me back
to that long brown torso of a desert, Jordon a scar
dragged through the land and I would've kissed him,
would've held a sign and waited on the tarmac
for his plane to land 'cause, Lord, see if you can stand
when the wind comes in playing a man playing
a woman playing the guitar all hips and lips and
ass. You be his bitch, his décolletage glowing star-
bright symbol, his choir of teen angels singing
in paradise forever. "Do you know how to twist?"
Boy, do I. My little river and fruitless lake
can mambo even in the middle of a horror
of a winter when the sky is an eye clouded over
and mother comes in, just as his song pitches
a fit on the radio. The phone's tucked between
my jaw and shoulder and I'm talking to God
and I'm telling God I've loved more. More
have I spent so bye-bye now to my holier-than-
thou baby digging his pin into my naked chest
saying, "Now we're going steady. Now we're official."

This poem drives through an intense stream of phrases and associations, evoking as much as it states, until it lights on the gentle line: "Now we're going steady. Now we're official." Sound and fury, sigifying something.
0 Comments
FINDING WATER, HOLDING STONE by James Bertolino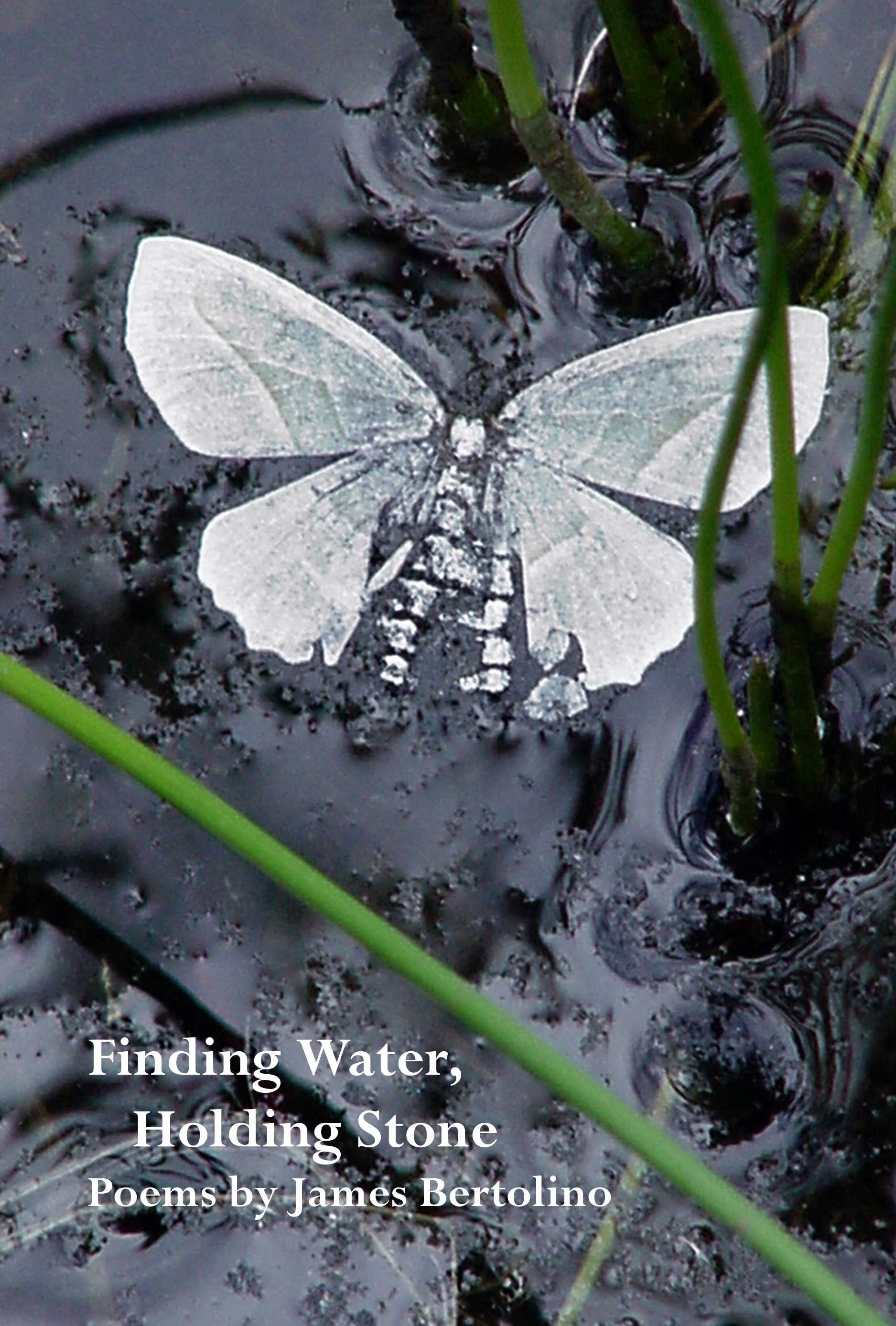 James Bertolino's poetry is striking for the way it makes quick, startling connections between disparate images and ideas. Melding hyper-attentiveness to detail with, at times, a gentle surrealism, Bertolino's work in Finding Water, Holding Stone never fails to surprise.
His technique is on strong display in "Molecules":
Molecules

Back when electric lights
were a new thing,
people thought the tiny
flashes they sometimes
saw beyond the corners
of their eyes
had to do with
the mystery of electricity.
Now we know those
blinking bursts are from
almost unimaginably small
alien spacecraft.
We needed to comprehend
that intelligence doesn't reside only
in things that are large.
Even molecules have
creation myths
to help prove
they exist.
Alien spacecraft? Perhaps that's a bit absurd, but the notion of creation myths applying to the smallest units of matter is a striking one.
0 Comments
POSSESSING YOURSELF by Tim Kahl

What I admire about Tim Kahl's Possessing Yourself is the way the poems in the book often worry their ideas, work through them, turn them over in a thinking-aloud fashion, that shows the mind at work. Here's an example, "To Live Enough":
To Live Enough
The morning sun slaps me with purpose,
and in America that means I should be
competing somewhere. But I am analyzing
the news come from afar and making no progress,
witness to another moral vacuum,
dark clots of desire thickening here and there.
I push myself to ask what's wrong with
wanting, that little pinprick of the flesh
that keeps everyone moving in the morning,
but in America the word heaps: it means
wanting too much. I ask the empty branch
of the apricot why it should want to live enough.
The mouth of a busy robin answers.
I hurry off to school with my two sons.
A mother tells me she is holding her son
back from starting kindergarten,
another year before he learns
how to do what must be done.
I could tell her that the markets will
punish him, but I don't want my story
to influence her decision. She hails from
Mexico City, and I let her America soak
into me. Time for analysis later,
when my winnings are
bleached and burned by the sun.
"I am analyzing/ the news come from afar and making no progress..." This is a frank admission. But the poem itself enacts the process of analysis, before finally concluding, "Time for analysis later,/when my winnings are/bleached and burned by the sun." The "bleached and burned" image is startling, evocative, and, emerging from Kahl's musings, decisive.
0 Comments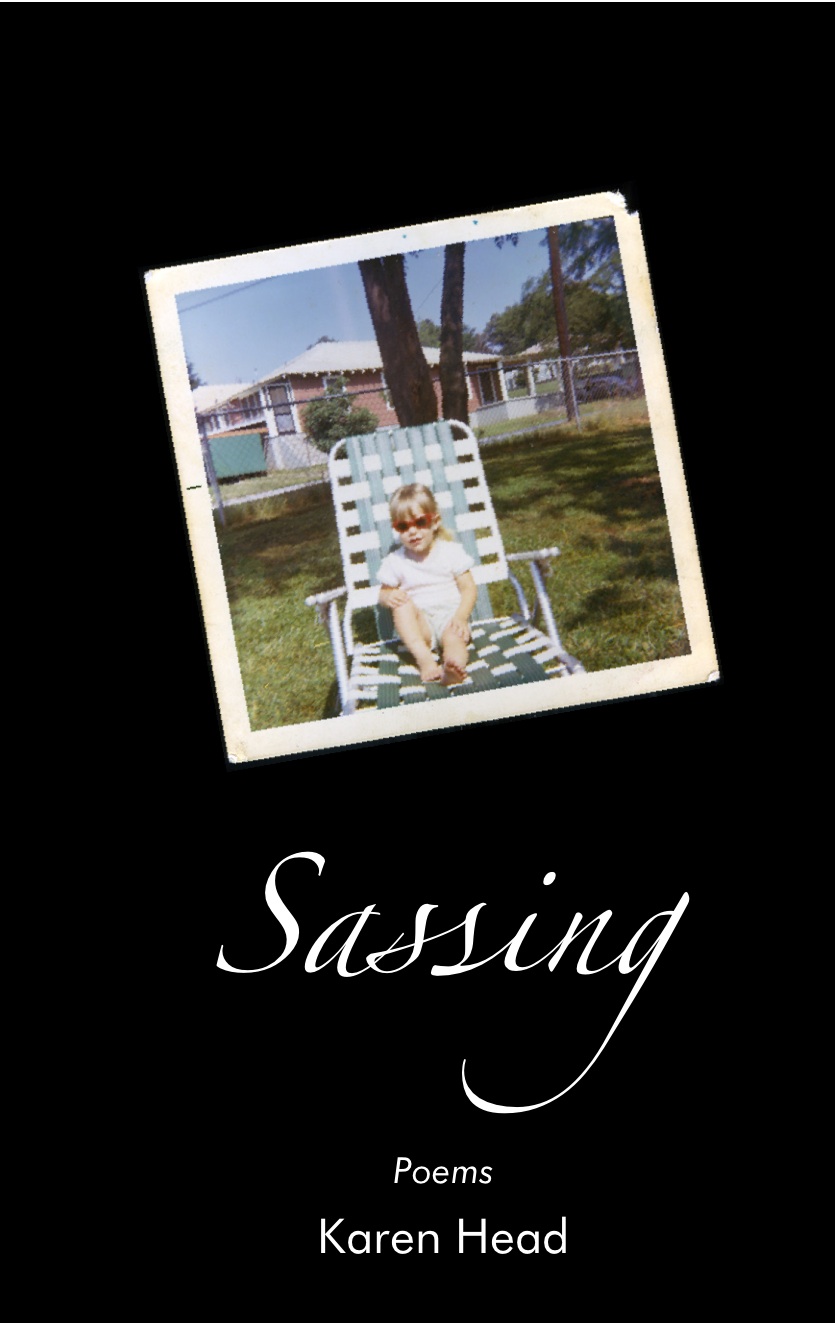 Karen Head's Sassing is an aptly titled book: these narrative poems are full of sass, their speakers standing proud against difficult, sometimes hardscrabble experiences.
A particularly strong poem is "Southern Gothic":
Southern Gothic
The best I can offer
is that my granny and papa
lived on a dead-end dirt road
in a single-wide trailer,
that one of Daddy's sisters
accidentally drank rat poison
stored in an old green wine jug
after a night of cards and drinking,
that Mama and Daddy married,
sixteen and eighteen,
three weeks into his Army Basic Training
and no baby came for over a year,
that I was born on Peachtree Street—
Crawford Long Hospital, Atlanta, Georgia
six weeks early, four pounds,
nothing but wailing,
that I was baptized outside
Mt. Pisgah Baptist Church,
then blacklisted from membership
when I became a Catholic.
My life has been full of movement
one Army base to another—
opera in Stuttgart
schnapps at a Mississippi levee.
Hell, for me, has two syllables
and I'm always fixin' to do something
so, you can imagine my surprise
when the doctor said, "Lupus,"
and I realized what was finally at my door.
"Hell, for me, has two syllables/and I'm always fixin' to do something": that's the voice of defiance. The poems in Sassing are always doing something.
0 Comments
Book of the Day: All That Is Left by Judith Harway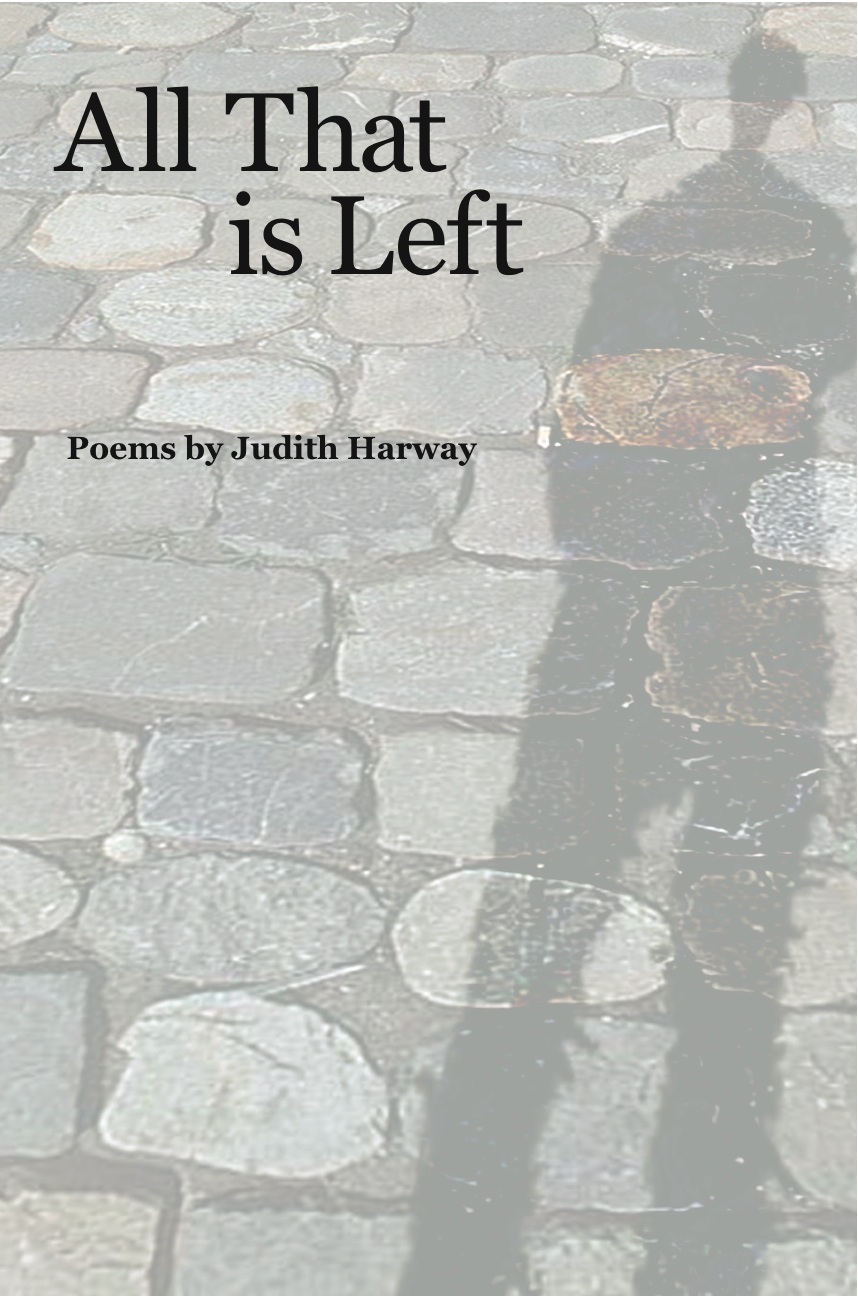 I am haunted by the narrative arc of Judith Harway's All That Is Left: her family fleeing pogroms, travelling far until they find relative safety, but never really escaping. The journey, these poems suggest, is never over.
This theme is strongly evoked by "Before the Pogrom":
Before the Pogrom

Early spring.
A dark room lit
by candles. Children
on the floor before
a smoky hearth,
toes of their shoes
cut off for growing.
Smells of soup
and cabbage,
damp socks hung
to dry. Straw mattresses
piled high with winter
quilts. Outside, a shawl
of rain drawn over
evening's face. Flocks
of goats lie huddled
on the leaky sod
of rooftops, handcarts
turning home
down muddy lanes.
A gathering of relatives
who stare into
the slow shutter of history,
afraid to move.
At Pesach
the Haggadah tells us
of a time of bondage,
of the flight
of the Israelites from Egypt
into the wilderness
of freedom. Plagues
rained on the land.
The hand of the Almighty
smote even babies
dead. This is the way
I understand the day
my grandmother's family
left Meskaporichi:
there never was a choice:
A journey starts
when it is time to go.
"A journey starts/when it is time to go." And go Harway's family did, not a minute too soon.
0 Comments
Book of the Day: The Girls on the Roof by Mary Swander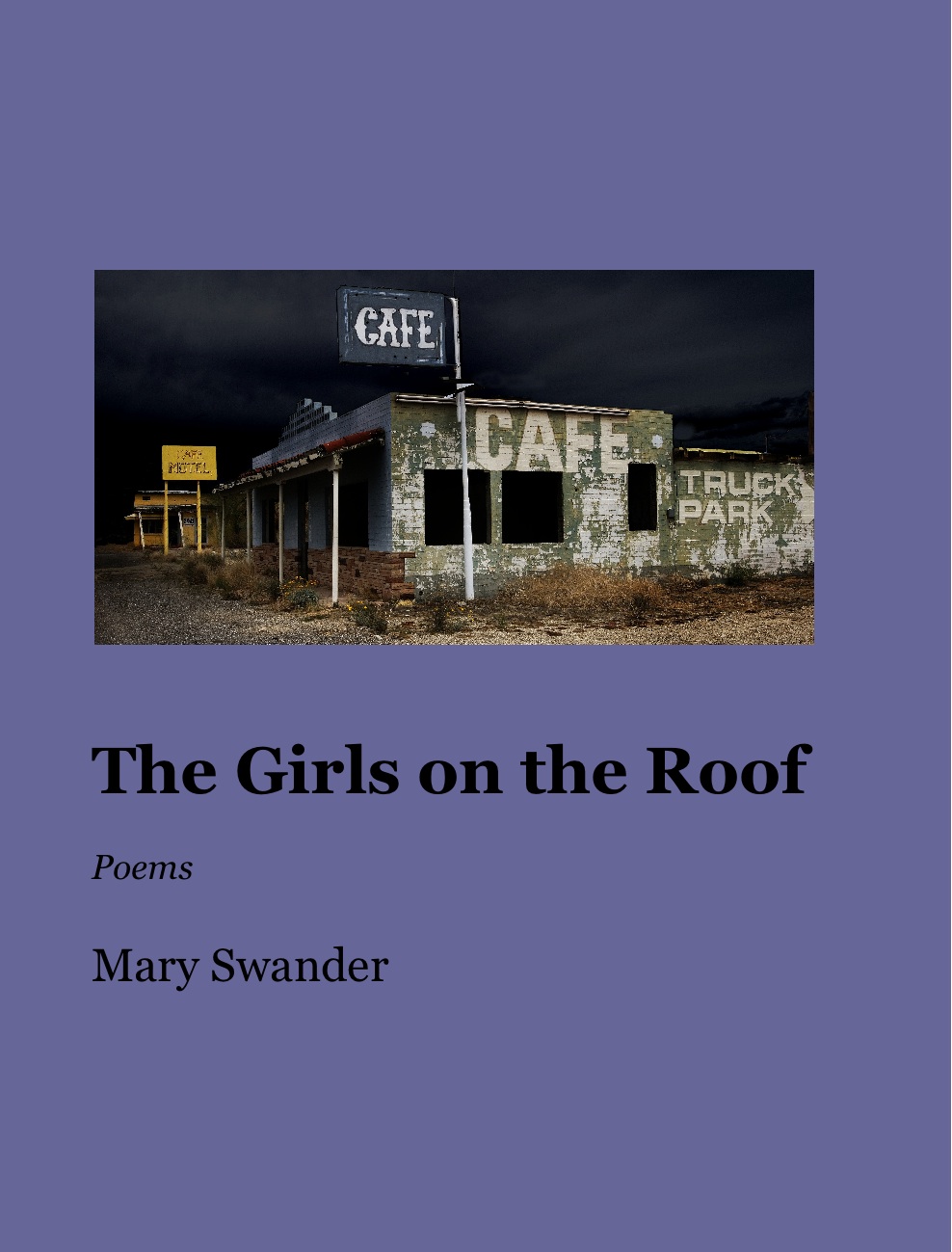 Mary Swander's The Girls on the Roof is a rollicking tale. Narrating the story of a Mississipi River flood, the narrative sequence is fast-paced and downright entertaining.
While the poems are too long to quote in their entirety, here's an excerpt that gives some of the flavor of the book:
From "Fireworks"
The day the levee broke,
the day the Mighty Mississippi washed
Maggie and Pearl, mother and daughter,
up on top of their catfish dive,
the river rushed through our tiny town
of Pompeii (pronounced Pom'pee),
with a whoosh, crack, bam-boom,
a power so Herculean that with one
swift slap of its hand, the water
knocked out all the windows
and tore the door right off
the hinges of Crazy Eddy's Cafe.
The very gates of hell opened and
the Great Flood of the Twentieth Century
came crashing, dashing through.
Maggie and Pearl had been warned.
Sure, the whole town knew.
Any fool could've seen it coming.
Yup, and now ten years out
we're all back here
at the Great Flood Reunion.
We sit in the cafe,
landlubbers and river rollers,
shaking our heads and clucking
our tongues about those bad waters,
the flow that carries us
back to a different time
when the very ground
under our feet gave way
and every twig we clung to
floated off beyond our reach.
And now ten years out,
we struggle to remember
that summer, think about where
we were and where we went
when the big wall hit.
We gather here together once again,
the living and the dead,
the seen and the unseen,
the genuine and the ghosts--
all who've come and gone,
each taking a place at a table,
in a booth or on a stool,
duct tape stuck to vinyl.
We gather once again
to piece together a tall tale,
a story too long and wide
for a single person to spin.
We tilt back our chairs,
watch turkey gizzards
swimming in the Mason jar
on the counter, hear the waves
lap at the banks outside the door
and realize just how lucky we are
to be here on dry land
with a beer in hand.
Pearl, as always, takes orders,
white apron tied around her waist,
pencil tucked behind her ear.
She scratches down our yarns
on her stained yellow pad,
and oh, we wish her near,
just a little closer, bending
her sweep of red hair,
her bosom, over our steaming
plates of eggs over easy.
Around and around,
we twirl, overalls
and rubber boots scraping mud
on the bottom rungs,
recalling that horrible year
when we thought
we'd never see the sun again.
I invite you to take a closer look, sit back, and let the book's energy wash over you.
0 Comments
Book of the Day: Modigliani's Muse by Jacqueline Kolosov

Jacqueline Kolosov's Modigliani's Muse is a powerful collection of poems that depicts the interior life of the noted painter. Kolosov's poems are well-crafted, with a painterly attention to visual detail and rhythm.
This poem is characteristic of Kolosov's technique:
First Meeting, Lunia
The Polish emigre, Lunia Czechowska, became one of Modigliani's closest friends and posed for numerous portraits.
You wear new stockings, shimmer,
as you sit in the inflorescent moon-
light on the terrace of that queer cafe,
seized by fatigue and the mercurial
energies pulsing in and around you.
A rustling in the chestnuts, he
approaches. Eyes whisper, I adore you.
Cigarettes at once are handed round.
Pencils tumble from his pockets,
a silver flask, a squirrel-tipped brush.
Once you, too, worshipped at this altar,
but found you could not live
on moonlight alone. Around your finger,
a band of diamonds; around your throat,
Maman's clutch of pearls. In the cafe,
his eyes upon you--Beneath this moon,
face like a madonna's, where is your man?
Indulge such possibilities, and you'll be
lost. Besides, you like life as a soldier's wife;
so many days like freshwater pearls.
Circling, his voice already sketching,
once again, that Sphinx's stare.
Were the cafe a pyramid along the Nile....
You suppress the thought, sip iced anisette.
Moonlight swims through your hair.
Feverish strokes swiftly capture the face
you've laid bare around the soiled cups,
the brooding pigeons, cafe chatter.
An immortal you is on the rise.
Around you, a murmuring of the gods.
"A murmuring of the gods": that luxuriant sound is found throughout Kolosov's book.
0 Comments
Book of the Day: Two Estates by David Rigsbee

I hope it's not too much of a pun to describe David Rigsbee's Two Estates as a book of stately lyrics: dense in the rhythm of their lines, deep in the historical, even classical sense that they evoke.
Here is an excellent example of Rigsbee's technique at work in this collection, "Into the Wall":
Into the Wall

An anvil-shaped cloud
spreads its iron shadow
across the hill adjacent to our town.
As on a floor viewed upside down,
other clouds, in turn, suggest
figures of the moment,
requiring only the arrival
of the next bit of future to cancel
the suggestion. The struggle
is ancient: clouds' agon drives the painter
into the wall, attempting impossible
compressions proper to time beyond
a lifetime. Here, where the sound
of a scooter merges with a wasp's nest,
a pack of flies beats up a swallow—
until the next frame. Or the classical
head turns with its look
of a god disappearing into time:
things are as they are,
turning in middle air,
and as they will be,
emerging from the rock.

This poem has a strong sense of solidity, unfolding itself line by line, as meaning comes "emerging from the rock." Rigsbee's subtle mastery is on display here.
0 Comments
Book of the Day: The Surface of Things by Phebe Davidson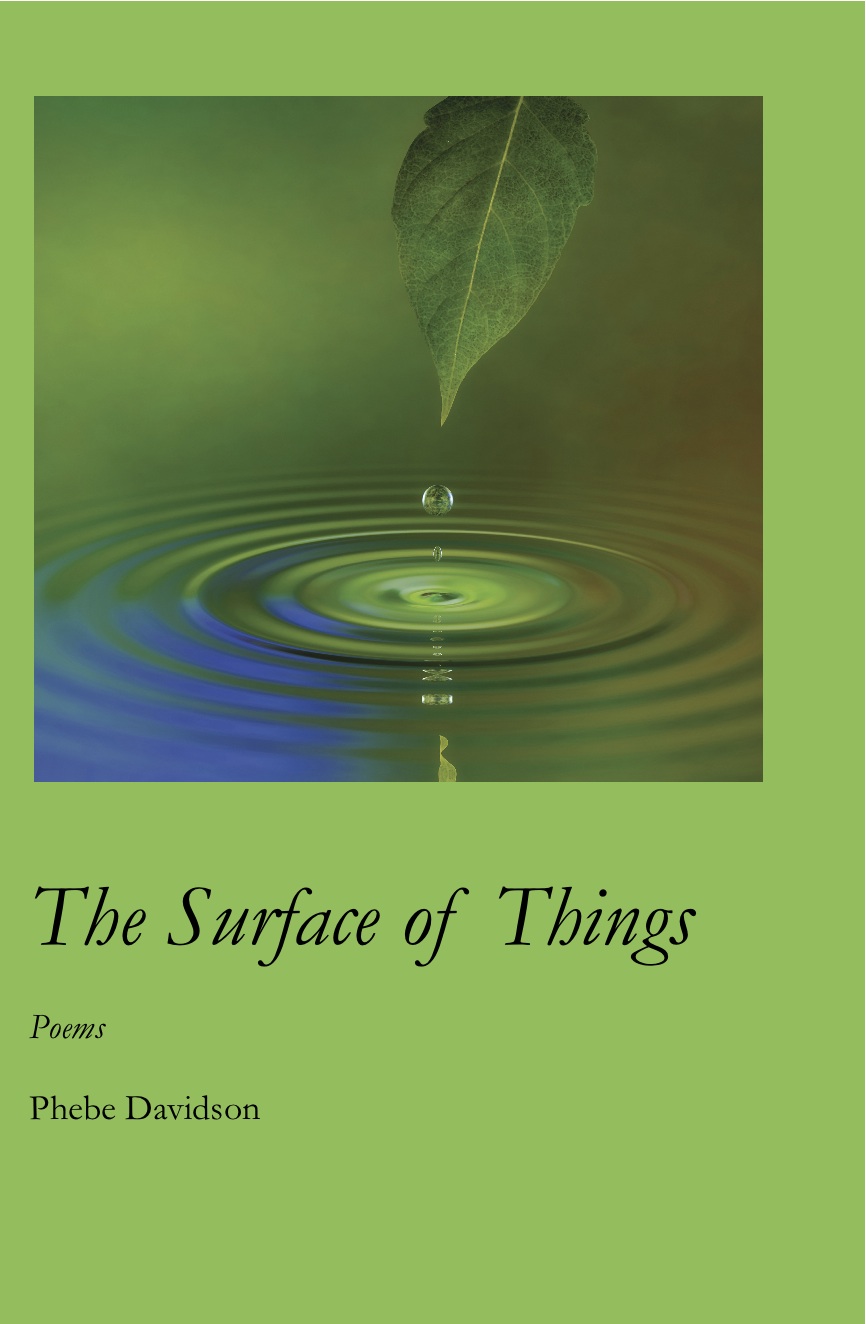 The spare lyrics of Phebe Davidson's The Surface of Things hold up small details to great scrutiny: Davidson's images and lines are clean, precise, and quiet, yet evocative of larger truths. Here's one example, "Aubade":
Aubade
You left the dock early today
the water gray,
light just smearing
the lake, nearly

but not quite here. The kayak, white
and clean, riding
low and graceful.
The long paddle

dipping smoothly. All elegant
gliding movement.
One bright color
your orange vest.

This morning poem, picturing a kayaker gliding on a lake, makes great use of sound and color for its atmospheric setting. Like the kayaker, the poem is all "elegant/gliding movement."
0 Comments
Book of the Day: Ecology II: Throat Song from the Everglades by Anne McCrary Sullivan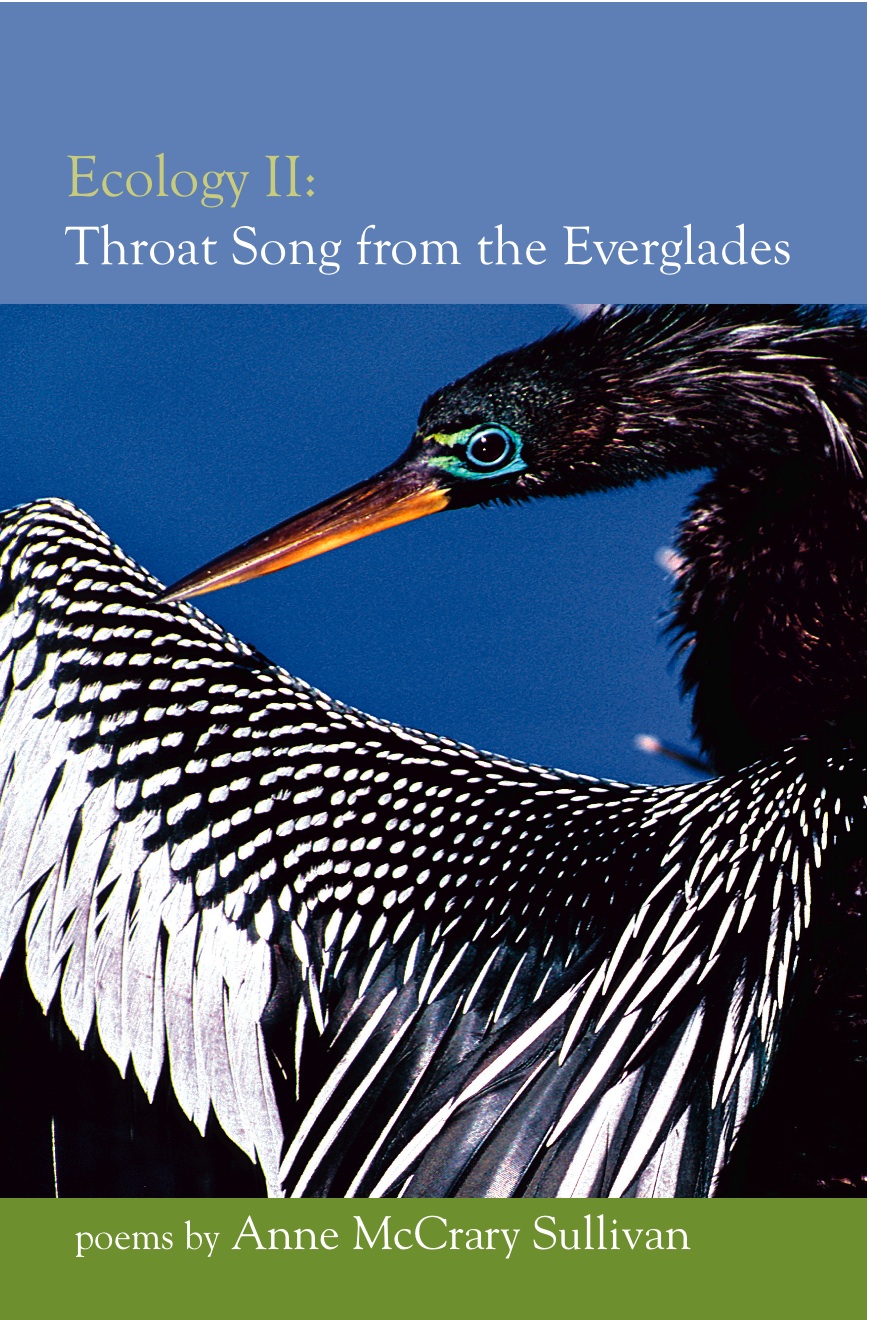 Anne Sullivan's Ecology II: Throat Song from the Everglades immerses me as deeply in a specific landscape as any book I have ever read. Sullivan brings a deep, specific knowledge of the Everglades' ecology, and from that rooted position, opens up her subject into rich, resonant detail.
Consider "Anhinga Pairing":
Anhinga Pairing
When the male anhinga's bright blue eye ring comes,
when he displays his fine feathers, raising his tail,
waving the wings, she begins to pay attention.
Then they swoop and glide together
near the nesting area--preen together, lifting
and fluffing feathers, rubbing each other's bills.
But they are not a pair until he finds the perfect
twig, offers it to her and she accepts.
Last year we saw him offer a twig, and she took it.
Even as we were all saying "Ahhh..." she lifted
that stick and hit him in the head with it, flew away.
Acceptance means something. And when she does
accept, they become monogamous in a bond that lasts
several years. What I haven't been able to learn
is how they go about separation. Is it mutual, a sort of inherent
biological timing? Or does one just leave? And for the other,
is there grief?

Sharply observed, the poem brings both insight about the behavior of a native Florida bird, and a larger insight about the nature of love. Nicely done.
0 Comments
Book of the Day: Imagine a Door by Laura Longsong

The narrative vignettes of Appalachian life in Laura Longsong's Imagine a Door are carefully, vividly crafted, giving Longsong's work a real richness and surprise. Reading these poems, I found myself drawn in time after time into Longsong's world.
There's a particuarly stong poem, "West Virginia Catholic Girl":
West Virginia Catholic Girl

Ponderous as the Sunday procession of nuns
the B & O and C & O train cars pass
by my bedroom window night and day
heaped with coal that sweats silver shine
from beneath the same earth where I find

broken arrowheads, dirt-caked blue bottles,
rusted shards of tin lids. I give up these treasures,
childish trinkets, for Joey O'Shannon's wet lips
meeting mine next to the chimney of the house
that burnt down so long ago nobody

remembers. He gives me a ring shaped
like a rose, with a bud of coal in its center. Never
to be diamonds, coal burns steadily, like the fires
of hell where I can expect—at the rate I'm going—
to endure Evermore, at least that's what the nuns

predict. You will reap what you sow, they promise,
observing my dawdling days, imagining
my baffled nights, and I in turn can easily picture
my soul in hell. Coal flames simmer from one
flat greenish-black horizon to the other, flickering

lavishly upon the tattered cloth of my life. Yes,
Sisters, I knew even then, I will rip what I sew.

The numerous details of Catholic life, set against the backdrop of a coal-mining community in West Virginia, come alive for the reader--and, at the last line, I can't help smiling. Many of Longsong's poems offer similar pleasure.
0 Comments
Book of the Day: Midnight Voices by Deborah Ager

One of the things I admire greatly about Deborah Ager's Midnight Voices is the sonorous, sensuous quality of her lyrics. Ager is a poet who takes great care--and pleasure--in the way sounds collide in her lines, and the result is a poetry of unusually controlled intensity.
Consider "The Problem with Describing Men":
The Problem with Describing Men

If I said lacerated light
In an unusually warm November.
If I said ice-cold palm on my inner thigh
And the way a tree opens its branches
When sun finally heats the garden.
If I said the power of a '67 Charger
Mixed with a detective's mystery.
If I said love, sometimes, yes, love
And jumping-from-a-moving-car anger.
Said the whir of a sander, the scent
Of birch, and tablespoons of sawdust.
What if I said night or a wave
Rocking into shore? If I said their names
One by one to the red sky? Said empty armchair?
Luck, dusky words, fight, torn photo.
What if I said moon? What if I said
White light dividing a lake in two?

"Luck, dusky words, fight, torn photo": this line is delicious to say aloud, and says volumes about the poem's putative subject: describing men.
0 Comments
Book of the Day: Six Stops South by Steven Schroeder

The calm, contemplative poems of Steven Shroeder's Six Stops South are very impressive. They do not shy away from an engagement with the physical world. Instead, they reach through that physicality into a deeper sense of spiritual significance.
Here's one example:
Gravity
They'll try to tell you gravity
keeps your feet on the ground,
but it's the weight of mountains
clasping you to earth,
transposed here into air
so heavy it reminds you
that you lift the world
with every step.

I love the idea of the weight of mountains keeping us down. This idea emphasizes our connectedness to the world in a visceral way. It's compact and powerfully expressed.
0 Comments
Book of the Day: The Dynamite Maker's Mistress by Nola Garrett

The Dynamite Maker's Mistress by Nola Garrett is a fearless joy ride through the loops, turns, and twists of the sestina, one of the most demanding of poetic forms. Garrett's poems are not only varied in their subjects, they are a nearly endless series of formal experiments with the sestina itself. The book is a bravura performace by Garrett.
Here's a sample poem:
Landscape with Six Plastic Flamingos
Like childbirth, this crisis is of my own choosing
made one passionate Saturday morning six
days and nine months ago when words
alone were useless. My searching for
relief from the self's dictionary with another
has come to this nexus-a pink sestina--
though mid-labor it seems the sestina
like a pick-up football team has done the choosing.
Will they throw me the ball? Am I just another
skinny, neighbor kid chosen because six
against seven are not enough for
a game? My team calls me Snake Lips, words
that hurt because they're true. My words
slither around in the dream that is sestina,
a kind of pink story I make for
the man who landscapes with plastic flamingos, choosing
not art, he says, but what he likes. Six
constitutes a flamingo quorum--another
small scantling for maintaining another
sort of peace. His flamingos and my words
could be anywhere, curving out in six
directions, void and cold--the mind's sestina
a chaos. It's the glory of choosing, choosing
anything, that frees and shapes us for

our lorn, featherless flight. I look for
words. They're sea shells--here's one, here's another--
fix, coral, rampion, charismatic, tame, wing--choosing
some for shape, some for sound. These words
toss, jostle, ping, loop, unravel until sestina
pinks them. They're integrated, six

flamingos browsing, no longer at sixes
and sevens, knees bent the wrong way for
humans, though just right for a sestina
about the mind's plastic shore: another
landscape of blood, salt and words
that fancies pink, artificial birds choosing
flight--another sestina for six words' choosing.
For anyone who thinks traditional form is boring--let alone an entire book written in a single form--I commend Garrett's work to your attention, and enjoyment.
0 Comments
Book of the Day: Reasons to Hate the Sky by Stuart Bartow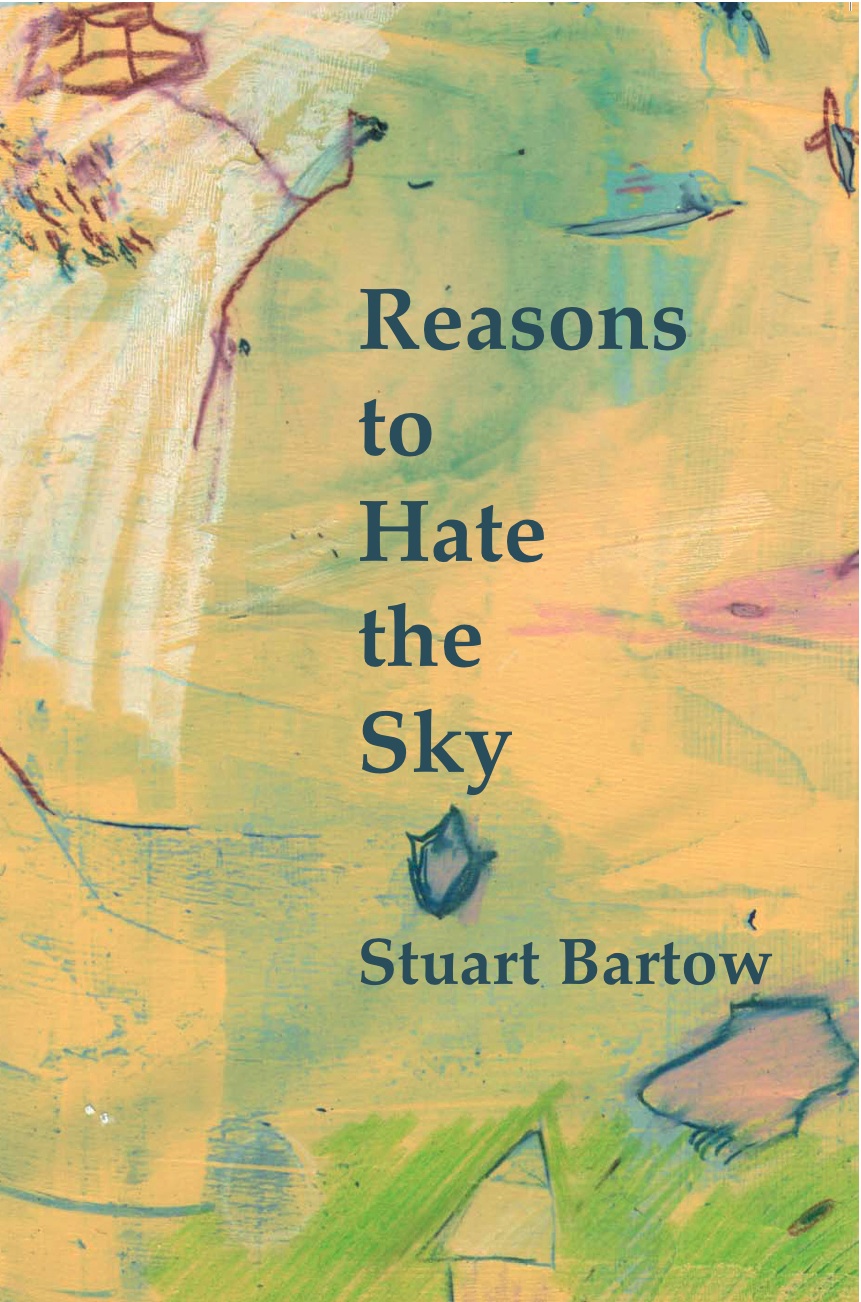 Hate and love are entwined, as Stuart Bartow's Reasons to Hate the Sky demonstrates. The gruff tone of much of this book cannot hide the underlying affection with which that Bartow views his subjects.
Consider this poem:
Reasons To Hate Birds
I hate birds because
robins in the morning
are so joyful
their lilt makes me homesick
when I'm home.
When a flock of sparrows
spins like a whirlwind
my body vanishes
into their body. I hate
mockingbirds because they mimic
my dead cat's plaint.
Who are the worst escapees from hell,
grackles or starlings?
I hate birds because they
can't think. I hate
their yawning young,
their slurping worms.
I hate chickadees
for their horniness,
their twilight serenades,
and because they are absolutely
innocent in their meanness.

Is there really hate here? If you think there is, you aren't reading closely enough.
0 Comments
Book of the Day: Speak Mouth to Mouth by Stuart Friebert

Stuart Friebert writes a vigorous line: whether humorous, affectionate, or somber, his poems propel forward at a rapid pace, demanding that the reader keep up. Thus his new book, Speak Mouth to Mouth, is aptly titled. Here's a good example of Friebert's technique:
Larynx
Voice box, in front of the windpipe,
just below the hyoid bone, connected
to the pharynx above, the pipe below,
through which every breath of air you
take must pass, but the most exciting
part's the thyroid cartilage, two plates
shaped like sturdy wings which meet
in front to be the Adam's Apple. Now
imagine getting cancer right there...
Better to wake smothered one morning
than to bear testimony to the nasty fight
I've got going with my own cells, mother
said, whose last words were, I'd not mind
so much if it were only called Eve's Apple.
Why would damn Adam get all the words?
Not only does this poem illustrate Friebert's style, but in its examination of voice and how one speaks, it elegantly encapsulates many of the book's concerns. Nicely done.
0 Comments
Book of the Day: The Home Atlas by David Feela

David Feela's poems in The Home Atlas often display a droll sense of humor, but their wry perspective is always in the service of a deeper vision.
Consider this poem:
A Marriage Therapist Discusses Adam & Eve
Her initial complaint
was based on a lack of choice,
a resentment she harbored
until the day she died.
Adam, after all, was
the only available man.
She took him for better
but felt she got all the worse.
He didn't share her grievance.
In fact, he couldn't believe his luck.
He awoke from a nap
to find his first woman
naked and toting lunch.
Naturally, Adam wasn't perfect
but he went on and on
about the snake,
as if Eve was the cold-blooded one.
And truth be told,
Eve liked the snake,
maybe even better than Adam.
Thought it at least understood
how to have a conversation.
In the end, of course, it was
a beginning.
The two reconciled, had kids,
went into business together:
Paradise Tours.
All their customers wanted to buy
a few acres and build
but in Eden the covenants were explicit:
no people.

I find this poem's gentle irony enriching. The wry ending: "no people"--is a humorous, but sharp, reminder of our ultimate exile from paradise.
0 Comments
Book of the Day: The Unpredictability of Light by Marguerite Guzman Bouvard

The poems of The Unpredictability of Light by Marguerite Guzman Bouvard are quiet and intimate. The character portraits and narratives in these poems evoke an entire world.
Consider this poem, "Ana":
Ana
You gaze at the bush outside the window
of your tiny apartment, telling me
it throbs with birds, that it is winged
and filled with secret doors.
You soar with those birds
as they twitter among the branches.
You fly beyond the time of secret gatherings
under Batista when your life hung
in the balance and when you fled
the country you loved for the second time.
You fly above the long year
of your brother's dying, above your grown children's
sudden storms. You are sloughing off the skin
of discord and of the insignificant.
You are pared down now
to the blue waters of Varadero, the papayas
glistening in your father's garden,
the poems by Ruben Dario where nothing
can be destroyed. Weightless,
you are what you were meant to be,
wrapped in wonder, your eyes
brimming with the unseen.
As a portrait, this poem gathers up history both private and public, and the portrait's subject is made unforgettable by Bouvard's careful craft.
0 Comments
Book of the Day: Multiformalisms: Postmodern Poetics of Form edited by Annie Finch and Susan Schultz

Multiformalisms is a challenging collection of essays that questions traditional categories of poetic form. The notion of "multiformalisms," outlined by Finch and Schultz, encompasses both a broader range of formal poetic structures than is usually implied by the term "formal," and also a broader range of cultural contexts for poetic formalism. If your idea of poetic form is "iambic pentameter" or "sestina," then Multiformalisms will be a stimulating read.
0 Comments