ORIGINAL HUMAN by Deborah DeNicola

The poems of Deborah DeNicola's Original Human are unabashedly spiritual in their orientation, and graceful in their formal construction. The music of these poems is eloquent.
"Ascension Thursday" is an especially good example of DeNicola at work:
Ascension Thursday

Out the plane's porthole at thirty-thousand feet,
ascension looks almost do-able.
A royally cubited arc falls
like a stairwell from clouds,
and I could puncture the plugged muffle
of voices across the aisle, ululate
a Hildegarde revival

if I cared to. Otherwise,
with my hundred eighty-seven
milliliters of wine, I'm going to
give off a cabernet glow

from pineal gland to root sensor
where blossoms of subtler bodies rise--
After the little while,
when they'd see me no longer,

I too would come back for my friends,
unveil the roads to the kingdoms
within them, ripening even the worst
of the people we know. In a room

of ecru linen, I'd let loose a few
beneficent doves just as the sun spangled
our pearled terra firma, just as
it swiveled the fuse of our circle low,
just grazing our hair--

while we'd watch one another dissolve
into the godspell to which we'd been
called, bewildered, but gifted--surely
delivered, surely converting
to light.

The literal scene of flight evokes a sense of spiritual flight as well, a profound yearning for spiritual connection. This gorgeous poem definitely ascends.
0 Comments
CORMORANT BEYOND THE COMPOST by Elisavietta Ritchie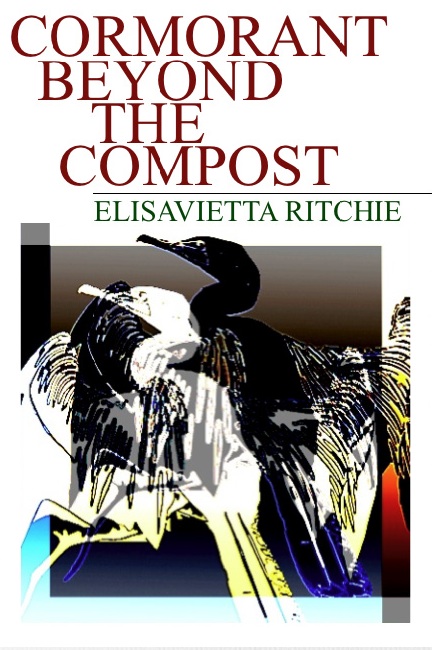 Elisavietta Ritchie's poetic interests are wide and deep. The poems of Cormorant Beyond the Compost explore a cornucopia of subjects with grace and wit.
"Tradecraft in Iambic Pentameters" is one example of Ritchie at work in this large collection:
Tradecraft in Iambic Pentameters
For a child who doubts I can keep secrets

So many secrets you will never know
long hidden in my lines on face and page.

Although my random chatter seems to flow
true tales remain confined within the cage
of my long skull, while most of those who shared
their riddles and their lovewith me have died.

I too have lived adventures, and much dared.
Who'd guess? I do know better than confide.

Whispers though the skin are safe— no need
for megaphones. What if the listener spoke?
I may broadcast my sacks of words and seed:
the small birds twitter, large ones peck and croak.

For I'm the owl, who flies on unheard wings,
foretells when others die, but never sings.
I love this poem because, apart from its wit and sharp imagery, it stands as a sort of ars poetica for Ritchie's work: "I'm the owl, who flies on unheard wings,/foretells when others die, but never sings." She's a sharp observer, finding unusual perspectives, and bringing a quiet music to bear on the objects of her attention. Terrific.
0 Comments
THE RIVER IS A REASON by Meredith Davies Hadaway

Time and water do not cease flowing; this is one of the central themes of Meredith Davies Hadaway's powerful The River Is a Reason. These poems touch on themes that are enduring--one might even say eternal.
I think "Sacred Spaces" is an excellent example of Davies' technique at work:
Sacred Spaces
This chair that curves its arms around me.
The cover of a paperback that yawns above its opening page.
The furnace rumbles on.
Between the cat and the window, a stretch of carpet that
muffles jungle heart.
Between you and me, the din of wondering.
The days that close the gap.
Let nothing--let all this--come
between us.
This poem, while minimalist in its expression, opens up into an expansive range that I find irresistable. "Let nothing--let all this--come/between us." Love is nothing, and everything.
0 Comments
KEEPING THEM ALIVE by Christine Stewart-Nunez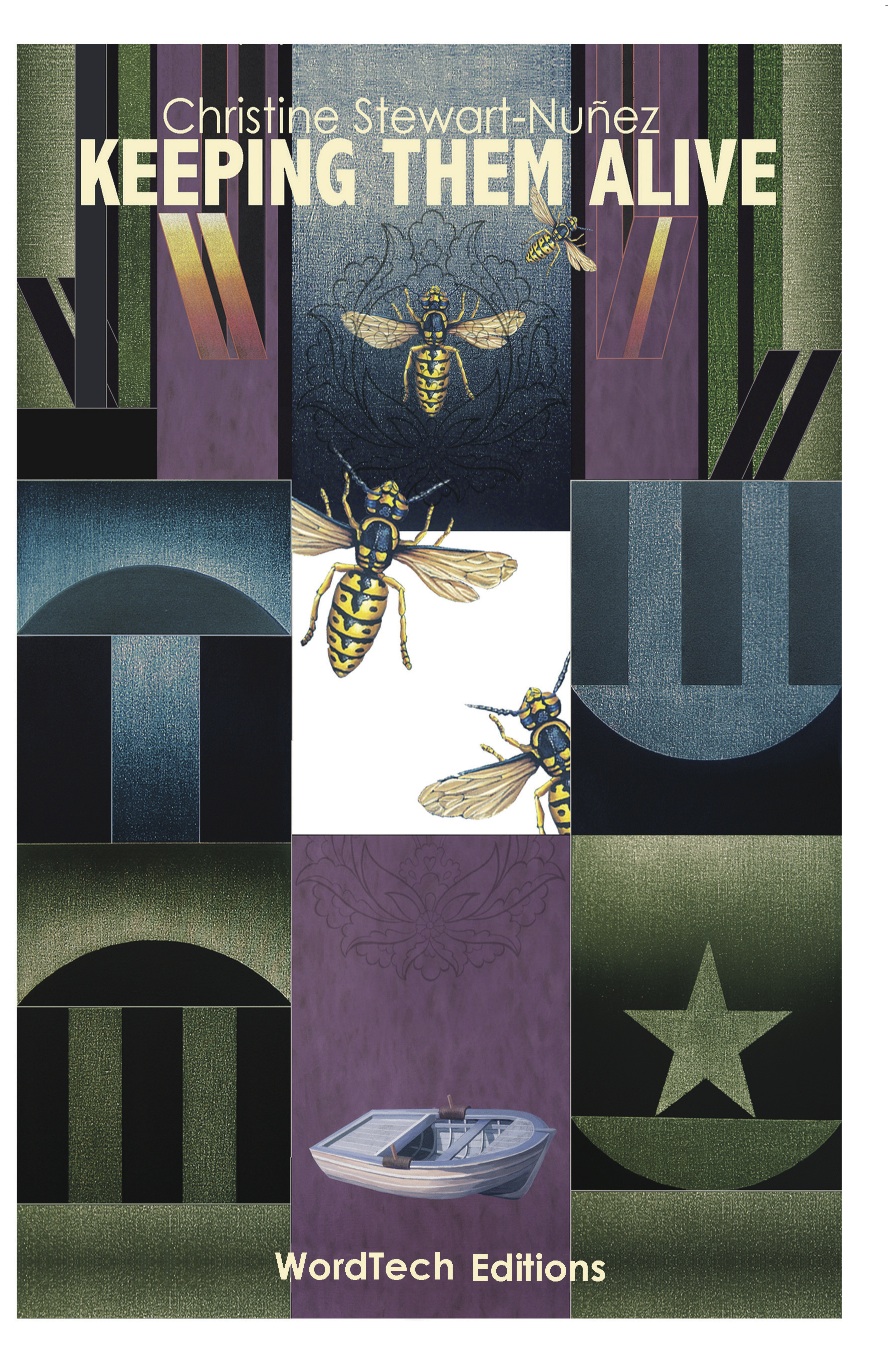 The themes of birth and death in Christine Stewart-Nunez's Keeping Them Alive are compelling. These poems recall childhood, look ahead to new birth, and make strong claims on family and memory.
I think "What She'd Say" is a fine example of the book's themes:
What She'd Say
Little sister, you think too much, nose in books, finger
pushing up glasses. You analyze the impact
buying cotton made in India has on the war
in Iraq. Remember spaghetti fights, our schnauzer's
birthday cake baked in a plastic play oven,
hollering at boys in Camaros? I'm proud
of your degrees, but I like you best when
you've just finished making love, when you fall
out of your chair laughing, when you sip
Ketel One on the rocks with four limes
between stints on the dance floor. I applauded
when you yelled at the jackass who didn't allow
his preschooler to pee before ordering at Wendy's.
Even when alive, I worried where thoughts
would take you. I watch when you pace, cry
yourself to sleep. When nightmares move across
your body, I put silence in your open mouth.
The intimate tone gives this poem a warmth and grace that are powerful to read.
0 Comments
FORMS AND HOLLOWS by Heather Dubrow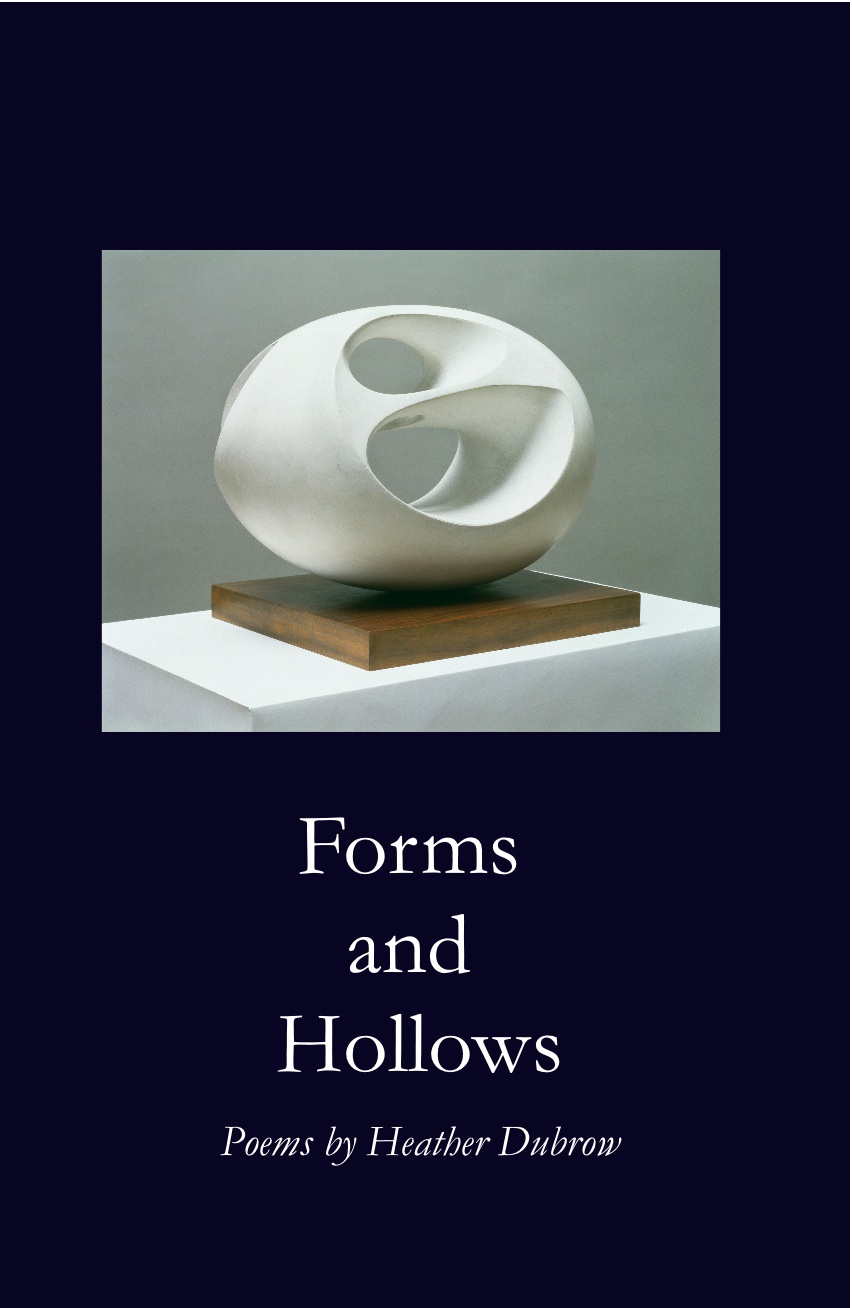 I admire both the consistency and range of Heather Dubrow's Forms and Hollows. Dubrow writes with a quiet, intimate sensibility that hits similar notes whether she is writing a dramatic monologue or a personal lyric.
"Waking Hours" is a good example of her style:
Waking Hours

Last night I dreamed the undertakers had left you,
smaller and perfectly preserved,
wrapped and rolled in a closet
among the furled umbrellas
and the Elektrikbroom Wonder
you'd planned to repair
before that first operation on the inoperable.
You were as light to lift as hope,
and I laid you on the bed,
making sure your tiny head was safely on
the pillow you plumped each morning
as you grew thinner.
Let me care for you again.

Unfurl your smile again, Mother,
and protect my head
from the cloudbursts of flashback.
Then let me bury you again.
This lyric is powerful, evoking the memory of the speaker's mother in a fluid, understated manner. Moving from memory to yearning, the poem engages the reader.
0 Comments