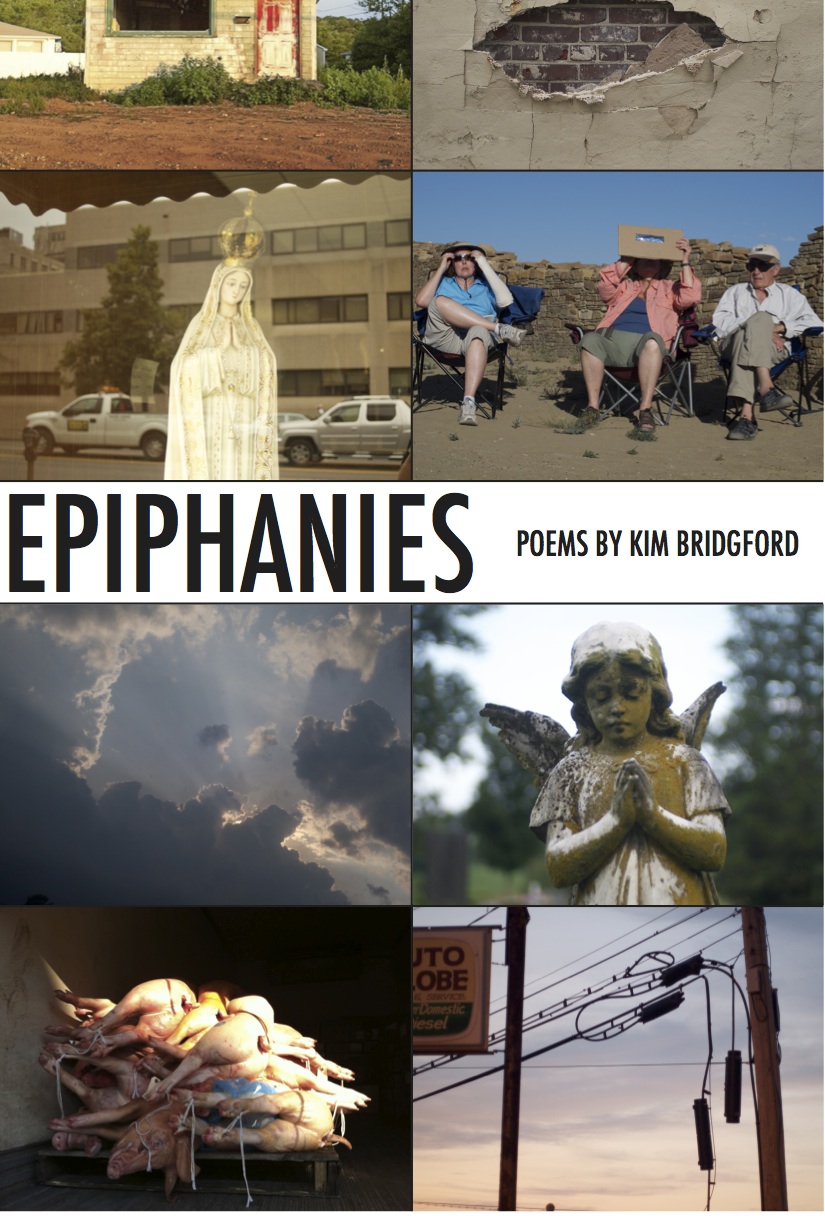 I was immensely moved by the poems of Kim Bridgford's Ephiphanies when she sent them as a submission. It's highly unusual to find poems that are such a fusion of faith and human connection: "You'll rise again. I know what you've been through./I suffered human life: and so do you."
"Doubting Thomas" is one good example of the book's flavor:
Doubting Thomas


I wish that everything could be like this--
Sex, for instance. Love. To touch the blood
Of someone else by reaching deep is kiss
Made holier than kiss, by Jesus made

Into the resurrection of the body,
And by the God for Whom he is the son.
I feel that I was born to do this duty,
To place my hand inside of such a one

And gasp. I am the awe of the beloved,
Who finds fulfillment in the commonplace,
The one who hears the footsteps, sees the face,
And weeps. True, some by their belief are moved.
Not me. His blood is drying on my fingers.
The scent of who he is, and was, still lingers.
Amid memories of Christ as one infused with spirit, Thomas recalls him differently: "the scent of who he is, and was, still lingers." Here Christ's physical humanity is the focus, yet it cannot be separated from his divinity. That tension is powerful, and gives this book its power.
0 Comments
MY FATHER WAS A POET by Lester Graves Lennon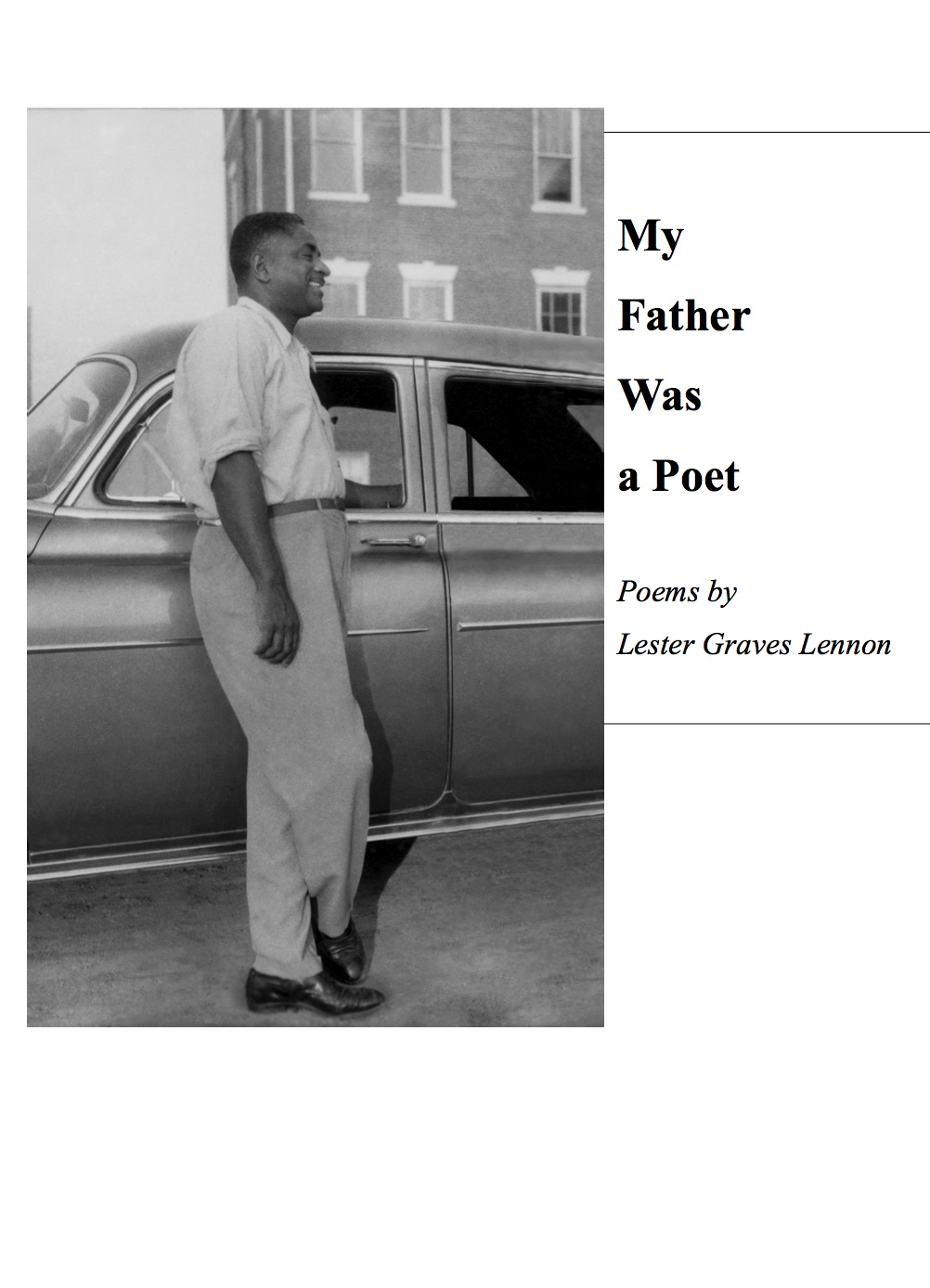 Lester Graves Lennon's My Father Was a Poet is a powerful collection of poems that touches on vital social concerns--race, American history--against the backdrop of remembering a stern but loving father.
The book's tenderness, and hardness, are evoked in its elegant title poem:
My Father Was a Poet

I did not know my father was a poet
who wrote in Braille after he lost his sight.
He was a man of secrets.
The usual ones I knew: alcohol
and women. Poetry was his alone.
After his death I found them carefully
packed in the closet of his nursing home.
Page after page of tactile patterns lured
my fingertips. I had them translated,
if that's the term, from darkness into light.
There were no letters only poetry.
He wrote an ordered formal verse,
four beats always four beats per line.
It was a powerful uncompromising
line for a man who did not compromise.
He knew I wrote and never asked to hear.
I read each poem of his, placing the Braille
next to the flattened text. The pair revealed
verse maps of constellations from the star
atlas a son would follow to find his father.
The speaker of this poem, seeking to understand the man who raised him, finds a secret that unites them: his penchant for poetry, specifically formal poetry, "verse maps of constellations from the star/atlas a son would follow to find his father." Beneath the colloquial surface, this poem also has a regular measure, iambic pentameter, that both propels and restrains the complex emotions portrayed here.
0 Comments
THE EVOLUTIONARY PURPOSE OF HEARTBREAK by Joanne Allred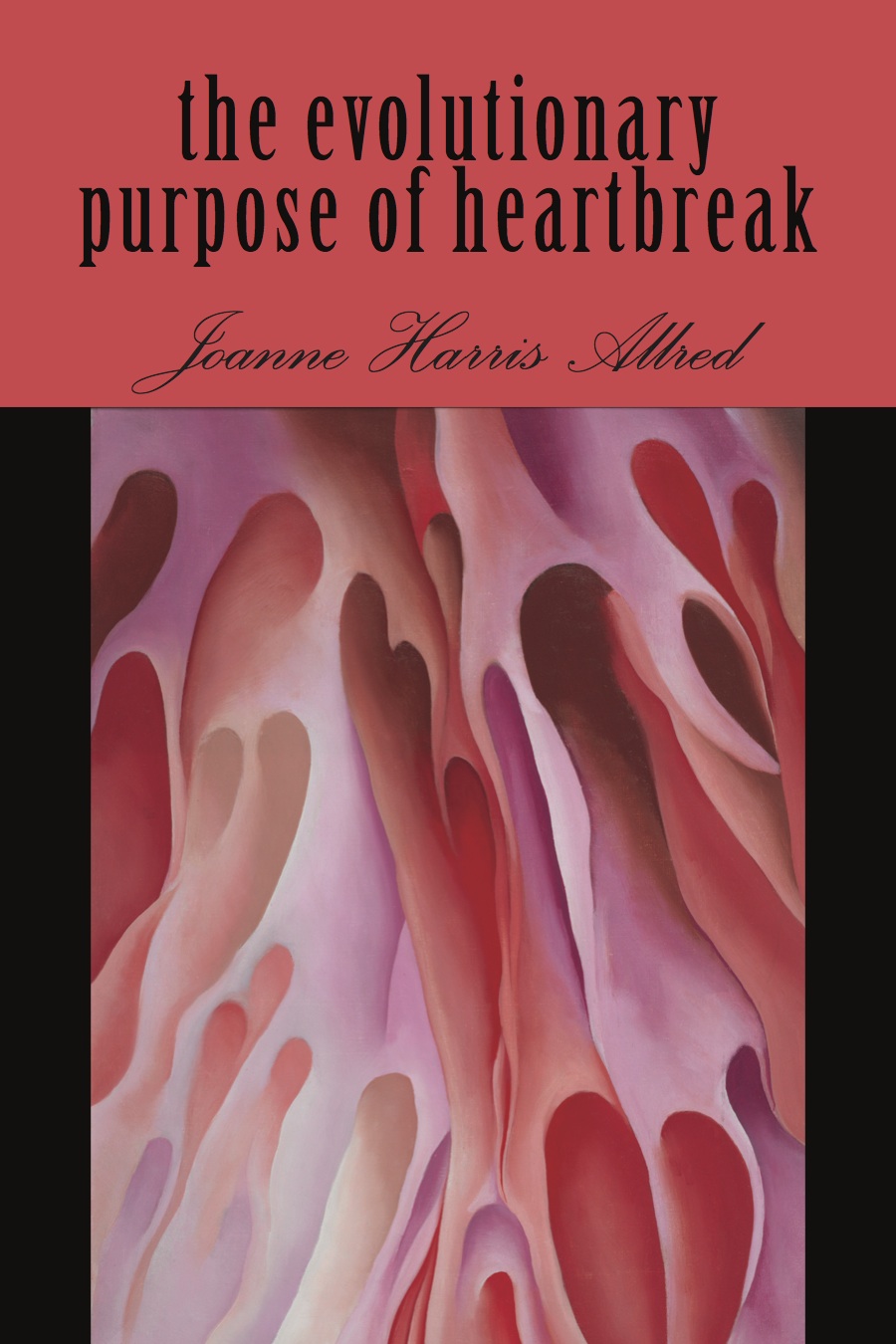 There is a real immediacy in In Joanne Allred's The Evolutionary Purpose of Heartbreak that command's the reader's attention; that's what I like about these poems, their palpability that nonetheless points outward to what endures.
"Rapture" is a nice example of Allred's technique:
Rapture

I hang sheets to dry in the light breeze,
the lavender scent of laundry soap mingling
with honeysuckle vining a post,
the day the world is scheduled to end.
Redwing blackbirds flit and chitter
in new-minted oaks, bringing to the nest
mayfly, caterpillar. I watch a pair
of honeybees in friendly consort
ruffling the corolla of a deep purple
thistle. It's an ordinary day
marked only by the rapture of the mundane,
which makes yearning for a more exalted realm
seem both ungrateful and blind.
A lone mallard, his mate off nesting
in undisclosed reeds, paddles the pond
quibbling, head emerald, white and ultra-
marine on his tucked wings. When he flies,
riffles unsettle the perfect surface,
lapping shore long after he vanishes
over cottonwoods quaking along the creek.

"The rapture of the mundane": that's a powerful notion, and a perfect summation of this fine book's strengths, finding the sublime in the commonplace.
0 Comments
The quiet craft of Grey Held's Spilled Milk is compelling; these poems achieve considerable power through attention to small details.
"I Toss the Baby in the Air" is an excellent example of Held's work:
I Toss The Baby Into Air

Of course he falls
headlong, straight down into the bed
of pansies and petunias.

I pick him up.

I put in his mouth the silver
teething ring from my pocket,
wipe with my shirttail
specks of pine bark from his tears.

Don't drop him, his mother had said.

I meant to give him
the glee of freefall
and being free
from all the trademarks of touch-

then I dropped him.

The sense of anticipation builds up across the lines and stanza breaks: "I meant to give him/the glee of freefall/and being free/from all the trademarks of touch--//then I dropped him." Just like that, into freefall, into the larger world from the safety of embrace. That's a sly, even startling, turn of perspective, built up with careful craft.
0 Comments
LOVE REPORTS TO SPRING TRAINING by Linda Kittell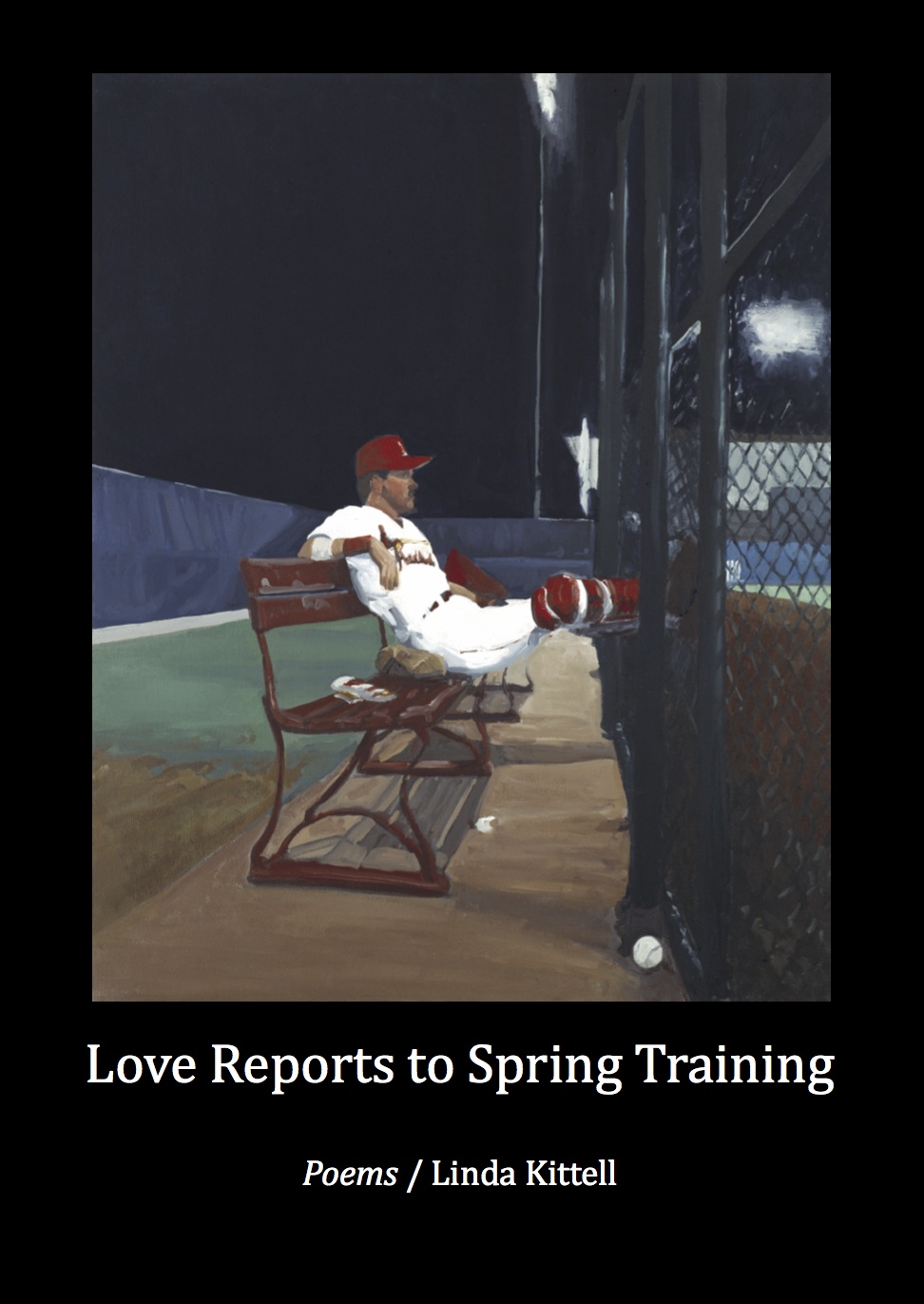 With no pun intended, Love Reports to Spring Training by Linda Kittell is a suite of love poems: poems about a baseball pitcher named Love; and an unabashed expression of love for the game of baseball, in all of its color and glory. This narrative memorably captures the energy and strangeness of this game and the men who play it.
Here is a good example of her technique:
Love Starts On Opening Day

It seemed like Love was always
card number six-fifty-nine in a Topps set
of six-sixty. Did anyone even think
of Love? Then two sore arms, a first
kid on the way and a funeral and suddenly
Love got the nod, first time
since short season A and shit
Love felt like a kid again. Even
Cleveland at the end of March
might feel like Arizona
in August. Love believed-
with the movement lately on the fastball-
it was the pitch to go with.
Give that rookie catcher a brand new glove
and people in the centerfield bleachers
would hear that ball pop.
Powerfully done.
0 Comments
BARN SOUR by Kathleen M. McCann

Alive in and aware of the world, the poems of Kathleen M. McCann's Barn Sour invite the reader to join in the sensory experience, one moment at a time. I love their specificity and their weight.
Consider "Night Sounds":
Night Sounds

Always the clanging pipes,
the rustle of cat and dog.
Rocking in the old chair,
I hear my house sounds.

Tonight, a faint hum
in the air, a thin whistle
from the high heat:
strangers, house and I,

given to staying together,
learning
in the shared compartmented air
the necessity of humming.
This poem calls us to consider, amid the sounds of the night, "the necessity of humming": this is a poem that is at once present and detached, contemplating each moment as an experience in itself. Nicely done.
0 Comments
&IT HAD RAINED by Veronica Patterson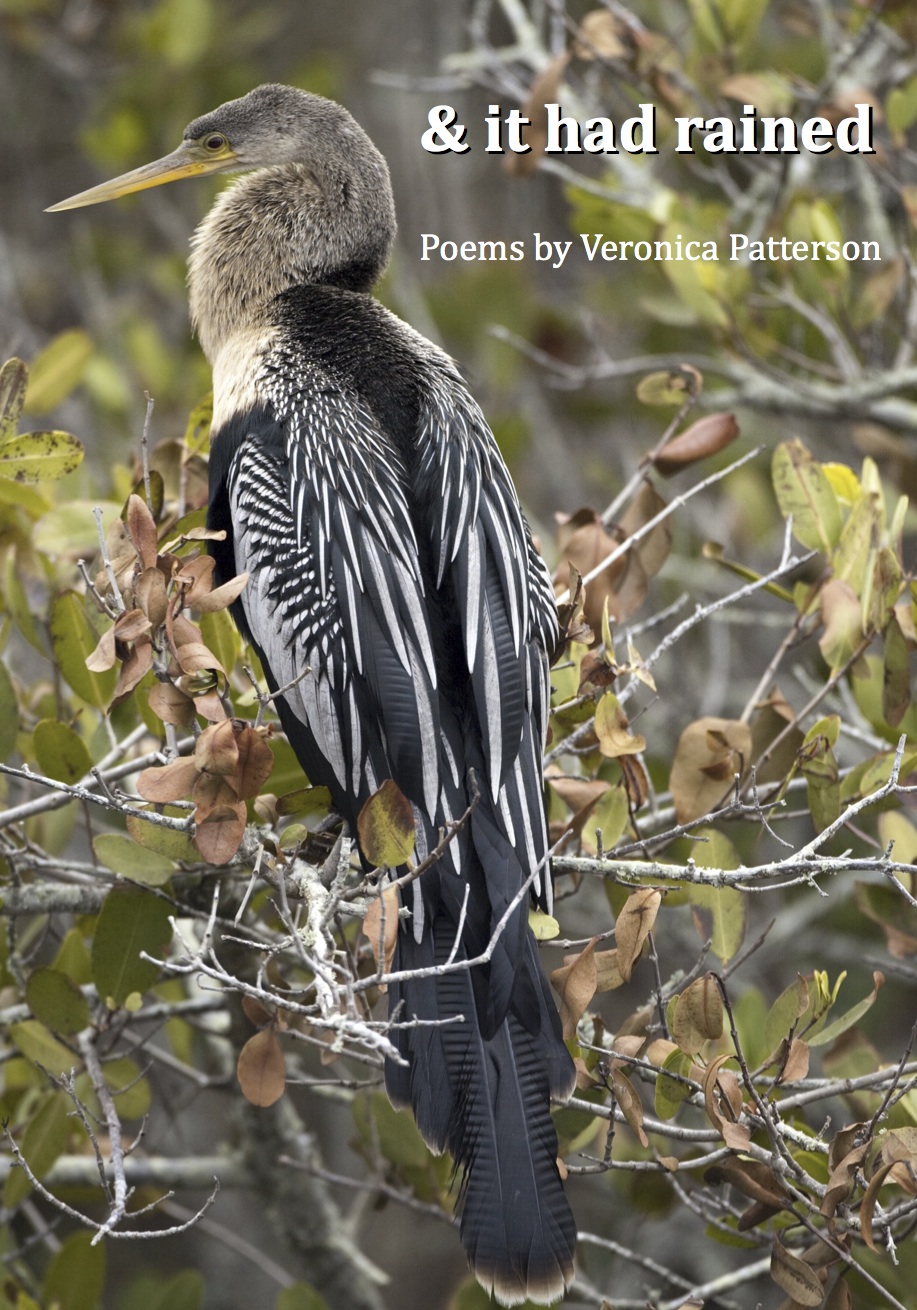 I love the the rapid-fire rhythms in Veronica Patterson's & it had rained, charged with the lyricism of poetry and the ruminative strides of prose paragraphs, and how they build complex beauty out of the simplest images: bird, wings, rain, water.
Here is a portion of the book's title sequence:
Water and Its Light


To begin: I walk past the spring Ponce de Leon might have seen, past the live oak draped in Spanish moss, resurrection ferns sprouting from its branches, to the landing. I've come dry to this river this afternoon. & it had rained.

To begin: We push away from the river landing. A hundred yards down the river, the motor tangles in vegetation. In silence, the two boatmen work to free the blades. & it had rained.

To begin: Even if the way closes behind you & if the way closes before you. The boat nudges a blocking island, which turns slowly, tectonically, out of the way. & it had rained.

Water, duckweed through which slender young alligators squirm & long-jawed shadows on shore emit a warning bellow. Red blossoms of swamp hibiscus deepen the green. Great blue herons still as pillars uphold & tall egrets flash like lightning against gloom. Moorhen chicks dart over a surface of floating weeds. A slender anhinga pierces the jade without a ripple to skewer prey. & it had rained. Then sun insists through trees dead & alive fringing the river, dappling the increase, bud, & burgeon. Germinate, wax, & thrive. Sprout & flourish. Time pools. & it had rained.

& what bound us was not water but light, though I lived by a lake and you at a confluence of rivers. The deck at your house always in shadow. You grew impatiens. The deck held light, but dappled & isn't that what we wanted-not just dark, not just light? How else could our conversation, that reassuring river, curl over and around years of dreams? Your illness, loosed again and again, like some dark infusion, was urgency, gravity, giving words weight. Now they sink. Yet when the end loomed, I dreamed you as a sleek Egyptian cat, seal-black, leaping like a dolphin through the darkest water. I waded helplessly along the shore. & what bound us then was not light, but water. &

Once in the Adirondacks, I canoed all morning through a passage choked with water lilies. When I lifted the paddle, it dripped stems. The only sound was the slight rasp of aluminum on lily pad. In the afternoon, I portaged around a cascade on a path through felled trees furred with spongy moss. & it had rained. Then the slightest light through breaking clouds made the world impossibly emerald.


To end: In the water on the St. John's River, schools of minnows glint, pointing here, there. Not light but witnesses to light. Grief and I enter water and bend but do not not break. Without water, who could bear all the light moving toward us?

To end: The anhinga's feathers are designed to waterlog for diving. Afterward, dark angel, it spreads radiant wings to dry. And dives again.

To end: & it had rained.
"&it had rained" is a lyrical refrain that anchors these poems' prose structure and lifts them to the level of music. Lovely.
0 Comments
IN THE WHITE ROOM by Elizabeth McLagan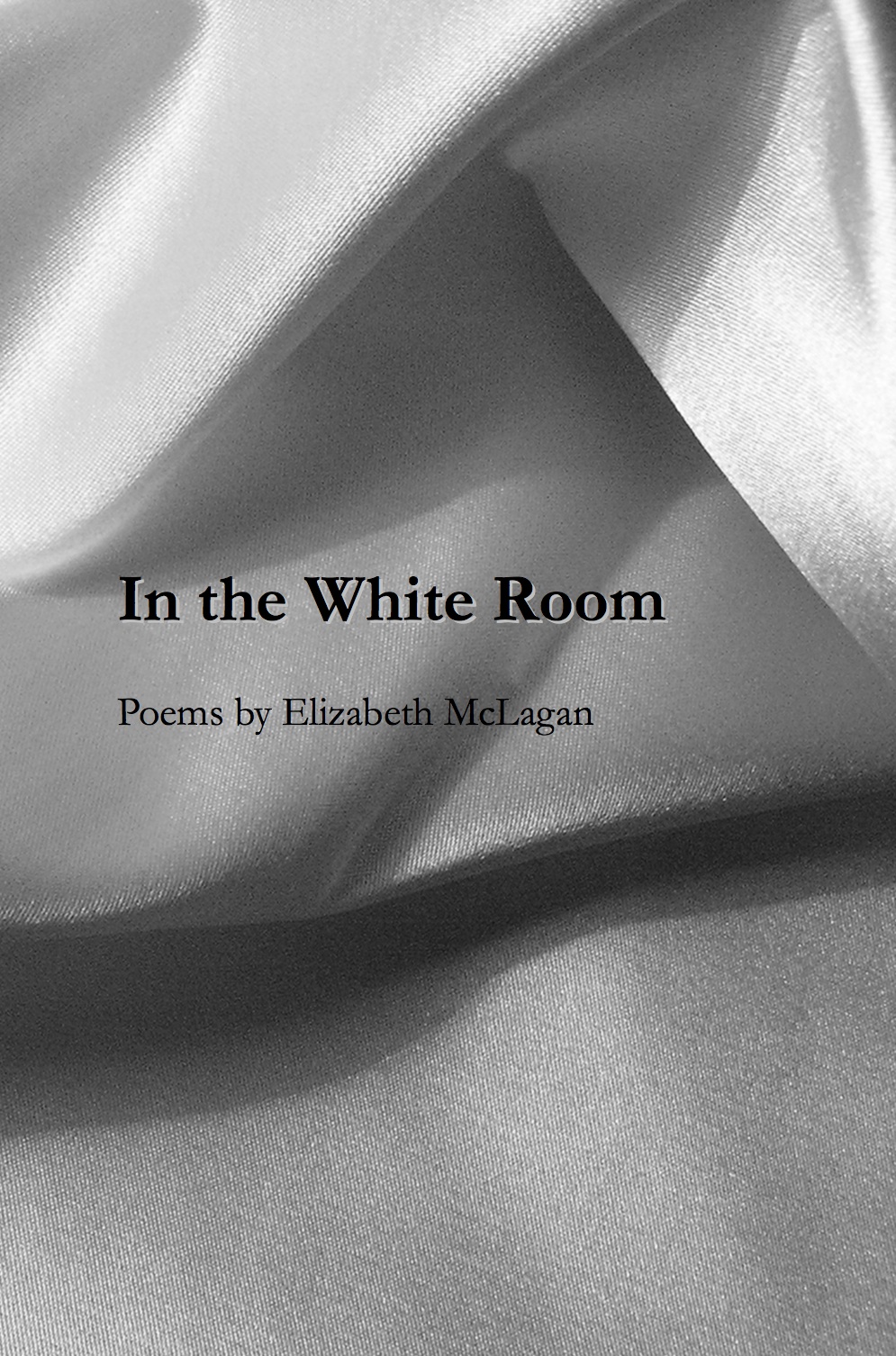 Elizabeth McLagan's In the White Room is a book haunted by memory, by enclosures that root the present to the past; the book's powerful images of whiteness alternately connote sterility, purity, and the world of dream.
The book's title poem is a good example of its technique:
In the White Corners of a Room


Like a linen sheet on a clothesline
or curtains in a sick room the child
lifts with her hand, like the featureless
walls of an asylum, white fever, a winter walk
with dogs, breath like a plume of smoke
veiling the trees, heavy as billows lifting from fire,
warm as the steam from an engine, far off
as a white note 57 octaves below middle C
singing from a black hole in space,
the fog inside a white dress,
the body pressed through the skin by sound,
white matter of the spine, the smoke
of words, the white cells entangled
w in a mesh, a hedge of white thorns,
bone calcium, cartilage glass,
the acne, the wen, the spits like clouds, filaments
of the cell at the moment of division,
fat like a hearth, like a white winter fire,
the spot inside the eye which bends light,
a white stone cataract, falling water becoming air,
air inside the lungs, sleep without dreaming,
the placental bath of drifting matter,
of urine, semen, tumor, of the egg,
the gray matter in wet paper, what lifts
from the garbage heap, the breath of seagulls
and horses, the air caught between blind trees,
clouds of the last things, the body's x-ray
vision, the fog after sickness
and recovery, rain and the end
of rain, words on a blackboard, erased.

The memory of fever and illness, wrapped in a swirl of images that dissolve to whiteness: strange, and powerful.
0 Comments
In Precise, Tina Kelley's poems are alive with joy and spiritual import, yet do not forget the heart's darker places. I love the way these poems find nobility amid the darkest lament.
"To Yahweh" is an excellent example of her skill:

To Yahweh

"YHWH is definitely a verb form. We can take comfort in the certain knowledge that God is a verb, not a noun or an adjective."
– The Gifts of the Jews, Thomas Cahill

God is the spray on your lip from the freshly-poured ginger ale.
No, God is the arrival on your lip of the spray. The arcing. The spree.

God is definitely not that weird sexuality of wild bird rehabilitators.
God is, instead, waves blown back hard from the shore. At night.

Perhaps he is the rumbling scaring done by the haunted freight train,
the shrill ghouls in the back cars climbing over each other to escape.

God is weequashing: The spearing of eels or fish from a canoe by torchlight.
God is the inventing of words like weequashing.

She is not the fire darkening down.
She is the goldfinch singing the whisper song.

And the birthing of a second child, to feel your body blooming.
To feel head, then shoulders, thighs then cord tumbling. To live. To life!

To give the initial downbeat to the tympani. To cure mice by placing them in a cello.
To do whatever the scarecrow did with his brains. And to make that acrid or burned quality

of the smell of space. To crow, to fly, to gild and gnaw. To mean.
Shape, shear, smear and shine. Play and improvise. To last.

"Shape, shear, smear and shine. Play and improvise. To last." This is the entirety of human experience, for eternity, encompassed in a single line. Powerfully done.
0 Comments
WAITING FOR GRACE & OTHER POEMS by Christopher Locke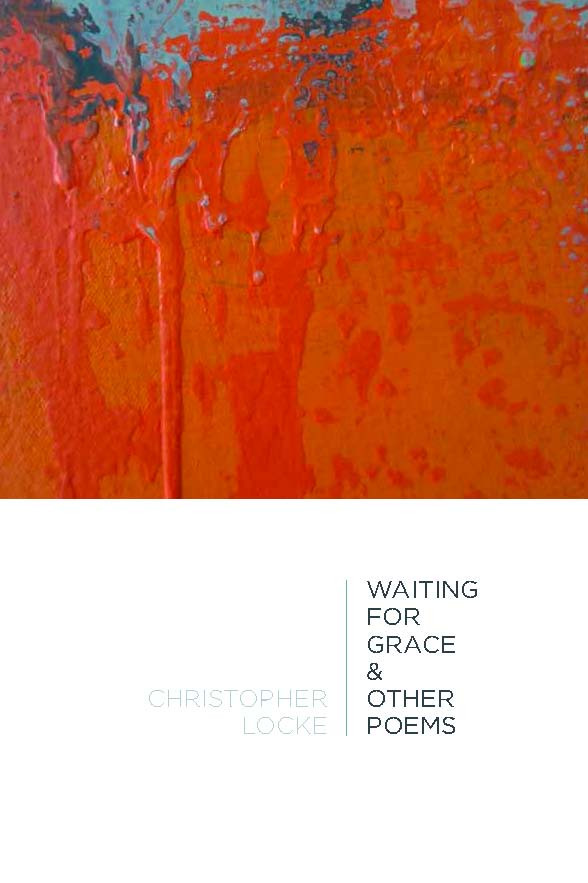 The speakers of Christopher Locke's Waiting for Grace & Other Poems regard despair as an affront, something to be resisted as if one's life depended on it. I admire the fire of these poems, the sense of mortal stakes they evoke.
Here's one fine example of Locke's technique and themes:
To My Daughter Grace, Nine Years Old

The sky had already dimmed, the field
a stigmata of grey we ran through until
I looked higher to notice an aquarium
of many-toothed stars schooled above us
where just before clouds held the dusk's
reflection like oiled wool. And even a bat
appeared without warning, dropping from
above as if on string, spelling the air in dark,
cursive swoops. We threw twigs up toward
its wanting and you laughed when it
dive bombed us, hands above your head
as if in supplication. I knew then that
I would lose you, someday gone
to the world of men and promises,
dreams opening like doorways
to light, and could picture myself
already trailing from you, unable
to take your hand: a phantom limb
reaching from one body to another
between the unreachable air.

The speaker of this poem knows that he will lose his daughter, will lose Grace both literally and metaphorically, and fights to remain in the moment of connection. That's the power of the book's title: grace is something we are always waiting for, and sometimes find, briefly.
0 Comments
SWIMMING IN THE SHALLOW END by Philip Raisor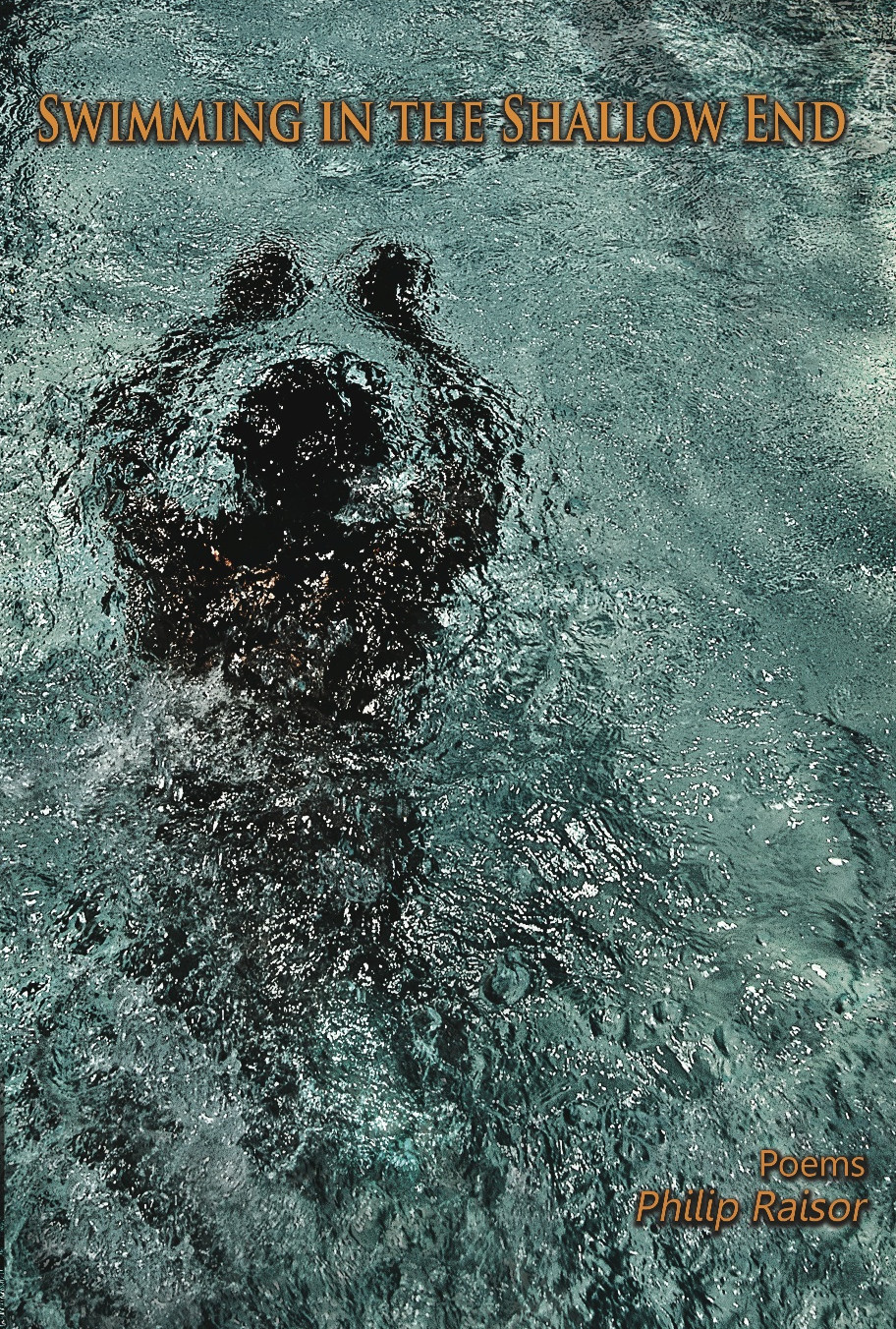 I'm taken by the chorus of voices and places that comprise Philip Raisor's Swimming in the Shallow End--a world as fully fleshed out and imagined as any I have read in recent poetry.
"Raking Leaves" is a good example of Raisor's technique:
Raking Leaves

He don't wear no sheet,
Charlie whispers, but he's Klan.
I glance at fat man Hampton,
a sack of laundry,
but this noon my father soaped my mouth
for spewing the S word on my busted thumb,
so Klan is Charlie's worry-I'm brooding on injustice.
Anyway, Hampton seems safe, a Santa at Kiwanis parties,
his wife shows Avon, both as popular as scrabble.
But Charlie's almost my best friend, an eye like Tonto's
(mother would die-an old black handyman, what for?),
so I don my squint-hard mask when Hampton walks up,
asks for matches, his smile a taut rope. I oblige.
He sniffs at Charlie, turns away, as though he's smelled
sullage. Charlie leans on his rake, scouting himself.
Is he being dragged through gravel, knees bouncing,
brain emptying, or garroted maybe, the way Shawnees?
I don't know. I rake hard, track down outlaw leaves,
build my pyre, dive into autumn flames, rise laughing,
my mouth full of chaff. Grim Charlie still leans.
He won't talk I can see, won't fix my bike.
Injustice upon injustice the whole damn day.
The portrait here of taciturn Charlie, standing stern against rake, is a quick, graceful sketch, but also gestures beyond, implying the rich world Raisor depicts. In its spare style, this poem is a piece of a memorable, larger narrative.
0 Comments
CAUGHT IN PASSING by Zan Bockes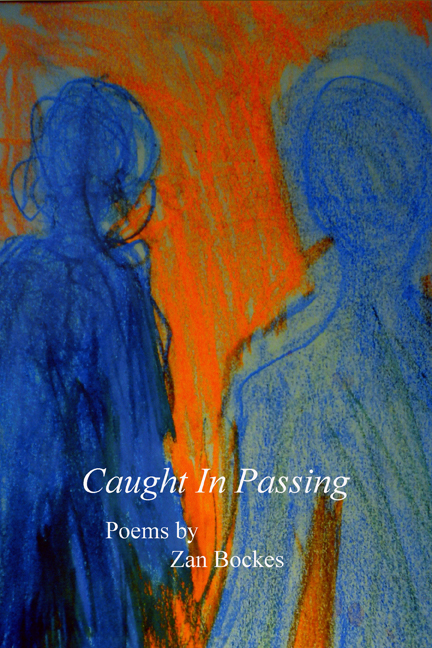 Zan Bockes' Caught in Passing is aptly titled. The book's poems are about that which is glimpsed from the corner of the eye; but what comes from that glance is something larger, more fundamental, the opposite of ephemeral.
"Meditation on Dust" is an apt example of Bockes' work:
Meditation on Dust

I begin by breathing.
Soft and gray, the room
hangs within the pane-framed
sky. I erase
the traces of the day, the minutes
sifted across the ledge
by the tireless ebb
of time, trailing
the uncut thread-
life beyond measure.
Here and now
I glide among the relics,
treasure these heartbeats
rising inside my ribs-
the moments they mark,
singular and together
in shifting light. I breathe
my being into the silver
motes, worlds so open
I find myself
suspended,
moving as they must
through the dust
of my remains.

From the image of dust comes "worlds so open/I find myself/suspended..." That tension is at the heart of this strong collection.
0 Comments
SHELTERING IN PLACE by Christine Potter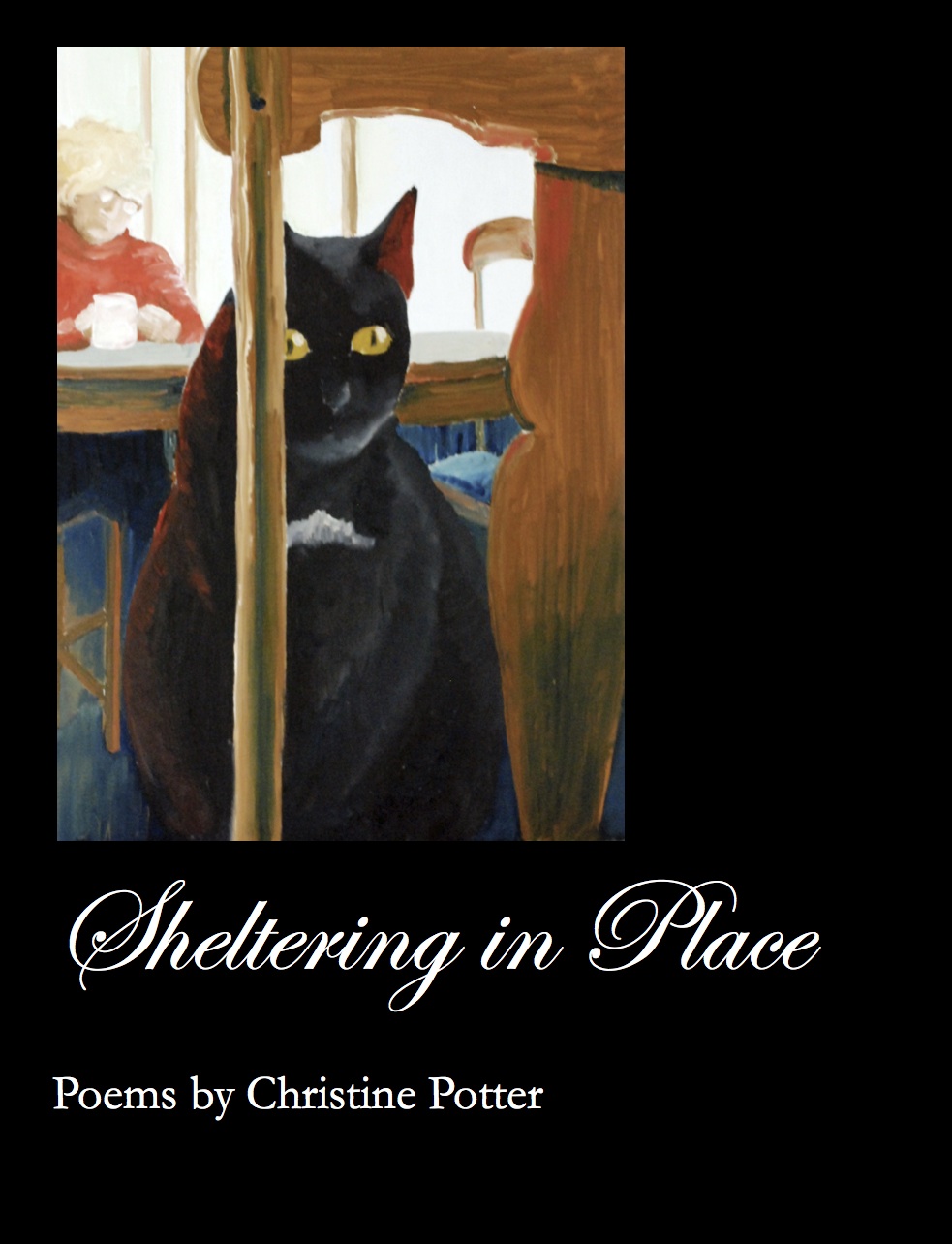 Christine Potter is a bright, even spritely poet; the poems of Sheltering in Place are anchored in the real, the daily, yet evoke a larger realm beyond their pleasing surfaces.
The wryly-titled "Poem Addressed To the Last Day of a Warm Spell in November" provides an indication of this poet's themes:
Poem Addressed To the Last Day of a Warm Spell in November

You wait for someone, pacing circles in mud
odorous with leaf mold. One maple's yet
in sulfurous flame. You wait for someone
famous who wouldn't recognize either of us,

who met you once in a bar and signed a napkin.
Outside, it blew from your grasp, and the sky
was finally well-deep and smashed full of stars.
It was cold, then. The bottom of your coat

flapped open like laughter as you walked--
but today's breeze is harmless,
temperate as your breath. Tell me
this is who you really are, you bland no-season,

you misfire, you name I have forgotten.
Your dithering wears on my nerves.
Tonight almost certainly will bring thunder,
clarity, and dropping temperatures.

And in three days, remembrance
of endings and openings, the front walk
firm under my feet-then snow. Someone's
waiting for me there. And you? You can go.

Beneath its droll theme, this poem longs for the closure of seasons, "remembrance / of endings and openings." It brings a smile, but also awareness of time's passage.
0 Comments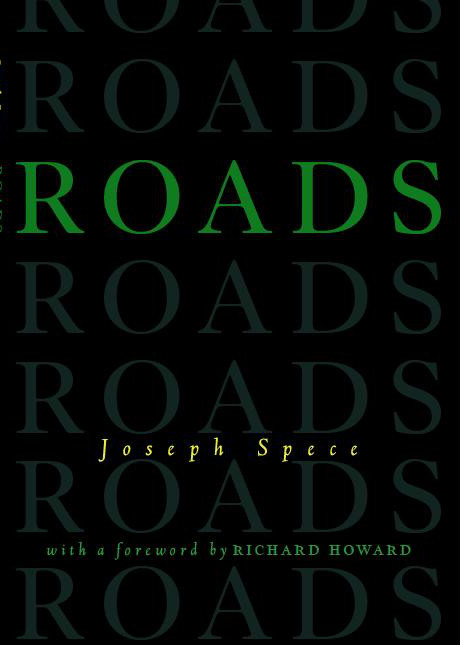 I admire the erudition of Joseph Spece's poems in Roads; they are not afraid of of the intellect, but also engage the heart as well.
"Mind," in subject and style, illustrates what I'm talking about:

Mind

Mind, your matter is a great nest.
You would not close shutters,
would not wire the coves of your
twig sheaves to a pole
miles off; and should rain dampen
the bedding at your bottom,
it is the throat that tastes--
the throat in the mind; the weather
cannot daunt, nor loss, nor can trap
still the teem of that
greeny composition. Your borders
recede and breathe deeply; your livery
is flown, happening; beyond
the bunch of larkspur that seems
the best of your pastiche,
there is another,
and the promise of another.
Addressing the mind, the poet explores the limits of perception, without forgetting the world that perception gestures toward: "the bunch of larkspur. . ." The craft here, working through the extended metaphor of mind, is strong.
0 Comments
THE BODY'S BRIDE by Miriam Kotzin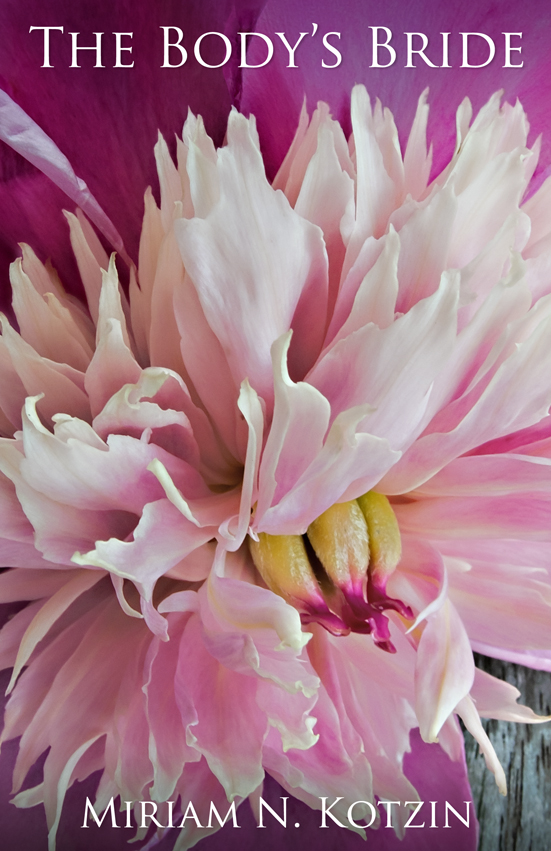 The skillful use of forms inMiriam Kotzin's The Body's Bride invoke, and evoke, the body and its interactions with the world through their crisp music. I admire the technical skill of these poems.
Consider "The Itch":
The Itch

On certain summer afternoons
when shadows stretch across the lawn
and deer come out-five doe, one fawn-
a distant wood thrush pipes his tunes.

The deer have come to graze on grass
and stretch for apples on the tree.
There's bounty here for them and me:
The thrush song glints like opal glass.

But not all afternoons are filled
with ease. Some days all song is stilled-
by what? Perhaps I do not hear,
attending only to what's near,
distracted, itching to be thrilled.
But air-born song cannot be willed.

This poem attends to the music of the external world, and implicitly to the music of experience, which cannot be forced, only heard and felt.
0 Comments